Application For Steemit Engagement Challenge Season 4 - Steemit Travel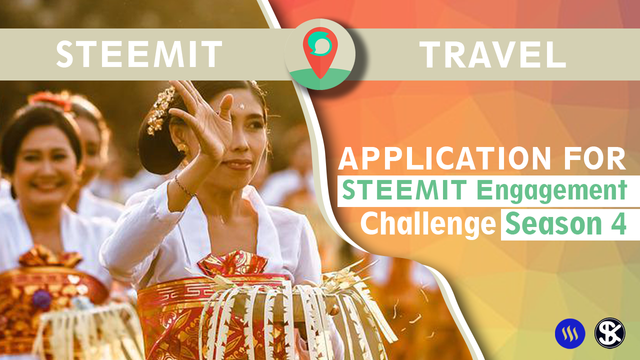 Dear,
Steemit Team
The following is the Steemit Travel community submission for Steemit Engagement Challenge Season 4. We hope that this post can be considered for the Steemit team.
---
The purpose of community
The Steemit Travel Community is here to inspire many people on Steemit. We are an open community to share content about travel stories, backpackers, tourism, local wisdom, beautiful nature and exploring the beautiful earth.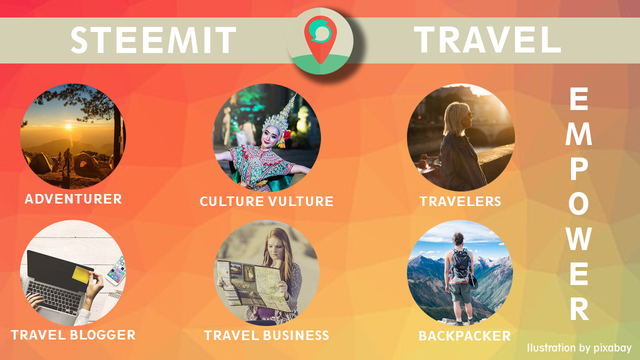 Discover and share the beauty of the earth and inspiration with us in the Steemit Travel community. We are the only community on Steemit that aims to empower travelers, adventurers, backpackers, lovers of culture and history (Culture Vulture), travel companies and transportation services. We are here to provide more inspiration, beauty, and investment opportunities in the travel and tourism business that is open without restrictions on Steemit.
Vision:
"To become a fair, honest, transparent and wise Steemit Travel community page that can provide investment opportunities for everyone involved in the travel sector"
Mission:
Work efficiently to increase the participation of Steemit users in the travel sector.
Give rewards to everyone who shares travel posts in the Steemit Travel community.
Inviting more investors in the travel sector to increase the economic value of Steem in the future.
Provide guidance to every member of the community.
Give people from all over the country the opportunity to share travel posts.
Carry out wise management and governance, and collaborate with various communities on Steemit.
Make the community page an opportunity to develop financial technology in the travel sector and be able to make an income impact for everyone.
Taglines:
"Share Your Travel and Earn Money"
Read about Steemit Travel community goals:
---
A brief history of community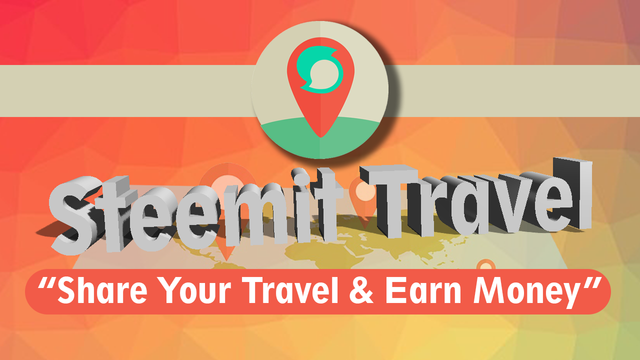 The Steemit Travel community was created by @ponpase on 09 June 2022 at the initiative and request of community members at Steem-Travelers. @ponpase was previously a Moderator working for the Steem-Travelers community. However, after the founder of the Steem-Travelers community left and deactivated the Steem-Travelers community, many community members were disappointed and contacted @ponpase to find a way out of the problem.
On that basis, @ponpase created a new community with the name Steemit Travel, a community created on the basis of shared ownership with all community members. As it goes, the community continues to be developed by inviting the participation of community members voluntarily to delegate STEEM POWER to the @hive-163291 account. Less than a month running, the Steemit Travel community has reached up supported to 13 K STEEM POWER.
The founder of the community continues to strive to improve community development, including by collaborating with the support of the Steem-Database community and @stephenkendal to increase the value of posts on the community page. Along the way, the founder also continues to build communication and recruit a number of teams who act as moderators to control and run the community to achieve the community's vision and mission based on the provisions of the Steemit policy.
In less than a month, the number of subscribers continues to grow, until now it has reached 520 subscribers. Active posting also continues every day, at least we get 5-10 active posts that are shared every day by community members with a total active poster currently of 75. We also continue to strive to increase the contribution of community members through weekly contests, which have been running until now a total of 5 weekly contests.
For the hard work, involvement and support of all parties, in July 2022 the Steemit Travel community has received BOOMING support. Our team continues to improve on community management and development, including in terms of investment. We have also consistently increased resources, including allocating TRON for trading to STEEM and power ups and we have reached 790.53 STEEM POWER community accounts, the value of which is increasing rapidly over a 1 month period.
Find traces of the history of the Steemit Travel community:
---
A list of all Founders, Administrators and Moderators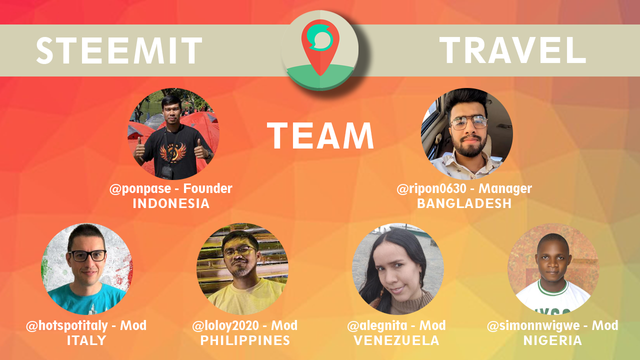 The team chosen for this community is very diverse, there are even more experienced people who can guide new users and people who just joined Steemit a few months ago who will thus be trained to have more skills on the platform. The following is a list of the Steemit Travel community team consisting of Admins and Moderators.
| Name | Joined | Total SP | Club Status | Country | Language |
| --- | --- | --- | --- | --- | --- |
| @ponpase | 08/2017 | 12,197 | #CLUB75 | Indonesia | Indonesia, Melayu, English |
| @ripon0630 | 12/2020 | 10,973 | #CLUB100 | Bangladesh | English, Bangla |
| @hotspotitaly | 07/2021 | 3,854 | #CLUB100 | Italy | Italian, English |
| @simonnwigwe | 11/2020 | 18,521 | #CLUB75 | Nigeria | English |
| @alegnita | 07/2020 | 7,784 | #CLUB5050 | Venezuela | Spanish, English |
| @loloy2020 | 07/2020 | 6,063 | #CLUB75 | Philippines | Tagalog, English, Visayan |
The details of our role/leadership in the Steemit Travel community are as follows:
They have already been presented in this post, but what matters is what support it will provide for the growth of the community and Steemit. Read on for some updates and greetings from our amazing team.
---
Details of community curation account, how it is being built up and who holds the keys
| Community name | Community account name | Steem Power | Subcribers | Active |
| --- | --- | --- | --- | --- |
| Steemit Travel | @hive-163291 | 12,797.82 SP ( 790.53 Owner + 12,007.30 Delegators ) | 520 | 75 |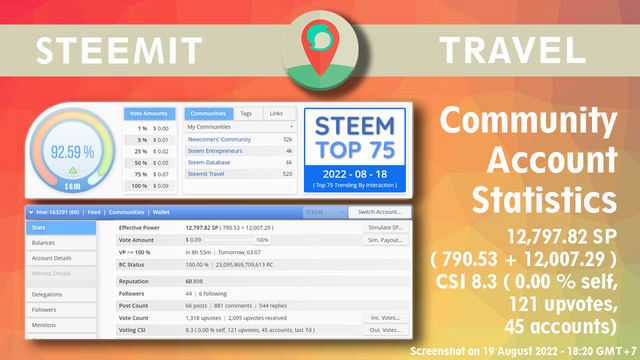 We are actively using community accounts all the time to increase the value of quality posts. With a total activity that includes: Vote Count 1,318 upvotes and 2,097 upvotes received and Voting CSI 8.3 ( 0.00 % self, 121 upvotes, 45 accounts, last 7d ). We always use voting power to curate users to a minimum voting power level of 80% within 24 hours.
The curation of community members is based on the number of rating scores received on their posts. Posts with a minimum rating of 5/10 with an upvote percentage of 50%-60%. Meanwhile, quality posts are rated 7-10/10 with an upvote percentage of 75%-100%.
To increase community account resources, the Steemit Travel community actively creates daily posts with the theme TOP DAILY POST, Weekly Contests, Weekly Reports, Notifications, Announcements and vote support from @stephenkendal and collaboration community accounts ( @steemitphcurator, @steempreneurship, @steem-database ). We are also open to receiving volunteer support from delegates who can help grow value.
Rewards earned on the community account will be used for contest allocation and will be fully used for POWE UP periodically. The use of rewards is only prioritized on contest support and power ups. Meanwhile, some percent of the reward may also be used for donations to potential projects.
The community key is safe because it is owned by @ponpase and @ripon0630, very experienced users who started building Steemit. Keys are stored online and offline in a secure and protected database system and private vault. In case of need, only our family can access the key. Limiting the use of key access aims to facilitate tracking of activity and account history, of course, to reduce the risk of misuse.
---
Details of the community's current policy for checking and commenting on posts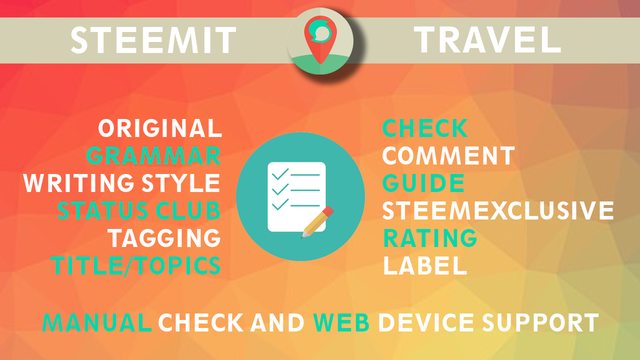 The Steemit Travel community sets rules to check every post that has been shared on the community page. Our team consists of experienced people with different backgrounds and locations. This makes it easier for us to check posts, where every day regularly our team is always active in the community at different times for 24 hours we can reach all posts.
Generally, each team has a duty to check up to 5-10 posts for 24 hours, it runs continuously at regular intervals. Even at different times, other team members can also double-check on suspected posts. Periodically the team is always active and gives each other their involvement on the community page.
Of course what distinguishes the Steemit Travel community from others is the fact that the diversity of the team certainly brings a lot of value, everyone has features in certain functions that are useful in maintaining high quality in the community. We wanted to put in place a number of tools to check if blogger posts are as original as possible, but above all we try to help users improve the quality of their posts by providing useful guides/tips.
Our checks pay attention to the quality level of the original posts by using the plagiarism checker web tool
Checks are also performed manually with translation into the user's native language and detection of words that may have been prephased
Checks are also related to the use of grammar, writing style, club status, steemexclusive, tagging and mentions
Photo inspection will use support web as well as google lens
The team actively checks posts and leaves reports in the comments column in a standard format
Every abuser will be given a WARNING label, up to 3 WARNING maximum and will be blacklisted
The web plagiarism checker uses:
To check the club status of users, we use:
Each member also has to go through a verification process to get a membership label:
No Need to Repost Introductions, Here's How to Verify Members in the Steemit Travel Community!
Every member of the community is also required to support each other, engage and interact in the comments
Steemit Travel Contest Comments - Win 10 STEEM Every Week! [Support Steemit Engagement]
Comment Activity
Standard Comment Type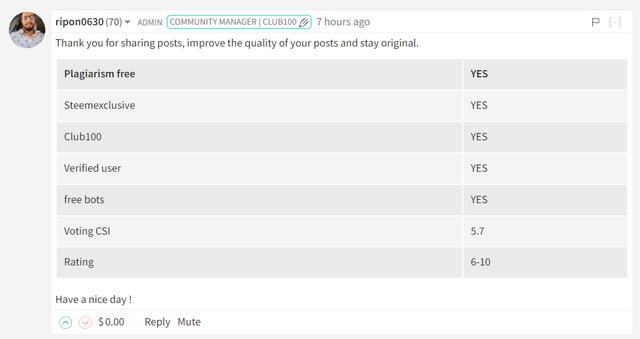 Guide Comment Type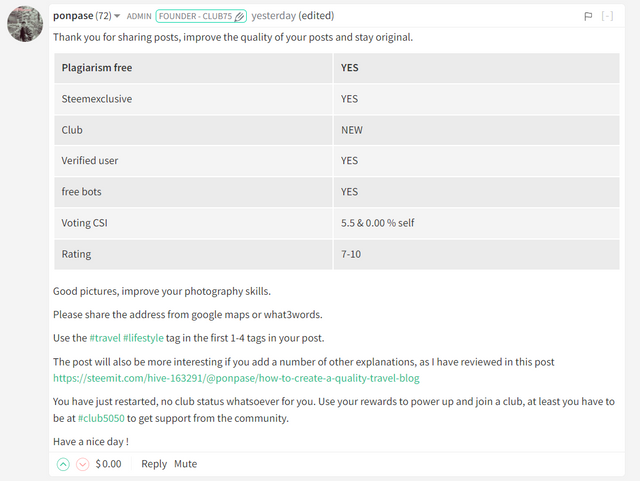 Types of Comments for Abuser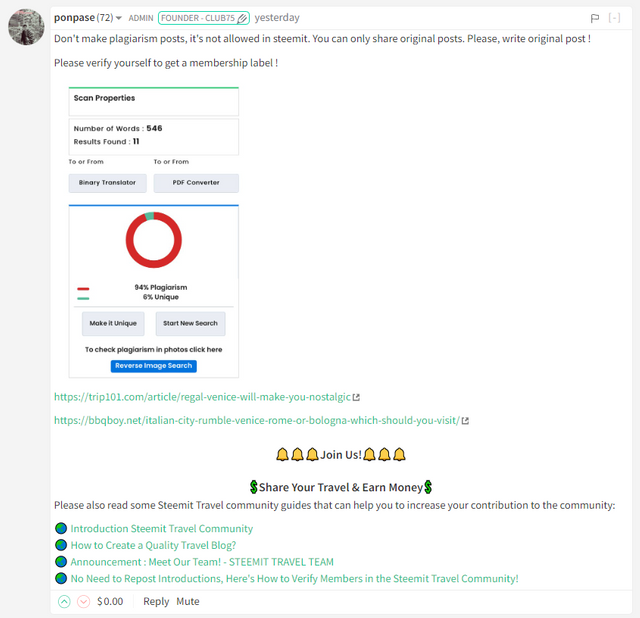 Recheck Comment Type




Community Account Comment Type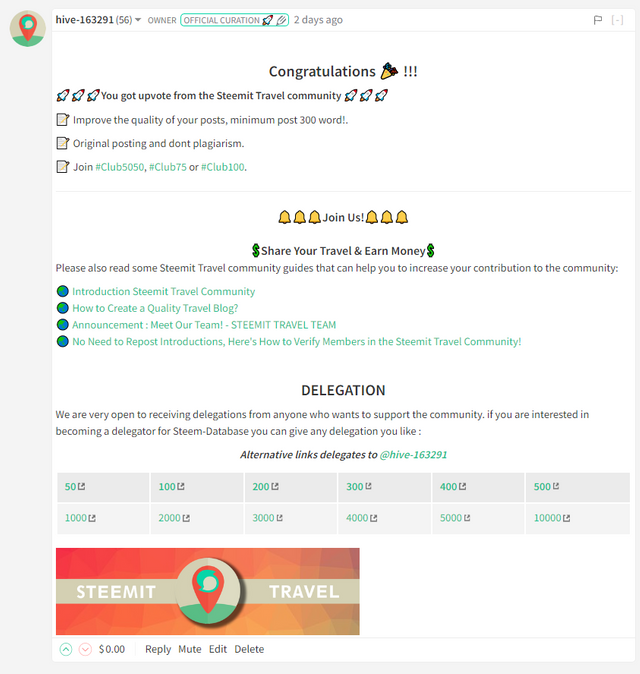 ---
Details of how the community helps members improve the quality of their posts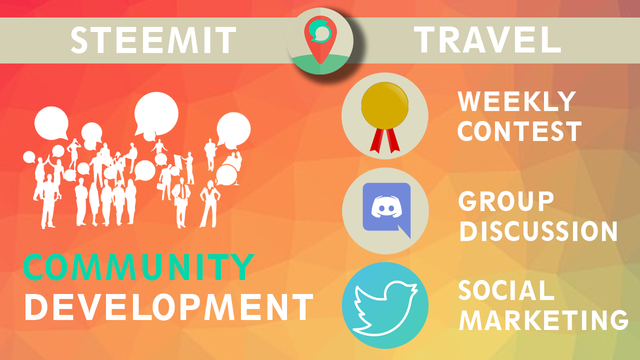 The entire team is involved to drive post quality improvement. It was started by our team by making quality posts and meeting the quality standards of the Steemit Travel community. We continue to encourage community members to improve the quality of their posts by including quality posts in the TOP POST DAILY lists and Weekly Reports.
The Steemit Travel community has set standard post quality rules, namely original posts consisting of 300 words with a minimum of 3 images. Efforts to provide guidance are also continuously provided by our team through the comments column and linking them to several sources that can be used as references to improve quality. Our team engages in the comments section to provide them with guidelines for making quality posts.
Another guide is to make educational posts or tutorials to improve the quality of posts. We also seek to increase their contribution through holding weekly contests in an effort to challenge them to make quality posts. Involvement to provide guidance also involves fellow community members.
Building communication and interacting with fellow users in the Steemit Travel community is a goal that we want to achieve. We want you to be involved in actively responding to what other users have shared on the Steemit Travel community page. Interact with each other, provide feedback, guidance, support and motivate other users for the posts they share.
We also open a discussion room guided by our team through the discord service. This service is to provide education to community members and seek to help community members from the problems they face. The following is the MOD schedule is active in general enlish in Discord:
We also provide guidelines for post quality improvement:
Investment and marketing increase planning
Successful and ongoing contests
---
The community should not have any compulsory delegation or beneficiary for votes policy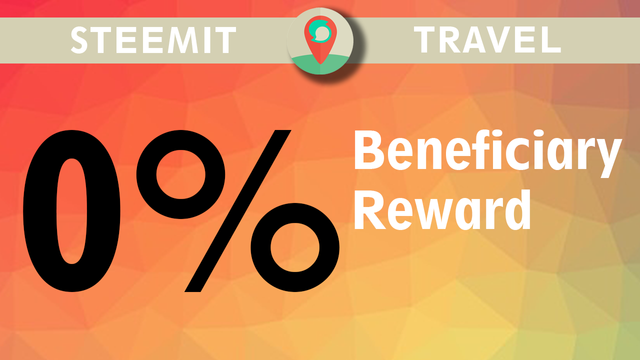 Through this release we would like to announce that the Steemit Travel community is the only community without a defined beneficiary reward rule. Community members don't even need to be required to set the beneficiary reward to the community account. We want to start our efforts to become a community with 0% beneficiary reward and no delegate obligation rules as a condition for getting support.
We have announced this release through this post: Steemit Travel is a Community With 0% Beneficiary Reward - Free and No Payout Rules
---
Reasons why community should be selected for the Challenge
We think Steemit needs a travel community because blogs should be a basic tool for those who want to describe their experiences in depth. But as we noticed, a traveler definitely needs a blog where he can find quality. Actually we have higher ambitions (dreams cost nothing) to be able to pick up the most interesting users especially those who come from traditional social networks.
With some of the information presented above, it is worth considering getting support and being selected as a supported community on the Steemit Engagement Challenge list. Some reasons that can be considered:
Having a professional and experienced team from various backgrounds and countries, a solid team to achieve the vision and mission of the community.
Support collaboration with other communities on Steemit
Has 520 Subscribers with 75 actives and daily posts up to 5-10 posts
Community account has 12 K Steem Power resource which is actively used daily to generate value.
Active community accounts make daily, weekly posts, notifications, announcements.
The only community without the rules beneficiary of rewards and mandatory delegation.
The community team actively checks posts, comments and provides guidance.
The community is active in conducting weekly contests
Community created on the basis of ownership that can be managed jointly between the team and community members.
The only community focused on empowering, promoting and investing TRON (TRX) to STEEM POWER.
Building social media marketing through twitter: https://twitter.com/SteemitTravel
Gather and build communication with all members through discord : https://discord.gg/8EXfKBaF
---
Team Contact
The following is a list of contact addresses for our discord team that can be contacted:
ponpase#2931
ripon0630#4573
---
We would like to thank all Steemit staff who have supported us since the founding of this community. We really hope to get this support. Even if you don't give us this opportunity, we will do everything to achieve our goals because we are motivated and because it will always be a good experience.
Background illustration by Pixabay
Best Regard,

cc @steemitblog @steemcurator01

@ponpase & team

Discord : ponpase#2931