Previously
"We're vegan," came the cult-like response.
"Well, shit," muttered Jenny.
She grabbed a handful of the sticks, flung them up into the air, and ran back to the bike concealed by the shrouding rain of sesame seeds.
The bike was gone.
---
Part One - It All Began With a Knitting Needle
- prompt:
knitting needle
Part Two - Coffee is Required - prompt: coffee mug
Part Three - "No. Cow." - prompt: desk calendar
Part Four - This Means War - prompts: shawl and backwoods
Part Five - A Vengeful Touch - prompt: sunscreen
Part Six - A Hasty Getaway - prompts: mashed potato and skiing
Part Seven - A Brief Pit Stop - prompts: winter barbeque and sesame sticks
---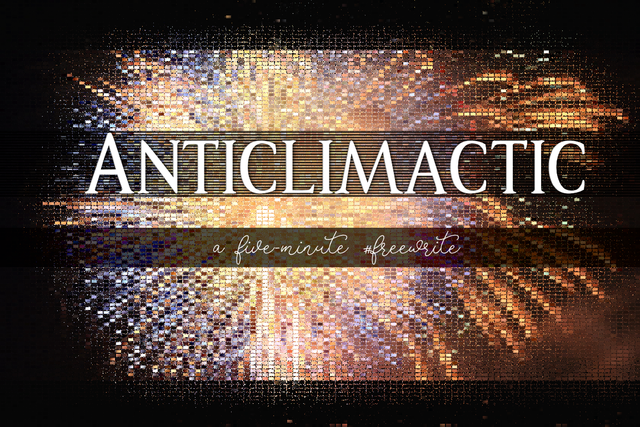 "The bike, the bike, the bike," Jenny muttered frantically beneath her breath, her eyes darting from side to side. "It's gone. GONE!"
She paused, then glanced over her shoulder at the confused faces peering at her from around the corner of the well-manicured house.
"Fuck the bike. YOU HAD NO BEEF!"
"Ahh, you met the vegans. I tried eating there once, too."
Joey's humour-filled voice spoke up behind her and she whipped around. Smiling broadly, his ginger curls coated in sunscreen much like her own hair covered in orange paint, he stepped towards her.
"Uh, well, yes..." Jenny began. "Vegans."
She pulled a face and Joey's grin widened.
"Jen-Jen, what's wrong?"
"Oh, nothing. Um, I'm just, you know, getting some... fresh air?" Jenny offered a grin that felt more of a grimace, but at least she tried. "Fresh air. That's exactly what's wrong with me. I'm having too much fresh air. TOO MUCH! And I need more. Catch ya!"
She spun about and bolted away, but was not quick enough. Joey grabbed her arm, stopped her in her tracks, and turned her to face him. Her eyes widened. Above Joey's head was a random metallic satellite, its vertical antenna clearly visible despite being thousands of kilometres below it.
"Joey," she whispered. "Please tell me you're not an alien. I mean. It explains a lot of things..."
He raised an eyebrow and giggled.
"You've definitely had too much fresh air."
The satellite burst into flames and started to free fall, then exploded in a shower of golden fireworks.
"I never thought I'd say this," she looked at Joey pointedly. "But, I think you're right."
"Sorry about the paint," he shrugged. "Judging by your reaction, I should've gone with the honey."
---
Hello! It's Day 821 of @mariannewest's five-minute #freewrite challenge. The prompt for today is -- fresh air -- but I also threw in a bunch of previous prompts I missed last week just to catch up -- well -- satellite -- and -- vertical antenna.
"Anticlimactic" but not sure if this is the end of this particular adventure or not. It's probably not. 😁
You can find today's challenge -- AND JOIN IN!! -- at the following link:
https://steempeak.com/hive-161155/@mariannewest/day-821-5-minute-freewrite-sunday-prompt-fresh-air
The header image is CC0 and courtesy of Pixabay!
Thank you for stopping by and having a read! 😃