What's new? Alien art of Steem community is all set up on Steempeak beta, discord and twitter!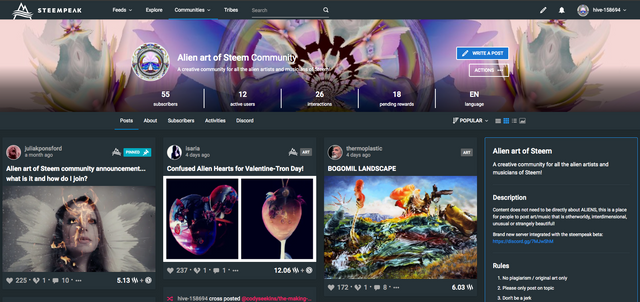 Steempeak has rolled out the beta site which integrates communities so I have been busy trying to make all the ALIEN ART things pretty and easy to navigate!
If you haven't tried it yet you can check it out here: https://beta.steempeak.com/c/hive-158694/created
---
So what's new?
Aside from having a more beautiful interface than the steemit beta site, navigation has improved and.... DRUMROLL! There is an integration for discord which is really fun and brings up some interesting possibilities!
I have created a discord that you can join here: Alien art of Steem
Here's what it looks like on steempeak: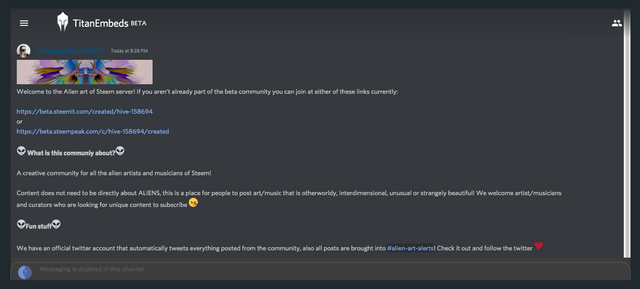 I have set up some webhooks so that every post made in this community will automatically go into the alien-art-alerts channel and will also be tweeted via the AliensSteem twitter account!

If you tag something #steemaliens on twitter it will also be pulled into the discord feed!

Hopefully with a little more publicity maybe we can pull in some cool artists from twitter and get them addicted to STEEM :D

I would like this server to be informational so I will be working on a room with artist resources to share!
Community recap
I created this community as a contrast to the more fine/traditional art communities so I can see and curate weird and fun art and music!
Genres that fit:
alien stuff (of course)
psychedelic style art
surrealism
experimental
visionary art
spiritual or occult/esoteric
space themed
outsider art
AI/Generative art
crypto art
futuristic
strange and bizarre themes or styles
music/writing/poetry are also welcome
Basically anything that falls outside of the traditional categories would qualify!
Nothing makes me happier than feasting my eyeballs on strange and unusual art :D
I will not be heavily moderating unless someone posts something totally unrelated so please don't be shy and hop in!
---
If you are reading this and you don't have a steem account contact me here/twitter/discord and I will hook you up with a free account without the waiting time.