Lady's Slipper Orchid
I bought this Lady's Slipper Orchid (Cypripedioideae) with one flowering stem about 8 years ago and derived enormous pleasure from the unusual flower, observing its unusual and exquisite design & colours.
Its flower partly consists of a slipper shaped pouch (modified labella) which serve as traps, forcing insects to climb past the staminode behind which they collect or deposit the pollen for fertilizing the flower.
After its flowering period came to an end, I cut off the stem and put the plant aside, watering it from time to time without giving it much attention.
Convinced that this orchid would never flower again I recently decided that it was time to make room for new plants but while proceeding to discard it I was totally surprised & thrilled to notice a new stem with a tiny bud, eventually developing into a wonderful flower. I was dealt a further delightful surprise when a second stem appeared, producing an equally beautiful flower as you can see for yourself in the photo.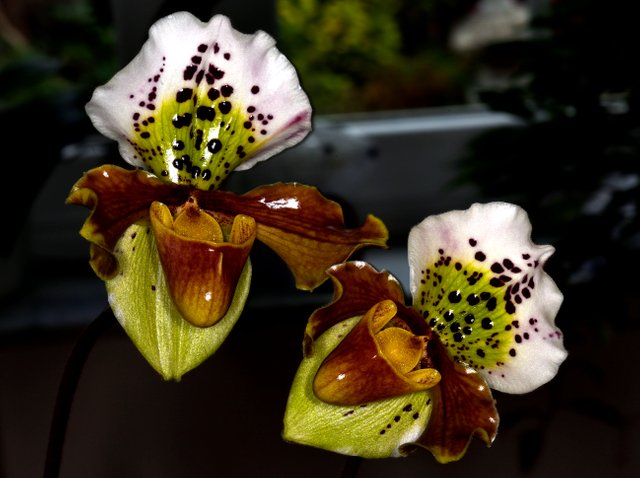 Click for a large view
Image © hvr All Rights Reserved
| Category | Macrophotography |
| --- | --- |
| Camera | Nikon D750 |
| Lens | AF-S VR Micro-Nikkor 105 mm, f/ 2,8G IF-ED |
| Settings | @ 105mm, ISO 560, 1 / 30s, f / 22 |
| Location | Belgium |
To view more please visit my blog
https://steemit.com/@hvr
Thank you in advance for your comments...