Initiative: In the union is strength. Together we win and we all grow. 10% for @ wo-photography
-Dear friends of The Steem City everyone welcome to my Blog. 📈📊✏️
---
Dear friends, everyone have a blessed day today. May the peace and mercy of God come to each and every one of us.
Today I want to present an Initiative that came up for me. To further strengthen this community The Steemit City.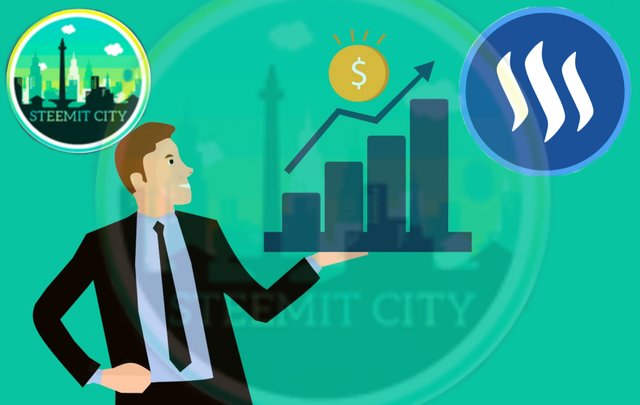 Photo of my authorship created with the PicsArt application
---
All together.
All of us can contribute to the growth and strengthening of this beautiful community in order to make it more autonomous and to be able to contribute to the growth of all of us at the same time.
Growing the community account We all win.
By increasing the voting power of the community account The Steemit City What does this mean? What measure we publish? The value of the positive vote in SBD will be much greater therefore it will be a much more autonomous Community. And we can help both the community and all the Steemians who participate daily in this beautiful community.
This community has supported us all a lot, this is the best way that we can also contribute to the ecosystem.
---
How?
It is simple the steemit platform allows us to distribute the profit of our Post.
Let's see how:
We go to the bottom of our publication, click on the Advanced Settings option, click and display the tab.
See below: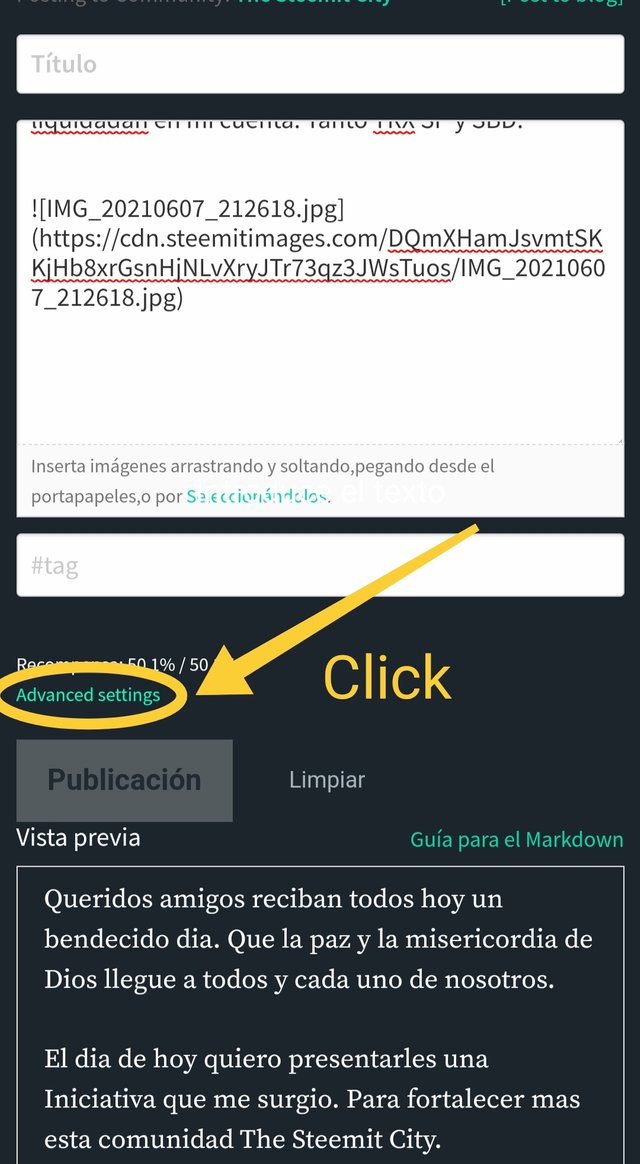 Screenshot of this post before setting up my account for this post
---
As you can see at this time it was configured so that all profits are settled in my account. Both TRX SP and SBD.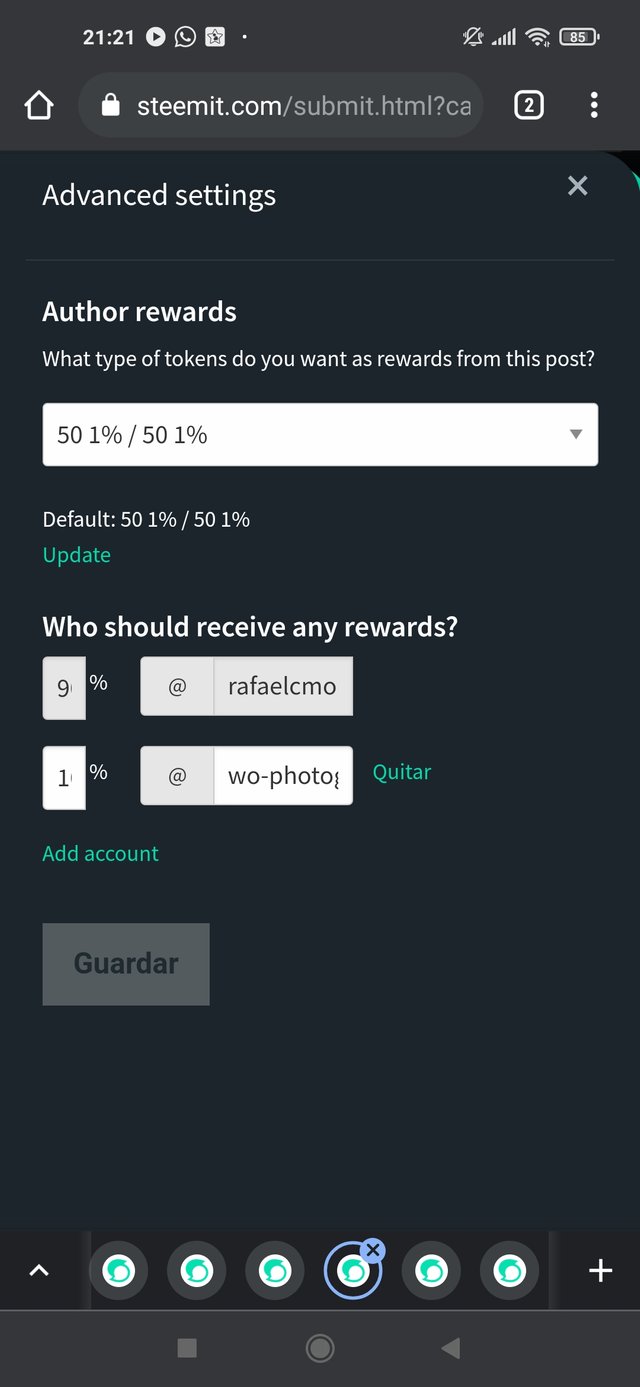 Once the screen is displayed, the option to configure the profits will appear as you can see, leave 90% of the profits for me and allocate 10% of the profits to the community account @ wo-photography. Then they give Save and that's it.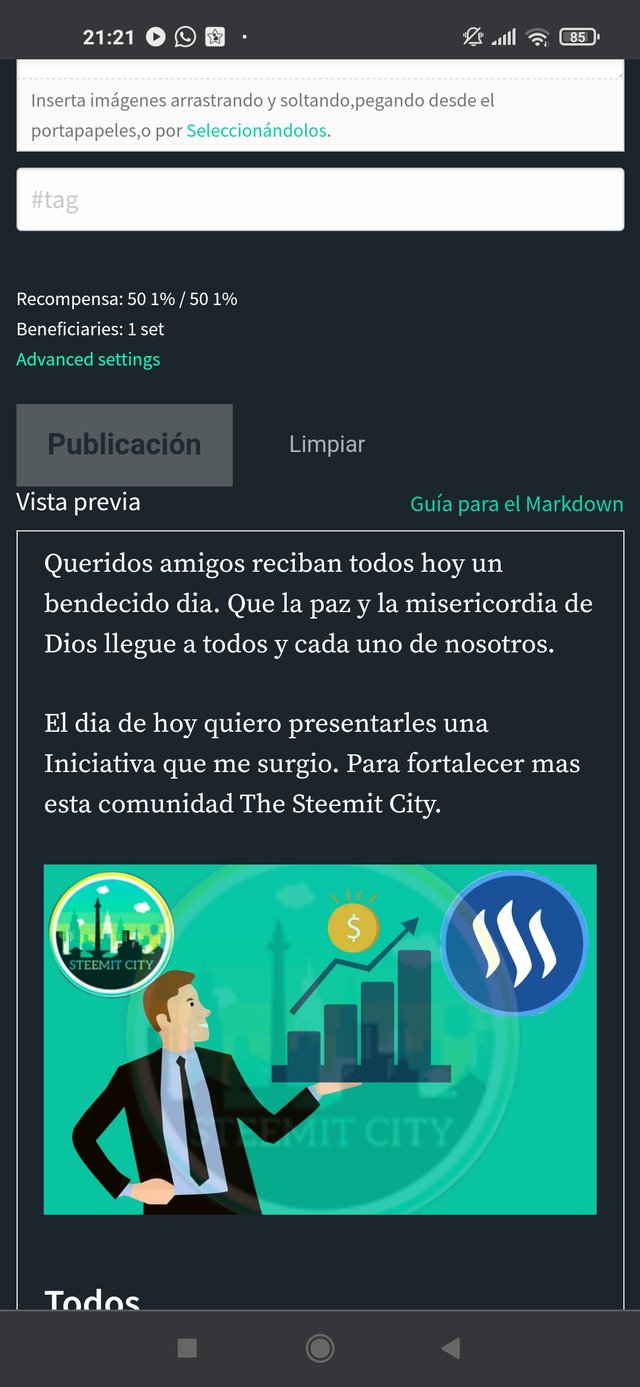 The account is already configured, as you can see, the beneficiary that I included already appears
Friends in this way we can contribute to the growth of the community. No matter what your contribution, the important thing is to contribute and continue creating quality and original content.
Friends, I really appreciate the time you spent reading this Post. I hope that we can all participate in this great initiative.
The strength is in the joining. Together we earn more and we all grow.
C.C
@rex-sumon @msharif @sm-shagor @sabbirrr @tarpan