Nutbox V1 launches its new brand: Peanut | Nutbox v1启用全新品牌名:Peanut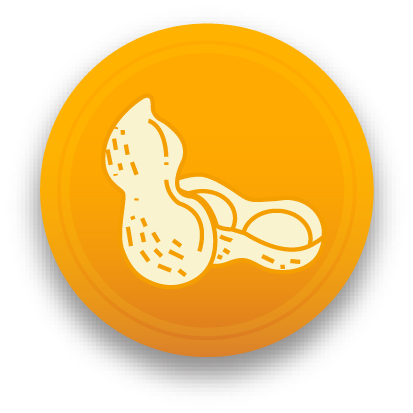 Since Oct. 20th 2020, the day Nutbox v1 launched, we have got 5.35M SP delegation, our community value exceed 3.75M USD, have alread approached some achievement.
In the process in which Nutbox v1 is approaching our achievement, the founder team is still developing new products. We expect that our community economic model can be replicated. Our goal is for any community can generate its own platform as the same as Nutbox v1 in 30 minutes. Thus, the new platform not only supports Steem and Tron, as well as Ethereum, Polkadot, BSC, Cosmos, and EOS. The new platform will service thousands of communities based on hundreds of blockchains, to help them built their staking economy platform.
It is a great project, our team started to prepare the project at the end of 2020, and a few achievements have been made. In order to promote Nutbox v1 (Peanut community) and our new project, we decide to create a new brand: Peanut, Peanut will heritage the ownership of Nutbox v1, and the community of Nutbox v1 will rename as the community of Peanut.
In the future, Peanut will become Nutbox v2's prophet network: new functional components will be released on Peanut community platform in advance. In the meantime, Peanut community will reach more and more blockchains with the pace of Nutbox v2. A stronger and bigger Peanut community is expecting.
Nutbox v2 needs a bunk of resource and capital. Peanut community will incubate Nutbox v2 after its rename. 100K USD is expected to be used as sponsor fund to the new platform in the form of PNUT and STEAM. In return, PEANUT community will get no less than 0.5% of tokens of Nutbox v2 as seed investor. These tokens will airdrop to our members one month after the Nutbox v2 release. More airdrop plans from Nutbox v2 are sill in consideration.
At the same time, Nutbox v2 simultaneously launched fundraising for institutional investors to develop and launch the new platform more quickly. And Nutbox v2 has obtained investment intentions from some investment institutions, and follow-up news will be instantly synchronized to the Peanut community.
For CN
Nutbox v1(Peanut社区)从2020年10月20日发布以来,获得了535万SP代理,社区价值(PNUT市值)超375万美元,取得了一定的成绩。
在Nutbox v1(Peanut社区)不断取得佳绩的过程中,创始团队亦在开发新的产品,以期让Nutbox v1(Peanut社区)可复制。我们的目标是,让任何社区可以在30分钟的时间生成Nutbox v1(Peanut社区)一样的平台。这样的平台不仅仅是基于Steem、Tron,还可以基于Ethereum、Polkadot、Binance Smart Chain、Cosmos、EOS等。新平台未来要支持上百条区块链上的上千个社区,在其链或社区上生成Peanut这样的质押经济平台。
这是一个庞大的工程,创始团队从2020年底开始筹备开发,取得了一些成果,并将陆续推出。为了更好地推进Nutbox v1(Peanut社区)和新项目,特启用Peanut品牌名。Peanut继承Nutbox v1的所有权,Nutbox v1社区更名为Peanut社区。
未来,Peanut将作为Nutbox v2(新平台)的先行网络,Nutbox v2(新平台)开发的新功能将优先在Peanut社区推出。Peanut社区亦将随着Nutbox v2不断扩展到更多区块链,期待与社区一起共建一个更大的Peanut社区。
Nutbox v2需要大量资源、人力和资本的支持。更名后的Peanut社区将孵化Nutbox v2,预计对新平台支持10万美元价值的PNUT或STEEM。作为回报,Peanut社区与其他种子轮投资者一样,预计至少获得Nutbox v2 0.5%的Token。此部分Token,将在Nutbox v2正式发布一个月以后,通过一定方式空投给 PNUT 持有者。亦不排除,未来Nutbox v2 DAO委员会对 PNUT 持有者进行更大幅度的空投奖励。
与此同时,Nutbox v2 同步对机构投资者展开募资,以更快将新平台开发并推出。且Nutbox v2已获得部分投资机构的投资意向,后续消息将即时同步至Peanut社区。