La Voz DISNEY !! // DISNEY Voice || Earn Steem and Trx // Register your entry and participate , Segunda Edición.
Hola Querida Comunidad de Steem Music, es un privilegio para nosotros poder brindar todo el apoyo necesario a los músicos de la plataforma a través de concursos, desafíos e iniciativas, todo esto con el fin de tener una amplia gamas de actividades Musicales..
Greetings Dear Dance and Music Community, it is a privilege for us to be able to provide all the necessary support to the musicians of the platform through contests, challenges and initiatives, all in order to have a wide range of Musical activities.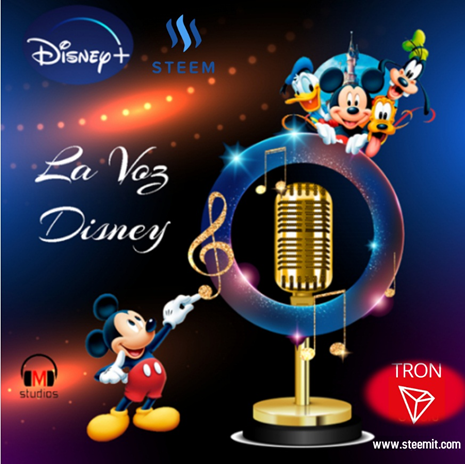 ---
---
Esta semana Iniciamos la segunda edición de una iniciativa muy divertida y emocionante
This week we start the second edition of a very fun and exciting initiative
---
---
Inicia "La Voz Disney" , donde tendrás la oportunidad de interpretar temas de esta bella compañía de entretenimiento :

_______
Start "La Voz Disney", where you will have the opportunity to interpret songs from this beautiful entertainment company.
---
---
Los premios para este concurso están divididos de la siguiente Manera / The prizes for this contest are divided as follows: :
---
1 Lugar/ First place : 10 steem / 15 Trx
---
2 Lugar/ second place : 8 steem / 10 Trx
---
3 Lugar/third place : 5 steem / 8 Trx
---
4 Lugar / fourth place : 5 steem / 5 Trx
---
---
Las reglas principales para participar son las siguientes:
The main rules for participating are as follows
---
Debes postear desde la comunidad:
You must post from the community
Steem Music
2) Debes mencionar en el vídeo : La Voz Disney mas tu nombre de usuario, esto es con el fin de proteger tus vídeos de terceros.
You must mention in the video: The Disney Voice plus your username, this is in order to protect your videos from third parties.
3) Utilizar como etiqueta principal
#studio2
,
#contest
#promo-steem
#steemexclusive
ya que de esta manera podremos ver tu entrada a la hora de evaluar tu contenido musical y así estarás participando.
Use # studio2 , # contest # promo-steem # steemexclusive , as the main tag since in this way we can see your entry when evaluating your musical content and thus you will be participating.
4) Debes colocar de titulo en el post: La voz disney/ cover por ( tu nombre de usuario.)
You must place a title in the post: Disney Voice/ #cover (your user name)
5) Puedes hacer tu presentación con pista o acompañarte con un instrumento
You can make your presentation with a track or accompany yourself with an instrument
6) También Puedes hacer uso de recursos para ambientar o recrear escenas de la canción disney favorita , o simplemente hacer corte de películas en tu vídeo. Que vuele tu imaginación.
You can also make use of resources to recreate scenes from your favorite Disney song, or simply append movie clips to your video. Let your imagination fly.
---
---
También puedes dejar tu participación en este post, justo en la caja de comentarios
You can also leave your participation in this post, right in the comment box
---
7 ) Invita a dos amigos a participar
Invite two friends to participate
El reto comienza a partir del 12/07/2021 y termina día 28/07/2021 11:59 pm. Los ganadores serán anunciados el día 30/07/2021.
The challenge starts from 07/12/2021 and ends on 07/28/2021 11:59 pm. Winners will be announced on 07/30/2021
---
---
El 20% de recompensa de este Post será destinado para encender la cuenta comunitaria @steemusics y el 80% destinado a premios.
Cc. @Steemcurator01 , @steemcurator02
---
Te invitamos a que participes en esta gran iniciativa así como también en las otras que se encuentran dentro de la comunidad.
We invite you to participate in this great initiative as well as in the others that are within the community.
---
---