Steemit Engagement Challenge S5-W1: Laughter is The Best Medicine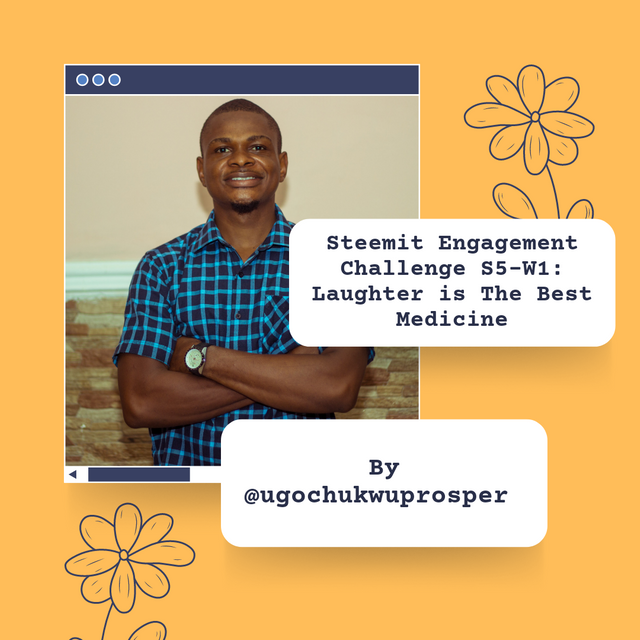 My Flier was designed with canva
Good day everyone, I'm glad to be participating in season 5 of this engagement challenge. I believe that we have all been waiting for this time to come and here we are.
WHY LAUGHTER IS THE BEST MEDICINE.

By the way of definition, Laughter is a feeling of showing strong emotions that reveals joy, happiness, and amusement towards a situation.
Laughter is a very good way to ease off stress and anxiety which is a basic causes of sickness in the human body.
Medically, Laughter causes the release of endorphins in the body which is a hormone that has a pharmacological effect of pain relief which is the best medicine one can ever have since pain is the underlying symptom of every illness.
Also during laughter, the body takes in good oxygenated air which helps in adequate circulation of oxygen in the lungs, heart, and body muscles thereby allowing the flow of blood with enough oxygen from the heart to the various part of the body.
WHAT MADE YOU LAUGH SO MUCH THAT YOU HAD TO HOLD YOUR STOMACH OR WIPE YOUR TEARS

This event happened during my final year in secondary school in the year 2015. It was during the champions league final between Barcelona and Juventus. I was a core Barcelona and Messi fan then and everyone was aware of that. I bought a bottle of wine before the match which we were going to celebrate with if Barcelona won. Because of that, I had some fake supporters around me who were with me as the match started. I thought that they were the real guys. A few minutes after the match started, Barcelona scored the first goal and there was rejoicing everywhere from my supposed fake supporters. The match continued and suddenly when Juventus equalized, those I thought were with me started mocking me to my surprise. They wanted us to lose so that I can be the talk of the night. After I noticed this, I became very calm and started praying for us to win. Fortunately for me, we won by 3 goals to 1. This caused a whole lot of joy and laughter to the fake guys that I spotted already. I and my fellow Barcelona fans laughed so hard at them that we had to hold our stomachs. We also celebrated with wine as we planned initially and it was all shame to the fake guys and joy on our end. Indeed Laughter is the best Medicine.
CONCLUSION

No matter anything you are going through in life friends, I encourage you to take out time to watch funny comedies and laugh out your problems loud. Always being sad and frowning only makes the matter and your health worsen by the day, Try to wear a nice smile always.
I invite my friends @oguzvic @dayographix @arinzegod12 to join this engagement challenge.