"Steemit Engagement Challenge S9-W6: "Goal setting for the year"
Hi everyone, I hope you are doing well and enjoying a good life with the grace of Allah SWT. I'm here to participate in an amazing engagement challenge hosted by STEEM FOR BETTERLIFE. The name of this challenge is "Goal Setting for the Year". so let's get started: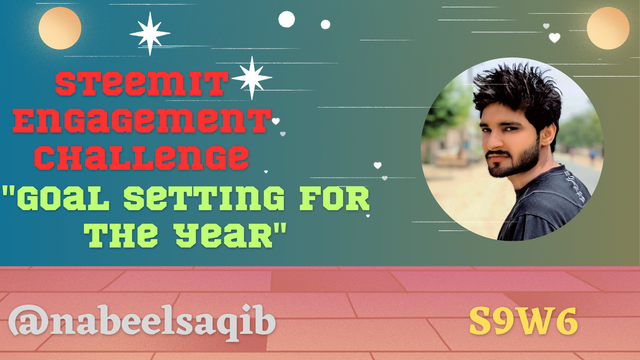 What specific goals did you set for the year?
Firstly, I aim to secure a fulfilling job that aligns with my skills and interests, providing both financial stability and personal satisfactin. Secondly, I am committed to enhancing my physical fitness, targeting not just weight loss or muscle gain, but an overall healthir lifestyle.
How have you worked to achieve your set goal?
I have been adopting a strategic approach in my pursuit of securing gainful employment. The initial step I have taken involves the identification of my skills, interests, and values, which will serve as a compass in directing my pursuit of employment opportunities. I have been revising my curriculum vitae to effectively showcase my competencies and accomplishments, with the aim of distinguishing it from other applicants in the eyes of prospective employers. In addition, I have been dedicating my efforts towards enhancing my interview aptitude by formulating responses to frequently asked questions and acquiring proficiency in presenting my competencies and accomplishments in a compelling manner. In addition, I have been proactively engaging in networking activities, both virtually and face-to-face, with the aim of investigating potential employment prospects and establishing professional relationships within my targeted field. Incorporating the practice of periodically examining employment advertisements across multiple platforms is a component of my habitual regimen.
For my fitness goal, I have been implementing and following a structured exercise regimen. This includes a mix of cardiovascular activities like running or cycling, along with strength training exercises. I've been working on maintaining consistency, knowing that consistency is key in fitness. Besides exercise, I have been paying close attention to my diet, aiming for a balanced intake of proteins, carbohydrates, and healthy fats, and cutting out excessive sugar and processed foods. Adequate rest and recovery, along with maintaining a positive mindset, are also part of my plan.
How has your goal impacted or will impact others?
These goals, once achieved, will impact not only me but those around me as well. Landing a good job will enable me to contribute positively to my community through my work, inspire others in their career journey, and provide better financial support for my family or dependents. On the fitness side, my transformation can inspire others to take steps towards a healthier lifestyle. Improved physical fitness also means that I will have more energy and enthusiasm for social and family activities.
How have you benefitted from setting and achieving those goals?
Setting and pursuing these goals is already benefitting me in numerous ways. The job search process, despite its challenges, is providing me valuable lessons in patience, perseverance, and self-promotion. Securing a fulfilling job will give me a sense of accomplishment, boost my self-esteem, and provide opportunities for continuous learning and growth. As for the fitness goal, the discipline required to exercise regularly and eat healthily is boosting my willpower and resilience. Achieving this goal will not only improve my physical health but also my mental wellbeing. It will provide me with more energy, improve my appearance, boost my confidence, and enhance my overall quality of life. Ultimately, the journey towards these goals is shaping me into a more determined, disciplined, and healthier individual.
Invite my best friend
@ashkhan @drhira @m-fdo @artist1111 @asiahaiss @zory23 @steemdoctor1 @isha46