#Burnsteem25 : Lets Join Every Contest On The Steem For Betterlife Community [Four Active Contests]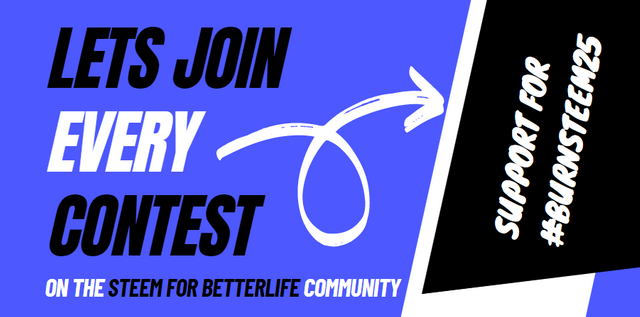 The Steem For Betterlife community is one of the communities that prioritizes the principle of learning or education on steem and puts forward the principle of humanity which is marked by the formation of a charity account. Since the establishment of this community, all admins and moderators have encouraged active members to take part in several contests and charity events organized. Combining contests and charities is one of the ways this Community team can increase its subscriber and active posters.
At this time the admins and moderators of this community are holding various contests that can be participated by anyone in order to advance this Community. The various themes that were brought up by the contest organizers this week with various rules given to the participants were very interesting and certainly an attraction to follow. The contests held in this community and are still active since they were held are as follows:
Therefore I invite all steemians to immediately participate in every contest that is being held. The steemian can choose according to the desired category and follow all the rules that have been set by the organizer. This is the contribution of admins and moderators from the Steem For Betterlife Community in the contest category for the growth of steem and this community to achieve its vision and mission. Both in terms of steem education and about charity which is carried as the spirit of the Community.
---
Cc : @pennsif
Thank You
Klen Civil