Steem For Betterlife Community Official Appeal | Please stop voting for steemcurator01 and steemcurator02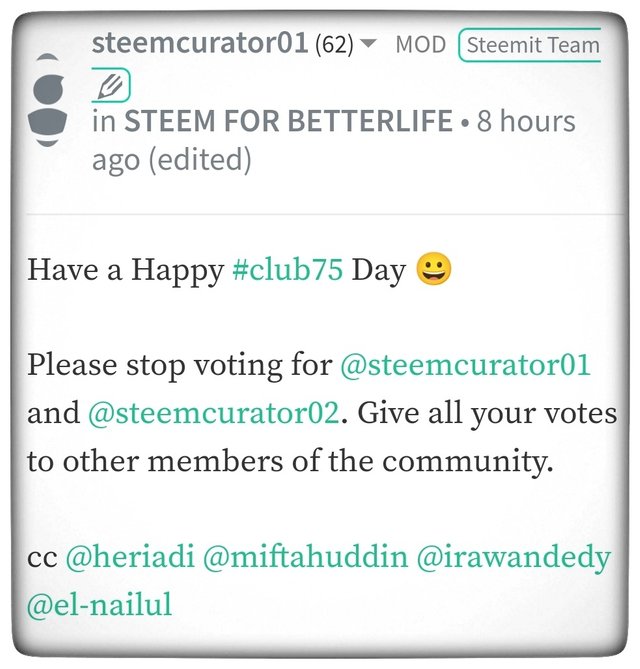 In connection with the high number of users who vote on every comment made by steemcurator01 and make massive mentions, I as the Admin of Steem For Betterlife Community urge all levels of Steem For Betterlife Community not to do this activity.
"Please stop voting for @steemcurator01 and @steemcurator02. Give all your votes to other community members."
Link
As the comments conveyed by Steemcurator01 above recently expressly prohibits these activities. Users are better off using votes in the form of upvotes to other users so that they have benefits, not only as part of curating fellow members in the community, but as a form of support for content that is considered worthy of curation.
In addition to voting for Steemcurator01 and Steemcurator02 as well as other steemit teams, we also reiterate that there are other activities that should not be done, that activity is mentioning. Mentions are basically done to convey important information to fellow users.
However, do we have the capacity to do that? There are several mentions made as a form of activity reports and community development reports, although this is not a reason for the legality of mentions.
Mentions made massively will interfere with the Steemit Team in seeing important notifications that enter notifications. Just imagine, every day thousands of mentions come in, even though there is important information that is conveyed, it will be covered by many other mentions that are not important.
Once again we convey that this official appeal was carried out as a form of prohibition conveyed by Steem For Betterlife Community, and we do not tolerate this activity, considering that we have conveyed this activity and appeal several times in official community announcements and generally conveyed by other members in posts. they.
If this is done repeatedly, it will disrupt the credibility of Steem For Betterlife Community in the future, and we will take concrete steps by:
Give a warning by editing it.
Give a Warning Symbol or the like.
Mute posts if the same thing is done repeatedly.
Considered spam and banned from Steem For Betterlife Community.
Thus this Official Appeal is issued, hopefully it will be a reference for all steemit users who are members of the Steem For Betterlife Community.