Diary Action to promote the Steem | PROMOTE STEEMIT TO SHOP CUSTOMERS BY STICKING AND SHARING STICKERS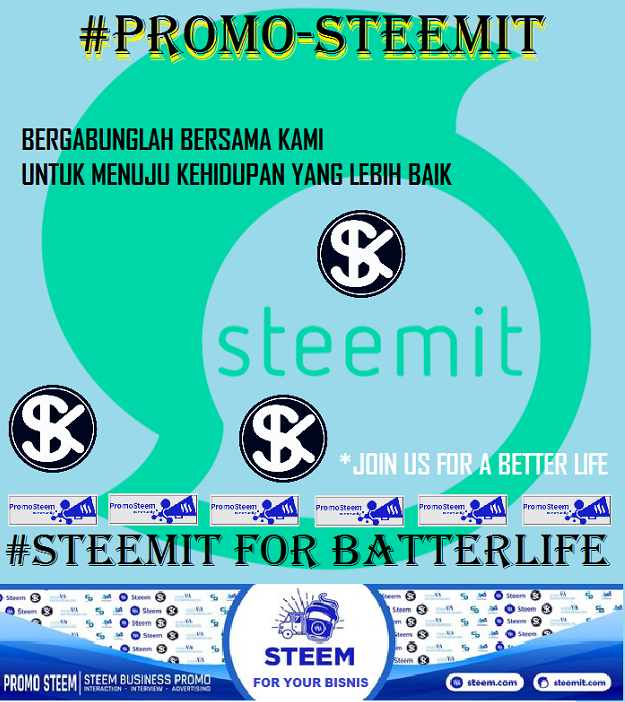 Image edit with Paint app by @f2i5
Diary Action to promote the Steem |
PROMOTE STEEMIT TO SHOP CUSTOMERS BY STICKING AND SHARING STICKERS
---

Good evening steemians.
Daily activities to promote #Steemit and #Steem to the community within the scope of daily activities.
I am a daily activity as a seller in a shop, which sometimes I spend most of the time in it.The space is so narrow, it doesn't stop me from doing something to be able to take part in promoting Steemit.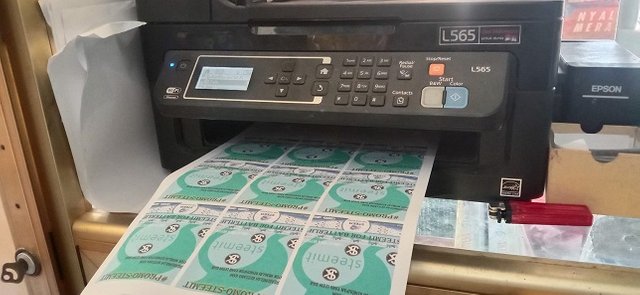 Sedang mencertak Stiker untuk ku bagikan
Immediately after tidying up some activities in the store such as tidying up goods, checking stock and so on. I'm trying to design a sticker about #promo-steemit today for me to print and I stick it in some corners of my place of business and some of it I print a little small for me to share with customers who come,
I've been working on this for the past few days.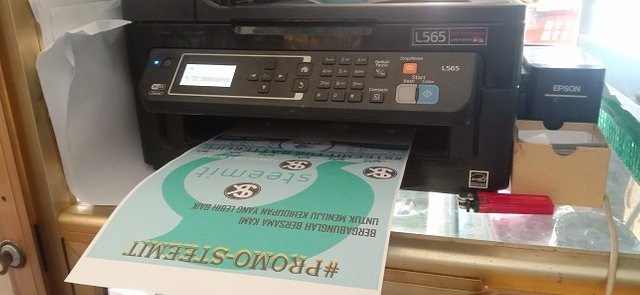 Sedang mencetak Stiker untuk ku tempel di toko
A series of agendas that have been neatly arranged and carried out well. Some small stickers have been distributed in the hope that everyone knows with #Steemit and soon becomes a part of steemit.
[IND]
Diary Action to promote the Steem | | PROMOSIKAN STEEMIT KEPADA PELANGGAN TOKO DENGAN MENEMPEL DAN BERBAGI STIKER
Selamat sore steemians.
Kegiatan hari untuk mempromosikan #Steemit dan #Steem kepada masyarakat dalam ruang lingkup kegiatan sehari-hari.
Saya yang keseharian beraktifitas sebagai seorang penjual di sebuah Toko, yang terkadang hampir semua waktu saya berada di dalamnya.
Ruang gerak yang begitu sempit, tidak membuat saya untuk tidak berbuat sesuatau untuk bisa ambil bagian dalam mempromosikan Steemit.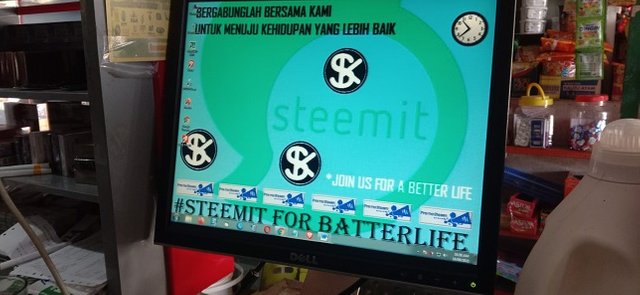 Layar Pc ku pakai background dengan stiker yang ku desain untuk #promo-steem
Segera setelah membereskan beberapa kegiatan dalam toko seperti merapikan barang, mengecek stok barang dan sebagainya. Saya mencoba mendesain stiker tentang #promo-steemit di hari ini untuk saya cetak dan saya tempelkan di beberapa sudut tempat usaha saya dan sebagian lagi saya cetak agak kecil untuk saya bagikan ke pelanggan yang datang,
Saya selalu mengerjakan ini dalam beberapa hari belakangan ini.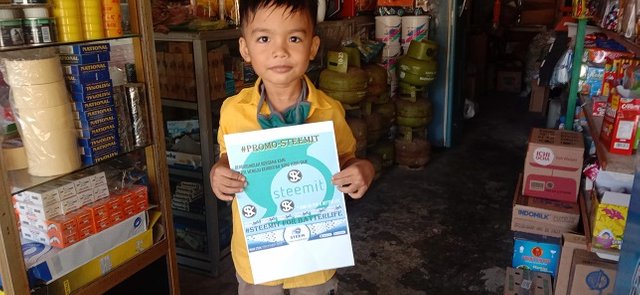 Putra ku lagi memperagakan Stiker di toko ku
Serangkaian agenda yang telah tersusun rapi dan terlaksana dengan baik. Beberapa stiker kecil habis terbagi dengan harapan semua orang tahu dengan #Steemit dan segera menjadi bagian dari steemit.
Inilah serangakai kegiatan saya dalam Diary Action to promote the Steem kali ini.
Saya juga memanggil 3 kawan saya untuk mengambil andil dalam kontes ini @zulbahri @whalewinners @midiagam
Terima kasih kepada penyelenggara kontes @sofian88 dan Komunitas STEEM FOR BETTERLIFE yang telah melahirkan ide yang luar biasa ini.
Dewan juri yang saya hormati:
CR Indonesia @heriadi
Greeter Helper @irawandedy
Crypto mentor @liasteem
<<<<<

<<<<< STEEM FOR BETTERLIFE >>>>>

>>>>>
Best Regards
Faisal Us
@f2i5