Mini Crypto Program Part 2 || "How Psychology Influences Market Cycles", by @calipo09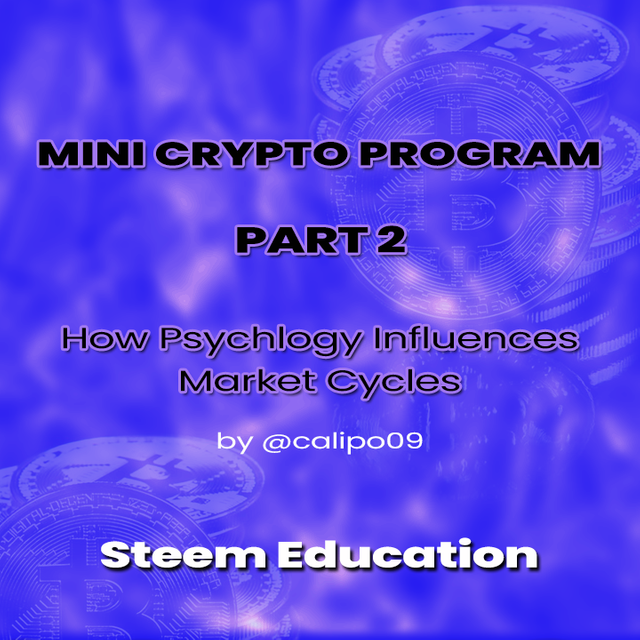 Hello everyone, it's great to be back in this wonderful community. I will begin by saying thank you to @liasteem for this wonderful opportunity given to beginners like the exposure to crypto programs and I know this will be a stepping stone going into crypto academy.
Without wasting much time, I will like to go into the topic How Psychology Influences Market Cycles by answering the following questions;
Visit the website CoinMarket , and explain what FOMO is!
Explain what is FUD?
Explain where FOMO occur! (Need screenshots)
Explain where FUD occur! (Need screenshots)
Choose the 2 cryptocurrencies you want, then use the graph of the 2 cryptocurrencies to explain where FOMO and FUD occur! (Need screenshots)
Conclusions!
---
FOMO
To begin with, FOMO is an abbreviation which means Fear of Missing Out. FOMO sets in when an individual thinks he or she is losing out on something which has a great gain or profit.
In the crypto world, one may get FOMO when a particular coin begins to appreciate. This creates a mentality that the coin must be purchased by all cost and causes the trader to face the greatest fear of every trader which is running at a lost.
This worry of missing out is what causes individuals to shop at the highest peak throughout a dip when trying to create profits for themselves only to fall into their greatest fear of losing.
---
FUD
Just like FOMO, FUD is also a technical term which means Fear, Uncertainty and Doubt. FUD can cause the rising and dropping of a particular coin or currency. It happens as a result of the spread of fake news and information which has no basis and causes traders to be in limbo.
In as much as FUD can cause the rising of a coin, it does not have the fundamental basis but rather based on news with no grounds and its mostly caused by competitors in the crypto world to make a particular coin more popular (drop in cost and value) than another.
---
Where FOMO Occurs
The images below demonstrate a typical example of the occurrence of FOMO in two different currencies. Looking at the image below, the green bars marked demonstrates the rising of the coin and hence traders who have not invested in it start to have a thought of thefear of missing out on the profit which goes on to push them to buy it and later on end up losing.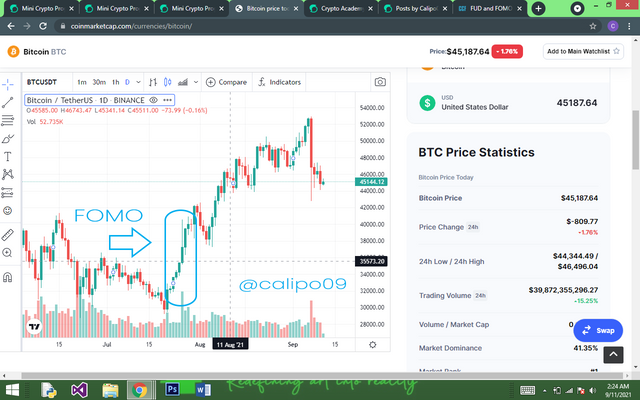 This image shows when bitcoin was rising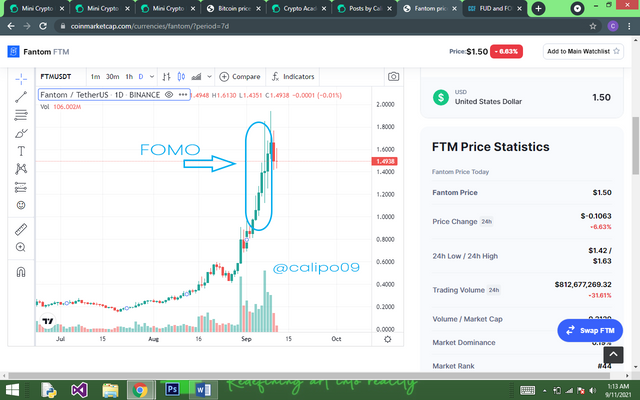 This shows when fantom was rising
source
---
Where FUD Occurs
Again a demonstration of FUD occurring in the images below. The red bars in the marked area of the image shows the falling of the coins and this puts traders in a very tight situation and causing Fear, Uncertainty and Doubt to traders whether they should sell or keep the coin.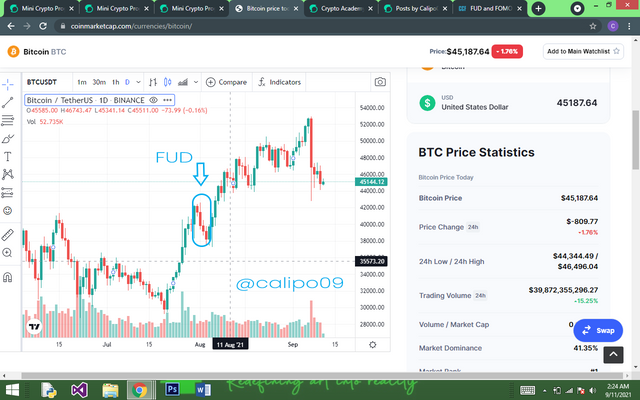 When bitcoin started dropping.
image source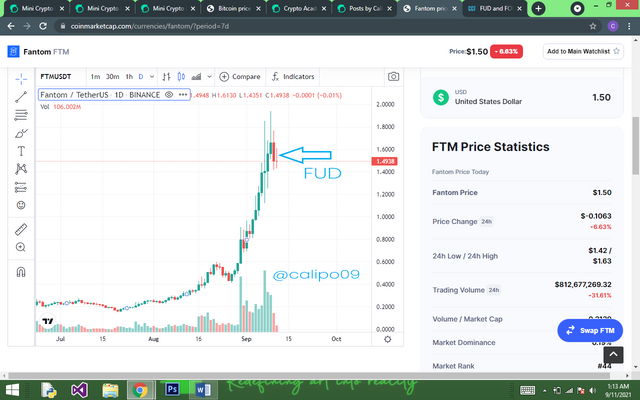 When fantom started dropping.
source
---
As the 5th question directed, I will be making reference to two different currencies. These currencies are, our own crypto we have in steemit, SBD and Tether
SBD
As shown in the graph below, the green arrows show the rising of the steem dollar (SBD) and hence this will cause traders to rush in to get the currency and causes FOMO to set in. Also the occurrence of FUD occurs and its indicated with the red arrows in the image below.
Looking at the graph and the trend, the implication of it is that SBD is much more of a stable currency that when there is a calculated risk and very good analysis a trader will make huge profit out from it.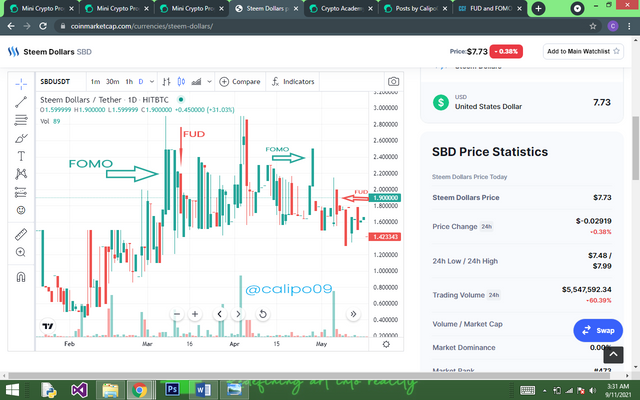 ---
Tether
Looking at the graph below, there is a much greater chance of FOMO occurring in this currency due to how high the coin has risen as shown in the graph below. Also, FUD sets in frequently due to how it drops often.
From the graph, trading in this currency, will be a very risky one because of how unstable it is which can cause traders to fall at a loss.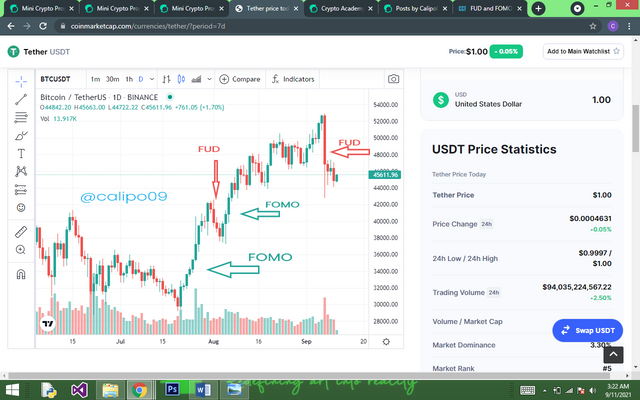 ---
Conclusion
FOMO and FUD are emotional phases in the trading cycle and require psychological intelligence to be able to stand the market. As a newbie in crypto one must be able to have control over his or her emotions and not be pressured by the pressure of missing out on profits. However, taking time to learn and understand the facts of how tokens rise and fall and this will really be of help in the crypto world.
I will use this opportunity to invite @mukadas, @mukka, @illy123 to join this wonderful program and I will like to thank @liasteem once again for this great program.
10% of the payout to @steem.education