PromoSteem - 10% Payout Beneficiary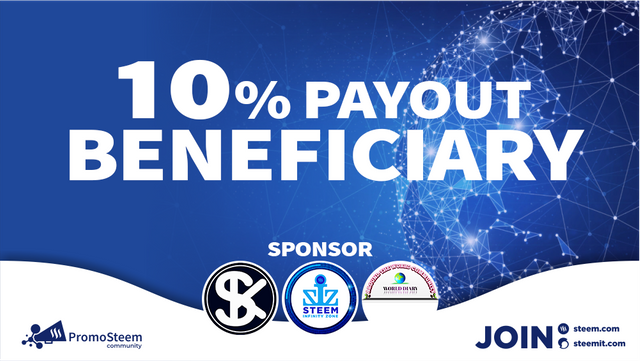 Hello Promoters around the world, through this post we would like to inform you of the latest set of rules for the PromoSteem Community. The setting of this rule is an attempt to increase the resources of the PromoSteem community account. There are 2 new rules that are our main focus for now.
First, this rule is about setting 10% payout for @promosteem.com accounts and second is about the rules for becoming a member of the PromoSteem community. We strive to grow and become an independent community on Steemit. Therefore, we are committed and determined to grow the @promosteem.com account resources.

Where do our main sources of income come from?
Currently our only main source of income comes from post payout account @promosteem.com , Sponsorship and contribution of 10% payout. The great effort for the growth of the @promosteem.com account is a joint initiative of our Team, Moderators and Promoters, especially through their contribution of 10% payout to the @promosteem.com account. Our initial efforts have gone well and have had a significant impact on increasing the strength of the @promosteem.com account.

Through this post we propose setting rules for all our members who have been verified and get their label as membership in the PromoSteem community. We invite all community members to take part in any way that aims to increase the resources of the @promosteem.com account. We must work together to make this community more independent.
One way that can be done is by contributing 10% payout to the @promosteem.com account sourced from our users and members. This effort is to achieve our target of 10 K SP, then bring it to 20 K SP. We plan to reach 50 K Steem Power (SP) by the end of the year. That's why we worked hard to build SP that will be used to support promotional activities and community operations.
This number does not include SP from delegates, because the delegates can withdraw their delegates at any time. So, with this increase in resources we will not continue to depend on the delegator. This means closing the opportunity for delegates, because we are always open and appreciate every delegate who has contributed to increasing the resources of the @promosteem.com account.

Revenue Allocation 10% Payout
We will explain how this 10% payout income will be used and allocated. Our main income currently comes from @promosteem.com account post rewards, sponsorships and 10% rewards from contributions from our team, moderators and promoters. With the stipulation of this new rule, revenue will increase from 10% of rewards from user and community member contributions.
Funds from Sponsorship are used to support contests, meetings, presentations and other projects on PromoSteem.
Funds sourced from @promosteem.com account post rewards and 10% contribution rewards from teams, promoters, users and community members will be used to: increase Steem Power and Pay Delegates (Delegator Rewards).
The main purpose of using 10% payout will be used to increase Steem Power which is carried out strategically and precisely by our team.
Delegator Rewards will be distributed equally every month according to the percentage earned by each delegate.
We will use the 10% payout reward wisely and on target.
To date our team has never received a penny from the @promosteem.com account for their work.
Our team also never receive upvotes from @promosteem.com accounts, because our only goal is to empower the community and support great people doing promotions.
The only thing our team can rely on is through upvote support from the Steemit team for their content.

The following is a guide for setting up 10% payout to @promosteem.com, please follow these instructions:

First, click on the Advanced Settings text at the bottom of the post dashboard or just above the Post text.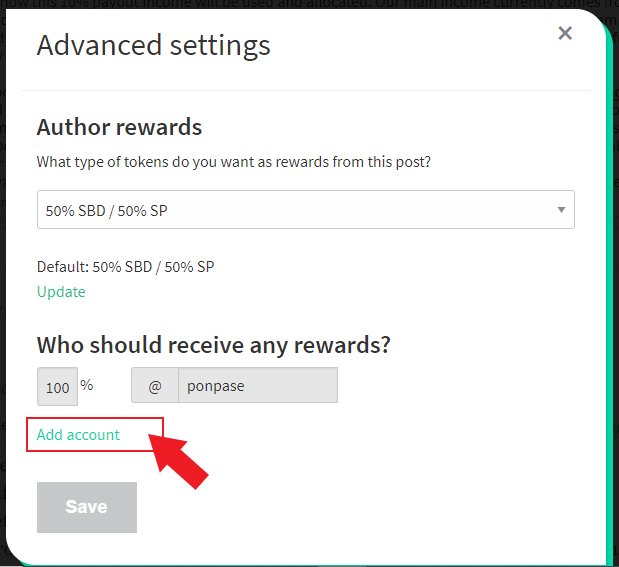 After a pop-up appears as shown above, click on Add account.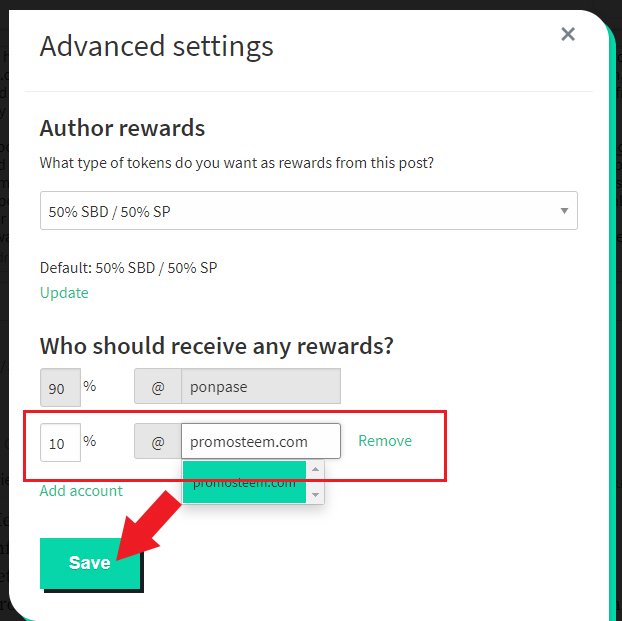 In the percentage value, enter the number 10 and write promosteem.com (without using @) as beneficiaries, check again and make sure the data is correct, then click save.

Done, changes will appear as shown in the image above Beneficiaries : 1 set
Thus, we convey this submission to all members of the PromoSteem community. We are always open to receive criticism and suggestions. Give your feedback in the comments column!

Sponsorship & Partnership

DELEGATION
We are very open to receiving delegations from anyone who wants to support the community. if you are interested in becoming a delegator for PromoSteem you can give any delegation you like :
Alternative links delegates to @promosteem.com


Thanks to Steemit Team : steemcurator01
PromoSteem Sponsor :
@stephenkendal , @siz-official, @around-theworld


Kind Regards
PromoSteem Team
@arie.steem As Community Leader
@pojan As Team Support
@ponpase As Team Support


Promoters Team
@julstamban - Philippines 📣
@mcsamm - Ghana 📣
@nattybongo - Ghana 📣
@cryptokraze - Pakistan 📣
@michaelchijioke - Nigeria 📣
@oscarcc89 - Venezuela 📣
@talktofaith - Nigeria 📣


Discord