I bought 1127 STEEM today - tutorial step by step how to buy STEEM
I bought 1127 STEEM today - tutorial step by step how to buy STEEM
Some time ago I announced that for Valentine's Day I'll be buying around 1000 STEEM to make my account grow even faster. In the comments under that post, I received the information that many of you don't know how to do it and would be grateful for the short tutorial. I'm here for you, I hear you, so I have decided to make a few screenshots and describe everything step by step.
To buy STEEM you will need a verified account on Binance and a credit or debit card (there are options on how to do it without the card as well, but I'm focusing on the easiest and most popular way today).
Step 1
Log in to binance.com and select from the menu "buy crypto". Insert your currency in "pay with" and choose "credit/debit card"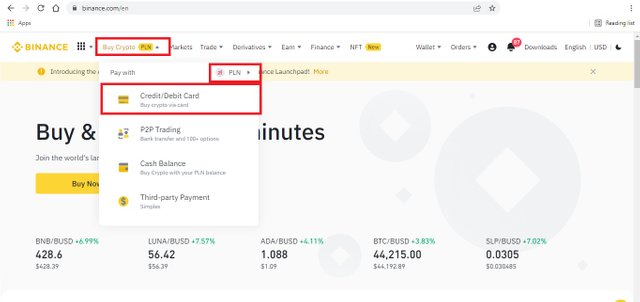 Step 2
Write how much money do you want to spend on crypto and make sure you are buying Bitcoins (BTC). There are several options related to the crypto that can be bought that way but unfortunately, STEEM/SBD is not one of the options. Bitcoin will be the easiest to change for STEEM.
Confirm the transaction by clicking "Continue" and insert all necessary data related to your credit/debit card.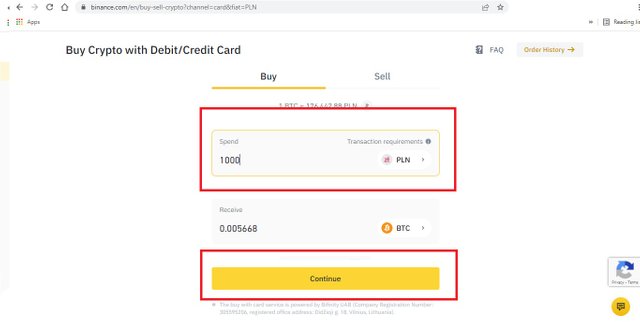 Step 3
Now go to the "wallet" -> "fiat and spot". You will find it in the upper-right menu (look at the picture).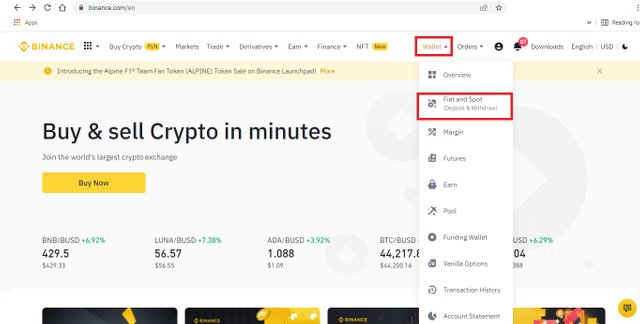 In your wallet you will see the BTC that you just bought and, optionally, other cryptos that you own. Over the list with your cryptos, there is a searcher. Write "STEEM" there. On the right side from the STEEM there is an option "trade" - select it and choose from the list "STEEM/BTC"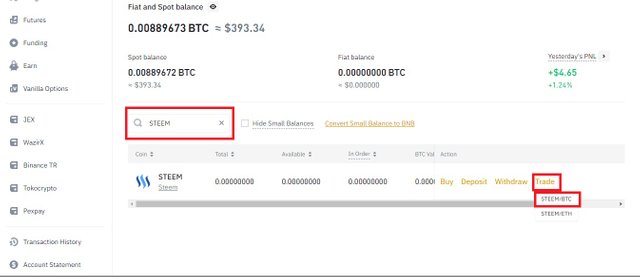 Step 4
Mark on the left side all the necessary details: how much of your BTC do you want to spend on STEEM, and what is the price that you are willing to pay. If you want to buy STEEM immediately, observe the prices in red, on the left side and select the lowest offer that will cover your shopping. Confirm everything by clicking "Buy STEEM"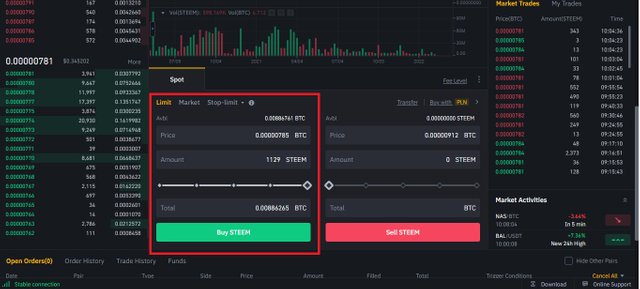 Step 5
Once again go to "wallet" -> "fiat and spot". This time you should already see "STEEM" on the list with your cryptos. From the menu on the right side, select "trade".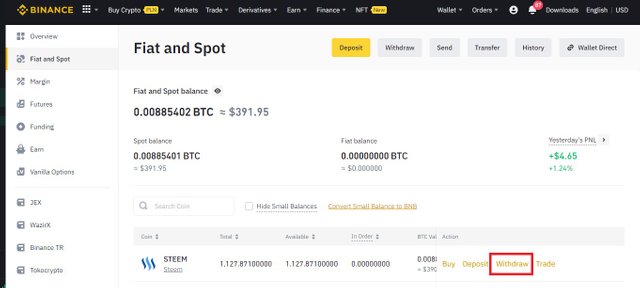 Step 6
In the address write down your nickname from Steemit (without the "@"). The network will be filled automatically once you'll do it. Then add your Private Memo Key (very important - don't make any mistake here) and mark how much STEEM do you want to transfer to your account. The fee for the transfer is very low - finance takes 0.01 STEEM for the transaction, does not matter if big or small. Confirm everything by clicking "withdraw".
Once the transaction is done, it may take up to a few hours until the STEEM is in your wallet. No worries though - usually it's just a matter of a few minutes.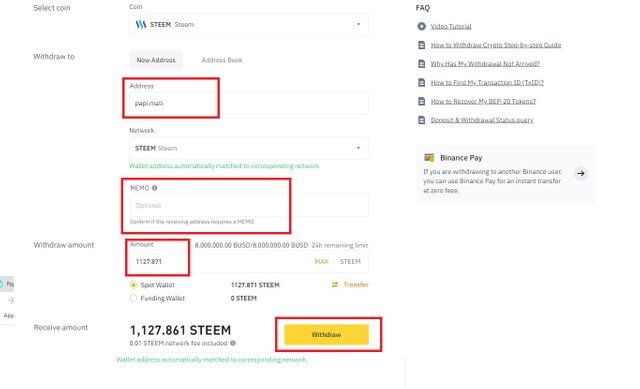 ---
Summary
If anything is not clear, please ask the questions in the comment section or send me the message on Discord. I bought and powered up today over 1127 STEEM (1 127.861) and honestly, I do recommend you all to do the same, if you only have some extra cash.