Promo-Steem - Steem for SDGs Take Action to Clean Up Freshwater Lake "Takengon" [Planet Positives]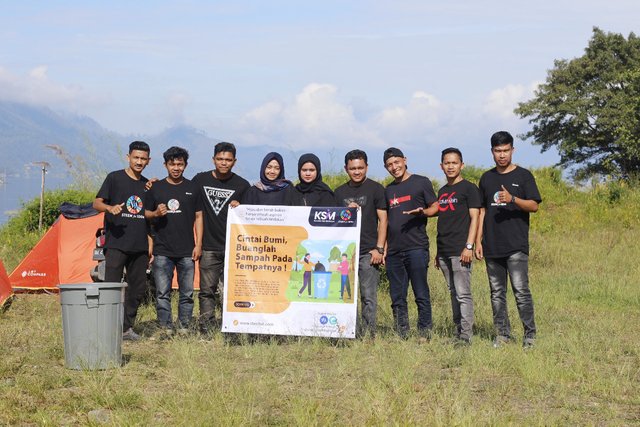 ♨️10% of post payout goes to♨️ @promosteem.com & 25% to @steemforsdgs
Hello Steemian, I hope you are in good health.
On this occasion I feel very happy because I was able to meet the team, members and volunteers of the @steemforsdgs project. This meeting started when we discussed through the Whatsapp group. The results of the discussion from the group finally we decided to have a meeting and discuss about the program.
The freshwater lake is the proudest tourist destination where we camp together. This camp aims to develop pilot projects and programs that will be implemented to develop this community. In addition to meeting activities, we also carried out Clean Up actions in the freshwater lake area.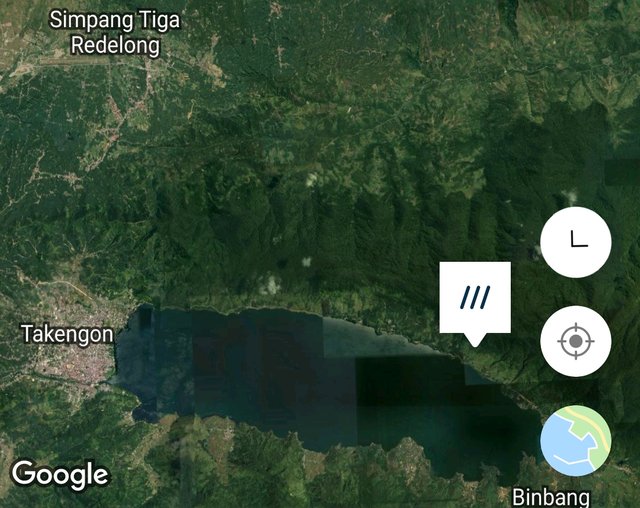 Location: Kala Segi, Aceh Tengah
LOCATION
The freshwater lake located in Takengon City which is often called the (cold city), Central Aceh Regency, Aceh, has become a new tourist destination and place to camp with family and friends in the district. To get to this location, you can go through the road which is next to the mountains and added with a beautiful lake and cool atmosphere. The distance is about 20 kilometers. However, to get there there is already public transportation such as a car and a very good road.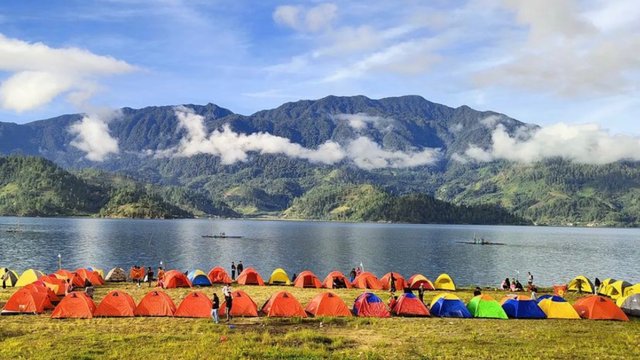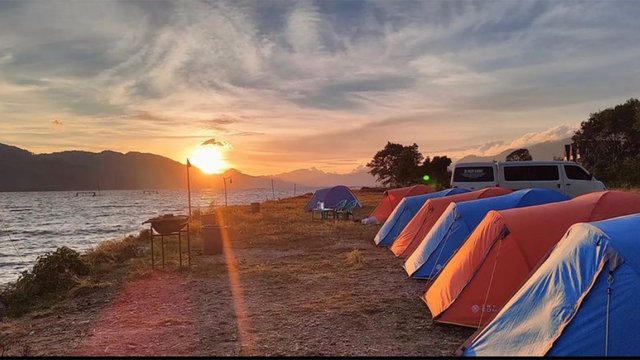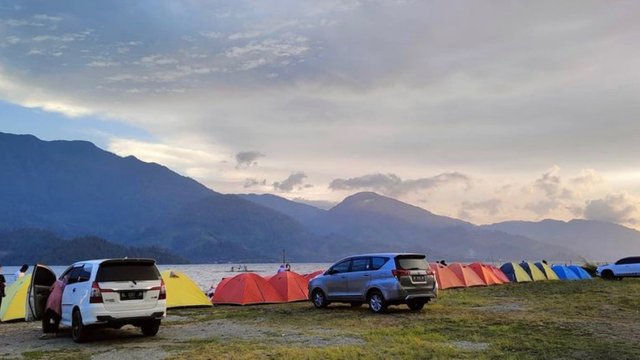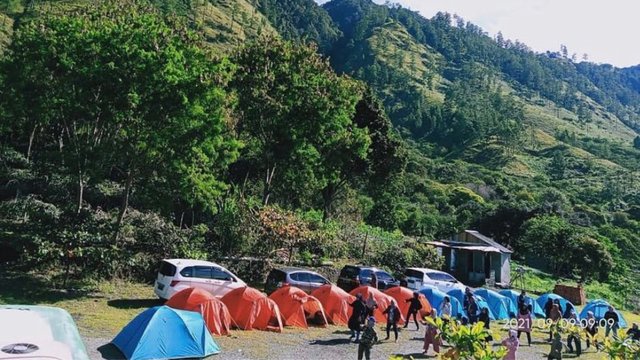 The atmosphere at the camp
ANALYSIS
The freshwater lake has beautiful views and very clear water and a cool atmosphere. In this place we can feel the cool and peaceful atmosphere. According to the area guard, what we did to camp together and do a clean-up on the edge of a freshwater lake, it is called a freshwater lake because the water is clear and wavy like the sea, so it is called the sea because it is bumpy but the origin is a lake and here we can swimming. In this freshwater lake we can feel the extraordinary coolness that we can use as a place to camp together.
So far, these tourism objects are still managed traditionally by village officials and local youths. There is no majestic signage like a destination that has been touched by the government. Therefore, we visitors must take the initiative to keep each other clean so as not to pollute the residents of the place, because this place is very beautiful without any garbage scattered in the freshwater lake. And we also protect the environment from various wastes, not only the responsibility of the cleaners, as human beings who have common sense, and are responsible, of course have a sense of concern for their own environment. But many people have lost their minds.
Currently, many tourist attractions are visited by tourists that look poorly maintained, a lot of plastic waste is scattered on the banks of rivers, beaches, and several other tourist attractions. The scattered garbage comes from food used by visitors who are not responsible and are not sensitive to environmental conditions. However, it would have a fatal impact on them themselves which could lead to a natural disaster.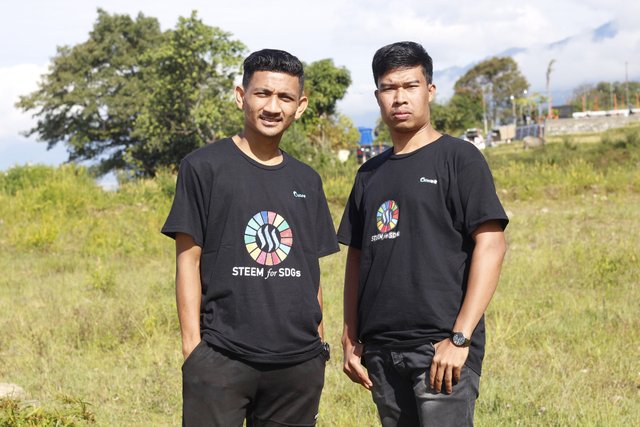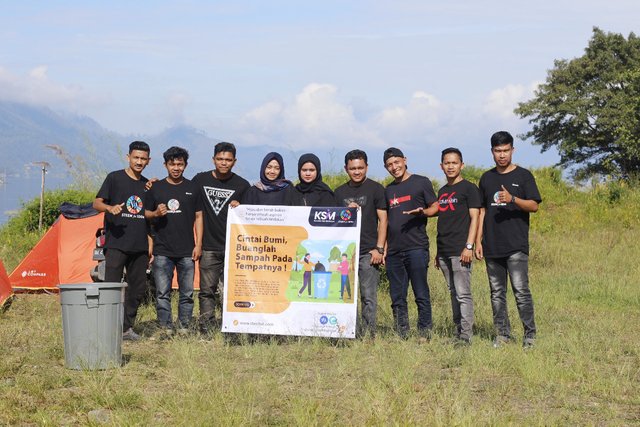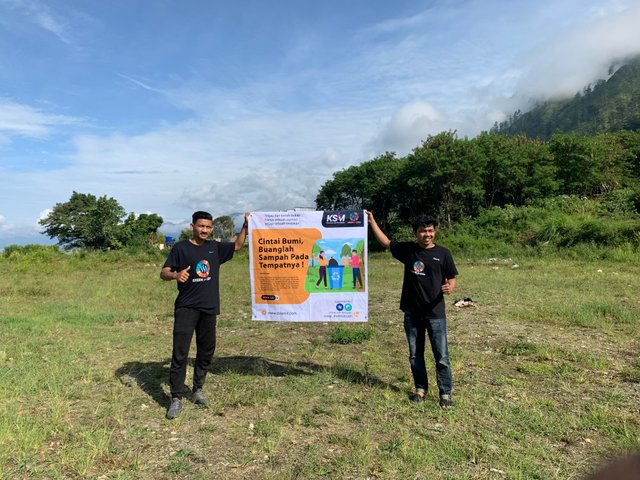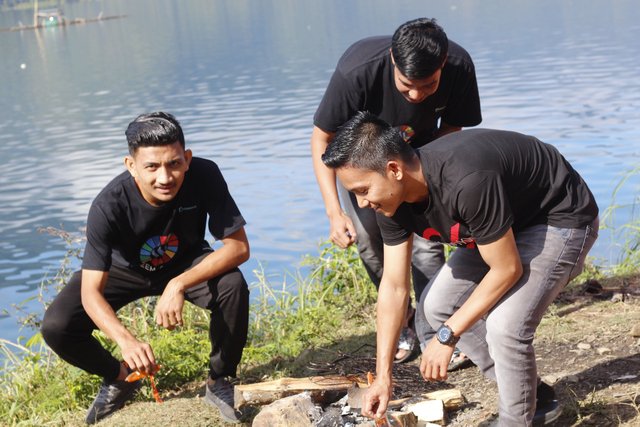 ---
Participation
Camp together
While we are camping with the #steemforsdgs community, we also carry out cleaning actions to keep the cleanliness around the lake. At this joint camp we also have moderators from #promo-steem who participate in this agenda such as: @ponpase, and @pojandan many Moreover, other #steemit friends who joined as well such as: @bangmimi, @teukumuhas, @alvian.steem, @faisalpiton, @hariszulfiananda. Here, we are full of togetherness and happiness in camping on the edge of the fresh sea and having our youth soul to do clean-up around the fresh sea.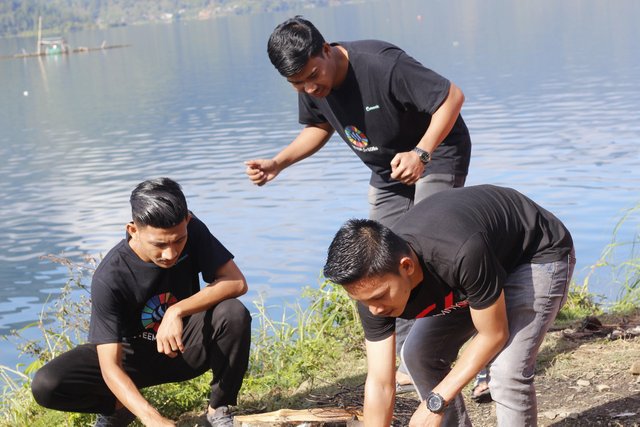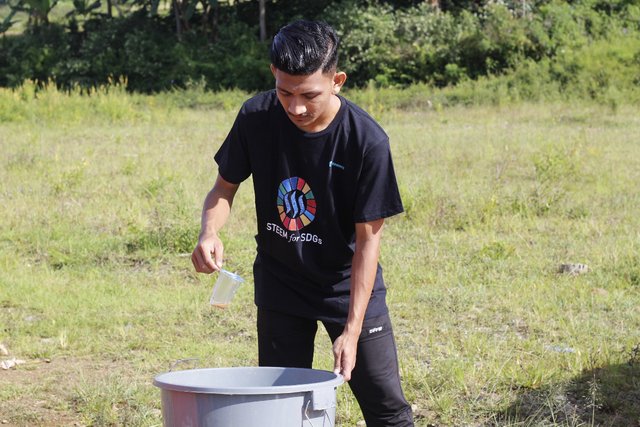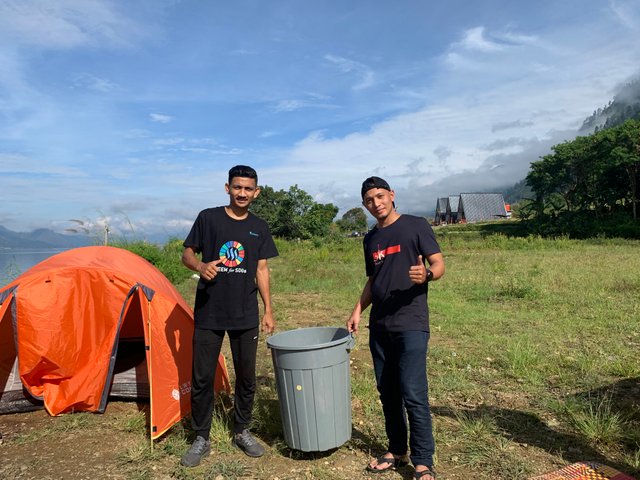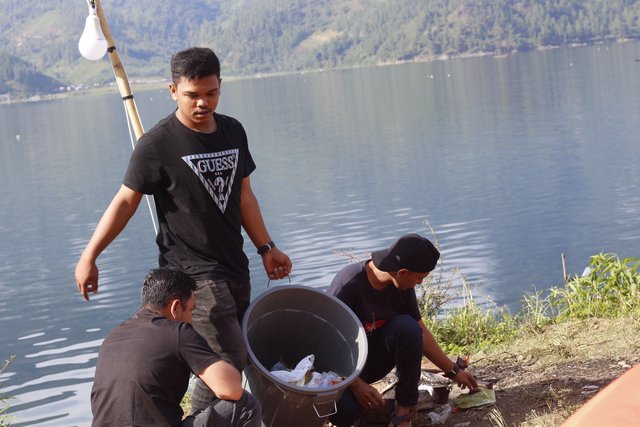 ---
Cleaning activities
Action Description
This activity began with communication through a WhatsApp group between several stemians who are our friends and the SDGs Community, we held a meeting to discuss several things related to camping with #steemit youths and doing clean-up around the fresh sea because we care about the environment. because we care about the beautiful scenery polluted by a lot of garbage.
This garbage comes from tourists who are still not aware of environmental cleanliness. At this location very many tourists who bring their own food wrapped in plastic. From this Clean Up action, we found Instant Noodle Cups, drinking bottles, and a number of plastic food wrappers.
In this place we promote #steemit by using clothes, logos, and banners to do clean-ups around the outskirts of freshwater lakes, here we also introduce #steemit to all campers so they can participate in developing #steem.
At the event we learned a lot so that we can maintain cleanliness and not litter, because if the scenery is beautiful and filled with garbage, the place is really not beautiful but if the place is not trashed, the beautiful scenery feels more beautiful and cool and peace.
Therefore, we as a society must care about the surrounding environment so that we can avoid various natural disasters that will occur if we do not take care of each other's environment.
Hopefully, with this clean-up action, we hope that tourist visitors who are in the freshwater lake can maintain cleanliness and not litter.

Thanks for reading & visited my blog
Please, support @steemforsdgs with setting 25% reward (beneficiary) to @steemforsdgs. Official tag #steemforsdgs25pp

---
---
---
Thanks to : @steemcurator01 , @steemcurator02 , @stephenkendal, @pennsif, @kevinwong, @steemchiller, @xeldal

STEEM FOR SDGs
Founder @ponpase
Co-Founder @pojan
SDGs Warriors
@muhajir169
@teukumuhas
@guski


Best Regard
@muhajir169