My Application Becomes a Promoter of PromoSteem #Philippines
A Blessed day PromoSteem Community!!!
A week ago, the open application for Promoter of PromoSteem had been announced and it is now about to an end and hopefully, this application will also be accepted. I was contacted by @julstamban, the former PromoSteem promoter, and encouraged to apply and recommend me and I really thank him for that. Now, to take this opportunity to help my countrymen guide and help on how to get started here on Steemit, here is my application to become a promoter of PromoSteem here in my country, the Philippines.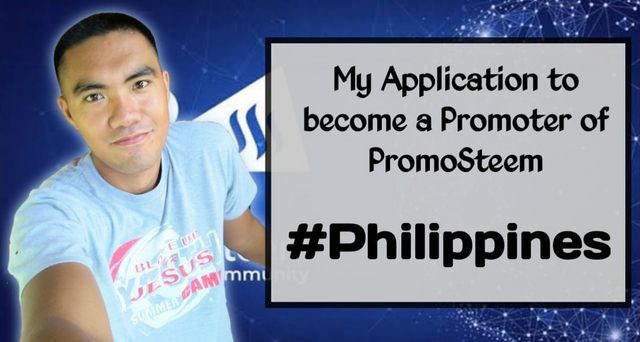 Introduce Myself
To let everyone know me better, I will introduce myself to the community. Everyone already knows my username @loloy2020 but my real name is Romel Jaudian. I am 29 years old and graduated with a BS in Information Technology in one of the known universities here in my region Mindanao. I am a born-again Christian and I am active in doing charity works in my church like Feeding Mission for kids.
I live in the Philippines, one of the countries located in South East Asia (SEA). My country is known to be hospitable and for its wonderful and amazing tourist attractions like Boracay, Palawan, Siargao and a lot more that is why before the pandemic happened there are lots of tourists all over the world who came to the Philippines and I'm really proud of it.

My Steemit Journey
Now, here I want to share briefly my Steemit journey, how long I've been here, my experience and knowledge about Steemit. I have been here on Steemit for more than a year ago, I have created my account last July 2020 through the help of my friend and mentor @olivia08. She is known to be an steemian for a long time ago. At first, I really don't have any idea what is Steemit all about but through the help of my friend and my determination to learn, I find ways to learn by reading tutorials on YouTube and some articles about Steemit.
My friend introduced to me the Steemit platform and helping me build my account by delegating some SP on my account and also encourage me to participate in one of the ongoing contests initiated by the Steemit Team at that time, Diary Game with its 2nd Season. Slowly, I learned how to post on Steemit and other things I need to know about formatting my content and I really thank God for I learned a lot.
I have participated in the Diary Game Season 2 until it ends in December that year 2020 and I gained enough SP to sustain my transactions in the platform and I ask @olivia08 that she can undelegated anytime the delegated SP she gives to, I really thank her for that, because it really helped me a lot to get started on Steemit.
Aside from the Diary Game contest initiated by Steemit Team, I was able to participate in the other project the team initiated the Steemit Crypto Academy which really helps me also to gain more SP until now that I already have more than 2,000 SP on my account after more than a year because of this project initiated by Steemit Team.

Do you have a role in other communities?
I am glad to share that I am currently the creator and Admin of the main and active Steemit Community here in the Philippines, the Steemit Philippines Community. I have created this community last March 2021 with the help of my friend @oliva08 and others and with the motivation in myself that I want to help my countrymen who don't have the right venue to share their content and for us to be united as one community here in the Philippines. I am also honored that the community that I have created was then supported by Steemit Team through @steemcurator01 by giving upvotes in some of our daily updates that are the reason the community account now has more or less 7,000 SP to support our members in the community. Currently, we were also selected as one of the 30 communities that received the @booming support program with tier 1.

Why are you interested in becoming a Promoter?
As I have mentioned above, one of my motivations in creating the Steemit Philippines Community is to help my countrymen here in the Philippines. Now, I am also interested to become a promoter because it is my passion to help and share what I am enjoying here on the platform. I have invited some of my friends and family to the platform and they enjoyed it very much not only that they earned from it but also they meet friends from different parts of the country.
Another motivation in my mind is to help the Steemit platform itself, knowing that the Steemit platform really helps me in so many ways, and in return, I want to support all the projects of the platform and the best way to do is to promote it outside the platform.

Are you willing to follow the terms of Duties & Responsibilities Promoter?
Yes, I am willing to follow all the terms of Duties and Responsibilities as a Promoter. I am willing to do it the best I can do just like what I am doing now in Steemit Philippines Community. I am also dedicated to any tasks that are given to me and if I made any mistake that leads to disqualifications, I am also willing to be removed as a promoter.
Do you support delegation and power-up system, if yes, show us the proof?
Yes, I do support delegations and power-up and did it so many times on my account and even on the community I currently leading now.
Here are my proof of Delegations and Power-up.

Delegated 100 SP to @promosteem.com
---
Powered Up a Total of 40 STEEM POWER to my account @loloy2020
I am now also looking forward to participating in the upcoming #SPUD4STEEM this month of September 2021 for I found that event very helpful and motivate each one of us to build up our Steem Power.

Have you ever done a Steem promotion before?
Yes, I have done so many times. As admin and creator of Steemit Philippines Community together with the moderators, one of our role and responsibilities is to promote and invite our friends, families and other to join Steemit and guide them on how to get started in the platform. As I was also mentioned above, some of my invited friends and family really enjoyed posting and sharing their contents who also meet some friends on the platform.

If you are selected, what initiatives would you do to promosteem with your skills?
If I was selected to be a promoter of PromoSteem here in my Country, one best thing I could do for now is to share it on other social media platforms as it is the fastest way we can communicate and promote what we are currently doing in the Steemit Philippines Community. I have also some friends who were also dedicated to help to do all necessary tasks in promoting Steemit here in my country. I am also willing to learn anything and be corrected as I found it very helpful for me to grow more here on the platform, as I still need to learn more. Lastly, I do believe that I can do all the tasks not only on my own but also with the help and guidance of God together with the help of my countrymen who are already here in Steemit and willing to support me throughout this application, @julstamban, @olivia08, @juichi, @fycee and a lot more.
This will be my application to become a promoter of PromoSteem and thank you for your kind consideration.
10% payout of this post goes to @promosteem.com
To God be all the Glory!!!