🌀DAILY TAG A FRIEND CONTEST #1🌀 | 10 STEEM PER DAY [Update Will Run Only Until May 14]
10% of post payout goes to @promosteem.com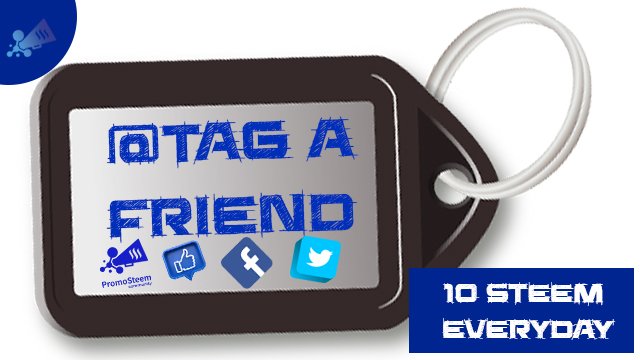 Let us make Steemit more active, particularly in terms of its promotion. With that in mind, I came up with the idea of hosting a contest here on the Promo Steem community, which was inspired by @arie.steem's Daily Chat Contest and I discussed this matter with him, and he gave me the go signal.
Basically, the contest entails tagging your friends on my pinned Twitter and Facebook posts, after which you will have a conversation with them about how you will persuade them to join/signup on steemit. I'll provide the link later in the article's details section.
This contest does not require you to post in order to participate; instead, you must simply comment the screenshots of your conversation with your friend that you tagged. My rules and regulations would also be similar to @arie.steem 's contest.
🌀RULES AND REGULATION OF THE CONTEST!🌀
Tag your friends on my facebook/twitter pinned posts(whichever you prefer is okay)
facebook post link
twitter post link
In the comments column, include a different screenshot for each of your entries.

One Person can submit one entry per day.

The screenshots should be about persuading friends to join Steemit.

Entries are only valid if accompanied by screenshots in the comments section.

If the conversation is in a language other than English, please write it in the comments section so that I can translate it.
🌀CRITERIA FOR JUDGING🌀
Only introduced Steemit, but did not succeed in convincing friends to join - point : 1

Invited friends to join and verify their username by providing their username in the comment section in this post - point: 2
🌀DON'TS;
Taking screenshots of other people's conversation
Photoshopped or manipulated screenshots
🌀NOTE:
Accept wholeheartedly whoever wins the contest.
10 STEEMs will be divided to 5 winners, if there are fewer entries/winners then the 10 Steems will be divided equally. Meaning your rewards could be higher.
After I publish the next daily post with the list of winners, the Daily Tag A Friend contest will be closed.
Every time you enter this contest, remember to resteem this post.