@midlet: Introducing OpenSeed's New Community Leader!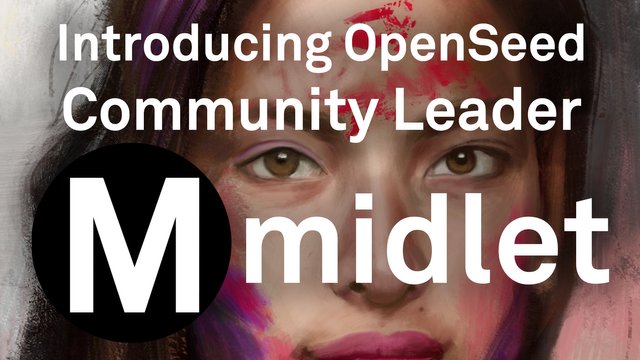 We are excited to announce our first OpenSeed Community Leader; Steem user @midlet! @midlet is a fantastic artist, storyteller, motion and graphic designer, animator and more!
Our Mission
Our mission is to accelerate the adoption of open source software. While our short term objectives are relatively simple and achievable (and we have already made significant progress) in order to make a real dent in this ambitious vision we need to grow.
The Importance of Growth
We need a growing user base to serve as fuel for the applications we hope to get built on OpenSeed and which put the user's interests first. We need a growing developer base building those applications and submitting code improvement recommendations (pull requests) to the OpenSeed github repository. Finally, we need to grow OpenSeed's core team of developers so that we can make our products even more powerful and ship them even faster.
Growing the Team
In order to achieve this growth, we want to pull from the greatest pool of talented individuals we know of: the Steem community. We want to reward the people who contribute to the project, not for financial gain, but because they are excited by our mission and share our vision of the future. People like @midlet, an incredibly talented individual who used his valuable time to publicize our project despite having no incentive to do so.
Community Leaders
In order to recognize amazing contributions from the community (whether from developers, content creators, artists, etc.) we need amazing Community Leaders like @midlet. In addition to contributing their valuable skills, these Community Leaders will be expected to monitor the community for stand out contributors and onboard them into our Community Contributors tool which will enable us to track their contributions so that they can be rewarded upon the future execution of a stake distribution event.
It is also from this group of amazing Community Contributors that we will pull the next Community Leaders with the goal of assembling a small group (~12) of amazing people with diverse and complementary talents.
Join the Fight for Open Source
Of course none of this works if we don't add amazingly talented people, again with diverse talents, to OpenSeed Core. The system outlined above will enable us to onboard talented individuals into the project with minimal friction, give them opportunities to add value, and allow us to keep track of their valuable contributions so that they can be appropriately incentivized in the future. We want to make sure that even though people might not be part of the team, that their contributions are still recorded and validated as much as possible.
Audition for OpenSeed Core
It is from this pool of talented individuals that we expect to pull future members of OpenSeed Core. While we expect @midlet's most valuable contributions to come from his creativity, it is also our hope that he will help this project succeed by ensuring that valuable community members are given an opportunity to make more meaningful contributions.
We look forward to working with @midlet to achieve our mission of accelerating the adoption of open source software by making it faster, easier, and more profitable for OSS developers to bootstrap their applications, grow their user base, and generate revenue.
Previous Posts