Thanking the maker for the rain/steemit love ❤️
Farmer's the world over look forward to the raining season, for it is a time to sow their seeds. There are different crops for different seasons but irrigation technology has made it possible to have all food crops available in and out of its season. We all cultivate and do not have the same harvest. Some have abundant harvest and some very little harvest.
The difference in the harvest is certainly on a few matters. 1️⃣ The land and its nature, fertile or infertile. 2️⃣ The type of crop planted. All crops do not do well in all locations and soil type. Know your climate make good decision on the types of crops that do well therein. 3️⃣ Before we get to fertiliser application, tendering and caring is very important and every good farmer either the livestock farmers or the crop farmers invest time and energy to ensuring that they have a bounty harvest for their families and communities. This gives hope and better life for mankind .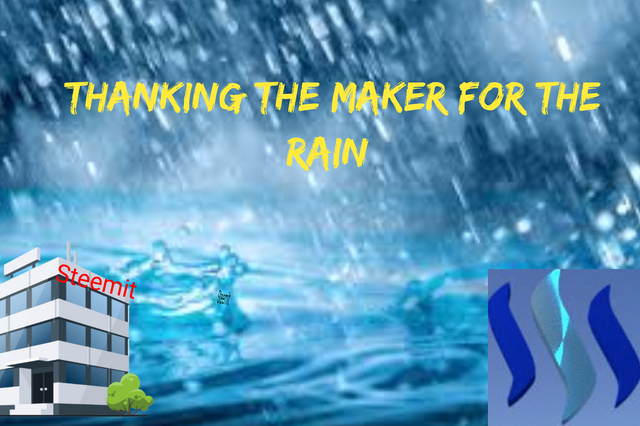 In same vein, there are different social media blockchains with packages but #Steemit is a fertile ground for cultivation.
What can I cultivate on steemit
On steemit one can cultivate his ideas 💡. Talents and Time for the good self and humanity at large.
Cone to steemit , write 📝 Post and Earn for this is glory of our universe - steemit.
Writing on steemit.
Feel free to write on your passion, your dreams and aspirations it has a way of making someone a better person. One good about steemit is its decentralisation system, your identify is secured and censorship removed.
#post
As you have written you have to post it. Posting on steemit is like selling your product, the question is to which market are you to sell - post , steemit has amazing communities, where you can find 🔍 the one that trades on the related products you have produced. And you post that is sharing your ideas, you "earn" this is the beauty of steemit. A hope to the poor world 🌎.a better life for humanity. An idea of a man to make courageous and hard working people millionaires from zero.
Steemit social media blockchain is open to all people all over the world. Steemit is not limited by times and seasons just as irrigation system has made agriculture an all season production excellence,
Steemit rains massively in all seasons. Caring and tenderness by our continues time, knowledge, money and talents invested has made the price of steem to smile 😁.
A good quality of a steemian is activness always be active, create quality contents, comment and vote ☑️ on the work of others bring in newusers and investors. invest and reinvest .
together we can do better.