Recipe for Weight Loss - Healthy Moong Salad
Hello Foodies
Today I am going to share one recipe which is really very tasty and also good for health and can be eaten for weight loss.
The name of this recipe is Moong Salad (Micro green salad)
Ingredients
Moong Dal - Half cup
Moong Dal Sprouted - 1 Handful
Onion - 1
Tomato - 1
Carrot - 1 grated
Capsicum - 1 Chopped
Green Chili - 1
Ginger - 1 inch
Coriander leaves - 4
Salt to taste
Black salt - Half tbsp
Roasted Cumin Powder - Half tbsp
Lemon Juice - Half Tbsp
Method of making Moong Salad
Take one cup of whole moong dal and soak in water for overnight.
Boil it in pressure cooker for 2 whistles.
Wash the green leaf and chopped it.
In a bowl, take the boiled moong and add leaves to it and then all the above mentioned ingredients to the bowl.
Mix it well for 3 minutes and adjust the spices (Specially salt).
Garnish the salad with fresh coriander.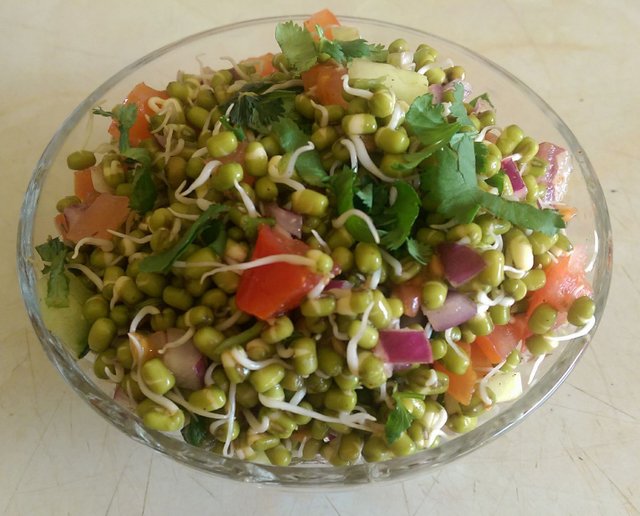 Moong is well known to be healthy and nutritious!
Happy dieting guys!
Healthy Moong Salad is ready to serve.
Thankyou