Pancit Canton Simple Recipe
Hello everyone!
Hope all are safe and well!
I would like to share my very own Pancit Canton Simple Recipe.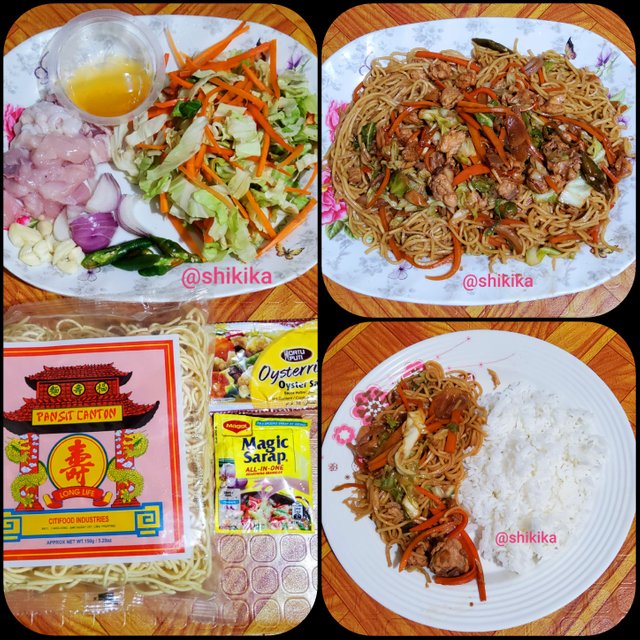 Ingredients:
Pancit Canton Noodles
Pancit Vegetables Mix
Chicken Breast
Onion
Garlic
Finger Chili
Calamansi juice
Magic Sarap
Oyster sauce
Soy sauce
Salt
Procedures:
Clean, wash and chop the ingredients such as chicken breasts, onion, garlic and finger chili.
Saute onion, garlic, finger chili.
Add chicken breasts, calamsi juice, soy sauce, magic sarap and oyster sauce. Simmer until chicken breasts becomes tender.
Add the pancit vegetables mix. Stir well and simmer for one minute.
After a minute, transfer the sauted ingredients in a bowl.
In same pan, add water, a bit of salt, a little more soy sauce and magic sarap. Let the water boil.
When it boils, add the pancit canton noodles. Keep stiring until cook and add oystersauce. .
Once cook add the sauted ingredients together with the pancit noodles.
Mix them well. And ready to serve!
Have a Blessed Monday everyone! 😀😀😀💖💖💖
---
Thank You Lord for the blessings and love!
Be grateful in every little/simple things and you'll find happiness you ever wanted! 😀😀😀
Everyday is worth to be grateful of!
Praying for the safety and wellness of all.
Heal Our Land Oh God!
Lovelots,