SteemPro Mobile App, Uploading Image
Hello Steem,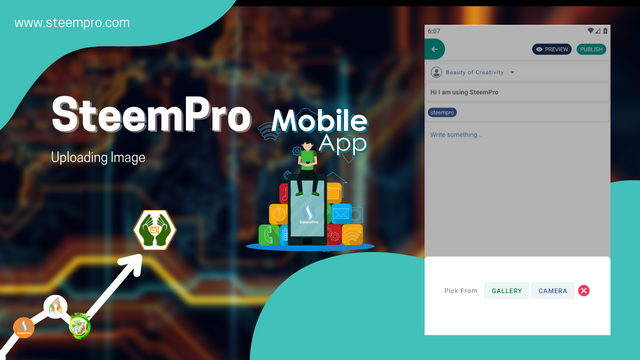 I hope everyone is doing well. The SteemPro Mobile app is under development. Our team always tries to provide the best solution and design for the end user. In the previous post we mentioned some pending tasks. One of Them is fulfilled and during this period many small changes take place.
Image Uploading
Difficulties
Image uploading is done using the Steem ImageHoster. In our project, we faced a network error for two days. It disturbed all the tasks scheduled. We try every possible solution. But our issue is not solved by any question on the internet. The method was working fine on Postman HTTP POST requests but in the app, we were getting Network Errors and App crashed during uploading.
After a lot of effort, we found that a network library was added to our project and the used version was not stable. We change the version of the library and finally, we can make the announcement here. The solution also shared in StackOverflow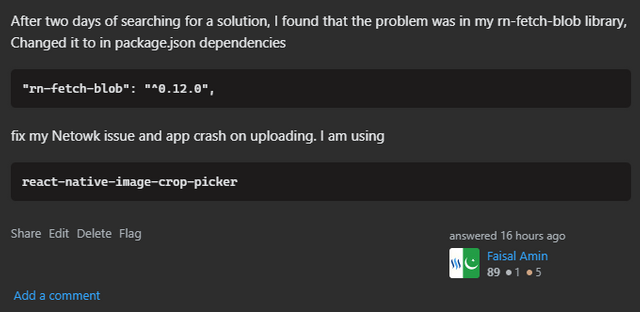 Design
On the click of the image button, an ActionSheet will pop up where the end user can choose to select an image from the gallery or capture a new one on the spot. A simple and attractive design is used to do this workflow.
| ActionSheet | Gallery |
| --- | --- |
| | |
Working
Image uploading is done to the current cursor location in the description section of the posting. We read the code of steemit/condenser because we want to provide the same experience to the end user. When using select an image then a placeholder will be placed in the description on the cursor location. During the time of the image uploading process, the description will not be editable. A loading view will show that the image is in the uploading stage. After the successful upload, the placeholder will replace with the real image link.
Checks
There are several checks to provide the appropriate error message on failure. If the key is not correct or changes then it leads to failure to sign the image. Check for network failure, limit exceed, large image size, etc.
| Uploading | Uploaded |
| --- | --- |
| | |
SteemPro Mobile App
Read the latest announcement by rme here.
Cc: @blacks
Cc: @rme
Cc: @hungry-griffin
Cc: @steemcurator01
---
VOTE @bangla.witness as witness

OR


▀▄▀▄▀▄ T̳̿͟͞h̳̿͟͞a̳̿͟͞n̳̿͟͞k̳̿͟͞s̳̿͟͞ ̳̿͟͞f̳̿͟͞o̳̿͟͞r̳̿͟͞ ̳̿͟͞R̳̿͟͞e̳̿͟͞a̳̿͟͞d̳̿͟͞i̳̿͟͞n̳̿͟͞g̳̿͟͞ ▄▀▄▀▄▀
Moderator of Pakistan @faisalamin