How to protect yourself from phishing emails and scams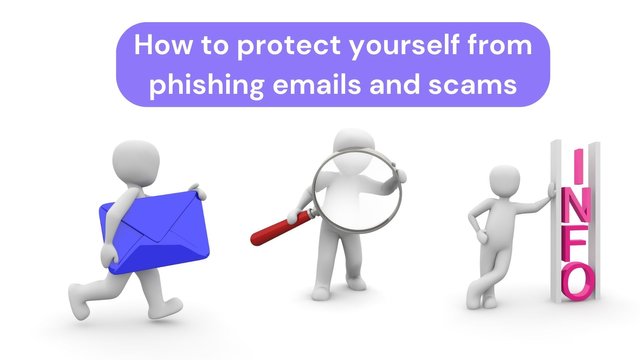 The Indian-American V. A. Shiva Ayyadurai who invented e-mail never imagined that such great crimes would be committed later on. In the middle of the 21st century, everyone has access to email, whether it is for work, education, or personal usage. E-mail is also a requirement; if someone doesn't have it, they are probably locked in time. or at least continuing to use conventional communication techniques.
Crime through Emails
An email is a common tool used by cyber-criminals to defraud people and businesses, alter data, and leak information. Additionally, cyber-criminals assume the identities of respected business owners, employees, and corporations. Additionally, they employ clever headlines and social engineering to persuade recipients to click any links or attachments included in the e-mail in order to obtain personal information or to trick them out of providing it by promising presents, rewards, and discounts on reliable goods and services.
How to be aware of scam emails
In general, free email services like Gmail, Yahoo, Rediff mail, etc. should only be used by individuals; businesses or financial institutions shouldn't. Only the emails listed on their website should be used. For instance, it should be like this "[email protected]" if someone creates a fake email pretending to be a bank representative. It should be like this "[email protected]" if it is indeed an email from that bank.
Whenever you get an email, the sender's name will be displayed in the top right corner. I will be listed beneath the sender's name, and an arrow pointing down will be there. The text "show details" will appear in a text box when you hover your cursor over the arrow. All the information, including whether or not the email is standard encrypted, will be available when the email details open up.
Every genuine email sent and received by businesses and individuals is encrypted by default. In order to prevent message theft or manipulation, standard encryption is a method or protocol that offers safe privacy between the communicating applications and the delivery system. The likelihood of a phishing scam increases if the email is not typically encrypted, especially if you weren't expecting it.
How to protect yourself from phishing
Use the report, spam, and unsubscribe buttons in the user interface of your email provider if the email does not look professional or if you are unsure of what is being offered or communicated in the message.

Avoid interacting with the email or the sender if you did not sign up to get messages from a corporation straight in your inbox.

Never provide private or sensitive information without first confirming it with the individual making the request. If the link seems questionable, do not share.

Install security software on your laptop, desktop, or mobile device.

Making regular backup plans makes it easier to guarantee that your data will be completely recoverable in an emergency.

By implementing multi-factor authentication, you may stop hackers from accessing your systems even after they have stolen a user's login information.
So, every time we open a new email we should always check where it came from, every time we click on a link we should think twice before clicking it, we wish you all safe browsing.
💚THANK YOU 💚
Discord : @jyoti-thelight#6650 Telegram :- https://telegram.org/dl