Negril, 7-Mile Beach, Soccer with Two Jamaican Boys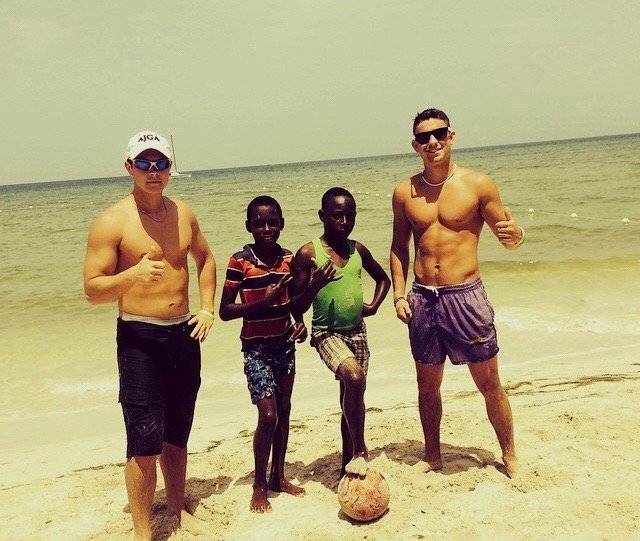 Their names were AJ and Cione. One day they walked up to Scuba Steve and I on the 7-Mile.
Steve and I had been kicking it around, juggling back and forth, seeing how many times we could keep it in the air without the ball touching the sand.
AJ and Cione weren't the first Jamaicans to come up to us and start playing, but they were the ones that stayed. That day, we played around for well over an hour. Juggling, passing it back and forth, showing each other tricks and eventually playing 2 vs. 2.
We set up goals on either side with coconut husks and started our game. Steve and I didn't realize they'd be as stiff a competition as they were. They were small, quick, and scrappy.
We made two friends that day and shared our love for the game together.
Dem vibes di 7-Mile soon come again.
The vibes are unique to Negril's famous 7-mile. One of the top rated beaches in todo del mundo. For good reason, too.
The Caribbean looked a little green that a.m. From what I can recall, the greenish tinge comes from leachate in the harbor area up the beach a ways just before the town center. The tide induced resuspension of the water in the harbor area alters the color of the water for brief periods of time. The water color also significantly depends on the time of day, the weather and several other ecological factors like chlorophyll from phytoplankton settling on the bottoms of boats for longer periods of time.
Later, the color turns back to its stunning turquoise blue shade that makes the 7-mile one of the worlds most famous. The water here is one of the most beautiful blues and occasionally it will quickly change shades. It's a crazy cool phenomenon and I don't even know if I'm entirely right about its reasoning.
I can remember a local telling me about it one time, but I cannot come to grasp his words exactly as to why it happens. But please don't be fooled, the color is almost always the most beautiful you will ever see.
Come vibe the 7-mile
Conradsuperb
Posted using Partiko iOS