Grain-Free Irish Soda Bread - Lori's Cookbook
On St. Patrick's Day, I told you I was making two things for supper. Here's the Irish Soda Bread I made for the day to accompany the Reuben Soup.
Now, I know what a good Irish Soda Bread tastes like, so finding a good grain-free version was going to be a challenge and I rejected many competitors as I researched recipes!
Ideally, I would have liked to use only coconut flour (as I've noticed that nuts and seeds seem to spike my blood pressure), but I knew I'd probably have to use almond flour. Here's the recipe I finally decided to try:
Grain-Free Irish Soda Bread
Preheat oven to 350F.
Butter the bottom of an 8-inch cast iron skillet (or cake pan) and set aside. (A cookie sheet will also work.)
Stir together:
1 1/4 cups almond flour
2 Tablespoon coconut flour
1 teaspoon baking soda
1 teaspoon baking powder
1/8 teaspoon fine salt
1 Tablespoon sugar (or add as honey with the wet ingredients)
1 teaspoon caraway seeds
a good handful of raisins or dried currants
Stir in until well combined:
1/2 Tablespoon apple cider vinegar
2 large eggs
2 Tablespoons sour cream, heavy cream or coconut milk (I used crème fraiche)
Place dough in the middle of the cast iron skillet.
With damp hands, mold into a round loaf.
Use a knife to cut an "X" into the top of the loaf.
Sprinkle with more caraway seeds.
Bake for 25-28 minutes or until golden brown.
Allow to cool 5 minutes in the pan before removing to finish cooling on a wire rack.
Here is mine - slightly overdone.
My section, split and buttered...
Critique
Another wow! This tastes just like Irish Soda Bread, has very good texture and was simply excellent despite the fact that I'd left it in the oven slightly too long. I will be making it again in the future, for sure.
Note: All photos are mine - Samsung NX11. Crossposted on Hive.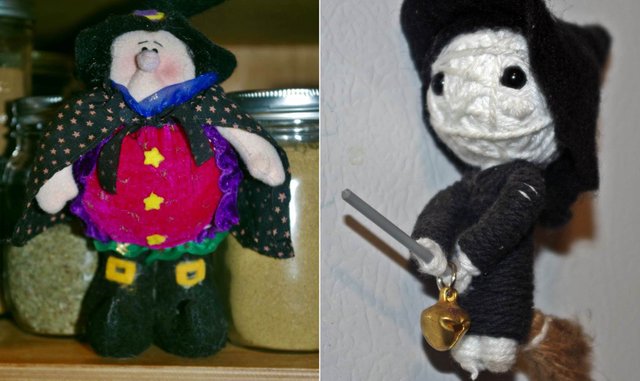 Two of my kitchen witches. One hung in my grandmother's kitchen as long as I can remember, so I have mine - adding a certain magickal spice to my cooking, presumably...
My grandmother's now lives in my mother's kitchen.
---
Note: If you would like to be tagged in future cooking posts, please let me know! I can add you (or delete you) to my template at any time.
@iamraincrystal
Previous recipes in Lori's Cookbook
Holidays (Christmas, Thanksgiving, etc.)
Cranana-Chumpkin Bread
Cranberry-Berry Sauce (canning too)
Cranberry Juice Drink
Cranberry Swirl Cheesecake
Crustless Pumpkin Pie
Drop Sugar Cookies - Christmas, Valentines, whatever you like!
Gravlax (Swedish Marinated Salmon)
Chinese BBQ Ribs & Chicken - Lunar New Year
Breakfasts
Basic French Toast
Buttermilk Pancakes - including low-carb and grain-free options.
Appetizers
Gravlax (Swedish Marinated Salmon)
Marinated Olives & Nuts
Quick & Easy Suppers
Dirty Mac & Cheese
Italian Meatballs
Simple Cheeseburgers
Sloppy Joes
Spaghetti and Meatballs
Spanish Rice
Main Courses
Baked Garlic Lemon Shrimp
Battered & Fried Prawns & Zukes
Chinese BBQ Ribs & Chicken
Fathead Stromboli
Garlic Curry Baked Drumsticks
Keto Fried Seafood
Keto Lasagna
Low-Carb Baked Catfish Nuggets
Sassy Fish and Shrimp
Drinks
Cranberry Juice Drink
Crème de Muir (alcoholic)
Side Dishes
Lactofermented Sauerkraut
Turmeric Rice
Garlic-Herb Bread
Breads
Baking Powder Biscuits
Cranana-Chumpkin Bread
Nearly No Carb Keto Bread - demo only, follow the link to the recipe. (grain free)
No-Knead Bread
Fathead Dough - a grain free substitute for many bread situations!
Sweet Snacks
Almond Flour Snickerdoodles
Brownies with Chocolate Ganache - made into a great birthday cake!
Drop Sugar Cookies
Oatmeal Chocolate Chip Cookies
Sauces & Dips
Spaghetti Sauce
Basic Salsa
Garlic-Herb Butter
Guacamole Salsa
Creamy Guacamole
Avocado Salsa
Tartar Sauce
Food as Medicine
Desserts
Cheesecake Brownies - grain/flour free
Cranberry Swirl Cheesecake
Crustless Pumpkin Pie
Dobos Torte
Dobos Torte, Coconut Flour - grain free
Lemon Ricotta Cheesecake - grain free
Peach Cornmeal Cobbler
Peach Crisp
Tapioca Pudding
DIY Ingredients
Canning
Rebel Canning - a general guide about what I do, and why I don't always follow USDA guidelines.
Cranberry-Berry Sauce
Cranberry Juice Drink
Meatballs and Spaghetti Sauce
Rice Pudding
---
If you want to be
---

Lori Svensen
author/designer at A'mara Books
photographer/graphic artist for Viking Visual
(Buy my work at RedBubble, TeePublic, PicFair and DeviantArt.)
verified author on Goodreads
(Buy my books at Books2Read and at LBRY)

---