April Fools' Cooking 2021 - Lori's Cookbook
I usually give you one recipe at a time, but today, it's going to be three... and I'm going to leave most of it up to you. Horrors, eh?
This was more of a party theme as it was the delayed birthday party for my youngest who turned 10 a few weeks ago. The challenge was to come up with a main course that looked like a dessert, a dessert that looked like a main course and a drink that was... different.
I think we managed the whole thing.
Shepherd's Pie Cupcakes
This recipe is very simple and makes a dozen
Meat base:
Fry up 1 pound of ground beef or lamb. (Drain fat, if desired.)
Stir in your favorite pasta sauce to make the meat wet, but not sloppy.
Potato topping:
Separately, boil a few potatoes until they are very soft.
Mash with butter, milk and herbs as desired.
Whip with a hand mixer until light and fluffy.
Add food coloring, as desired.
Sprinkle herbs for decoration - I used chives.
Pipe or spoon the "icing" onto the cupcakes.
Bake at 350F about 10-20 min. (Normally, the potatoes would brown slightly... not in our case.)
Sprinkle with cheese shreds.
Serve hot.
---
Faux Grilled Cheese Sandwiches
Make one recipe of Grain Free Dobos Torte cake (the other recipe has the wrong texture) - bake as directed.
Make half a recipe of Buttercream frosting (Dobos Torte cake again) - omitting the chocolate and adding some orange flavoring, if desired. Also add some orange food coloring.
Cut cake into squares - try to have matching halves.
Note: If you don't have a pale side and a darker side of the cake, try toasting it to get the color.
Ice half the squares with orange icing (on the pale side).
Sandwich the other half of the squares onto the first half (pale side down.)
Cut in half on the diagonal.
Serve.
---
Faux Berry Soda Float
Make up some Jello of your desired flavor/color - size according to how many servings you need.

Put some berries/fruit into the bottom of some glasses (if you want the fruit) - I used pint-sized Mason jars.

Let the Jello cool a little, then pour over the fruit in the glasses.

Add a straw to each glass and set in the fridge until firm.

Before serving, add some soft ice cream to the top of each glass of "soda" and let it melt a little.
Serve.
Comments
All three items went over very well.
The cupcakes tasted perfect, though it was hard to convince the brain that it was not expecting something sweet (and maybe strawberry flavored!)
The "sandwiches" were wonderful. Again, the brain wanted to argue about the anticipated flavor, especially since they looked so convincing!
The "jelly and ice cream" theme of the "floats" was another match made in heaven and simply worked.
All three will definitely be done again.
Note: All photos are mine - Samsung NX11. Crossposted on Hive and Steem.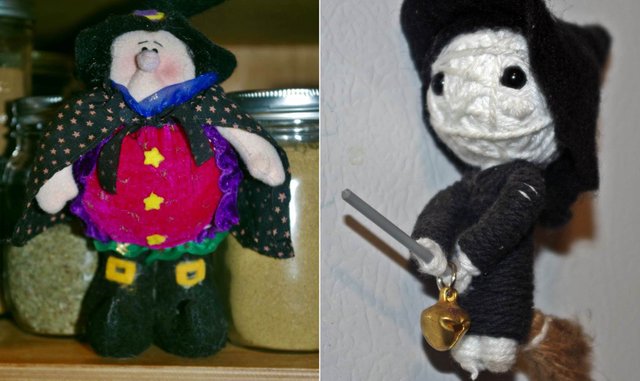 Two of my kitchen witches. One hung in my grandmother's kitchen as long as I can remember, so I have mine - adding a certain magickal spice to my cooking, presumably...
My grandmother's now lives in my mother's kitchen.
---
Note: If you would like to be tagged in future cooking posts, please let me know! I can add you (or delete you) to my template at any time.
@iamraincrystal
Previous recipes in Lori's Cookbook
Holidays (Christmas, Thanksgiving, etc.)
Cranana-Chumpkin Bread
Cranberry-Berry Sauce (canning too)
Cranberry Juice Drink
Cranberry Swirl Cheesecake
Crustless Pumpkin Pie
Drop Sugar Cookies - Christmas, Valentines, whatever you like!
Gravlax (Swedish Marinated Salmon)
Chinese BBQ Ribs & Chicken - Lunar New Year
Breakfasts
Basic French Toast
Buttermilk Pancakes - including low-carb and grain-free options.
Appetizers
Gravlax (Swedish Marinated Salmon)
Marinated Olives & Nuts
Soups
Reuben Soup - St. Patrick's Day
Quick & Easy Suppers
Dirty Mac & Cheese
Italian Meatballs
Simple Cheeseburgers
Sloppy Joes
Spaghetti and Meatballs
Spanish Rice
Main Courses
Baked Garlic Lemon Shrimp
Battered & Fried Prawns & Zukes
Chinese BBQ Ribs & Chicken
Fathead Stromboli
Garlic Curry Baked Drumsticks
Keto Fried Seafood
Keto Lasagna
Low-Carb Baked Catfish Nuggets
Sassy Fish and Shrimp
Drinks
Cranberry Juice Drink
Crème de Muir (alcoholic)
Side Dishes
Lactofermented Sauerkraut
Turmeric Rice
Garlic-Herb Bread
Breads
Baking Powder Biscuits
Cranana-Chumpkin Bread
Irish Soda Bread - St Patrick's Day
Nearly No Carb Keto Bread - demo only, follow the link to the recipe. (grain free)
No-Knead Bread
Fathead Dough - a grain free substitute for many bread situations!
Sweet Snacks
Almond Flour Snickerdoodles
Brownies with Chocolate Ganache - made into a great birthday cake!
Drop Sugar Cookies
Oatmeal Chocolate Chip Cookies
Sauces & Dips
Spaghetti Sauce
Basic Salsa
Garlic-Herb Butter
Guacamole Salsa
Creamy Guacamole
Avocado Salsa
Tartar Sauce
Food as Medicine
Desserts
Cheesecake Brownies - grain/flour free
Cranberry Swirl Cheesecake
Crustless Pumpkin Pie
Dobos Torte
Dobos Torte, Coconut Flour - grain free
Lemon Ricotta Cheesecake - grain free
Peach Cornmeal Cobbler
Peach Crisp
Tapioca Pudding
DIY Ingredients
Canning
Rebel Canning - a general guide about what I do, and why I don't always follow USDA guidelines.
Cranberry-Berry Sauce
Cranberry Juice Drink
Meatballs and Spaghetti Sauce
Rice Pudding
---
If you want to be
---

Lori Svensen
author/designer at A'mara Books
photographer/graphic artist for Viking Visual
(Buy my work at RedBubble, TeePublic, PicFair and DeviantArt.)
verified author on Goodreads
(Buy my books at Books2Read and at LBRY)

---