Muph fish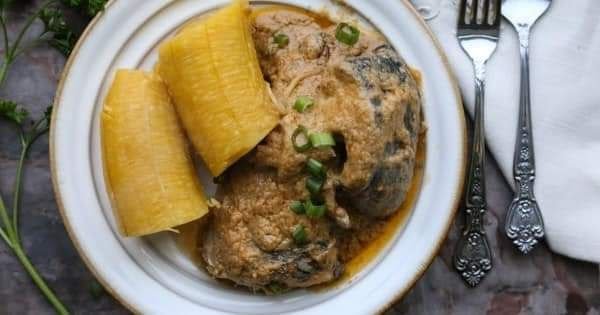 This is called Mpuh fish, a traditional Cameroonian dish
Ingredients
2-3 pounds fish steaks
2 tablespoons Njangsa spice
1 country onion spice
1 African nutmeg ehuru spice
1/3 green pepper
½ medium onions
2-3 tablespoons palm oil
1 tablespoon/1 large cube Bouillon powder or Maggi powder
1 habanero pepper adjust to taste.
2 cups or more water.
Instructions
If using catfish ,pour hot water over the fish in the sink, let it sit for a minute, then rinse and clean the fish (this removes all the sliminess of the fish). Skip this if you using any other white fish. Set aside
Using a food processor or blender, blend onions, bell pepper spices and pepper, until puree. You may use about ¼ cup or more water.
In a bowl combine the mixture with plantain flour, bouillon powder, Palm oil and water. Mixture should be more like pancake barter.
Finally add the fish and coat in mixture
Cut the banana leaves into rectangles, remove any ugly edges, submerge them in water to clean and drain pat- dry. Use saran wrap if banana leaves are not available
The leaves must be heated and wilted over an open high flame to make them flexible.
Then, cut the aluminum into large squares/ rectangles and place a piece of the leaf / saran wrap on it. Repeat the process and set them aside
Place one to two pieces of fish in on the leaf with enough plantain mixture
Then quickly fold aluminum over it, and press sides into a rectangle shape making sure to press inwards so none of the Koki runs out.
Then fold the sides in to seal twice. Repeat the process and set them
Place the mbuh in the pot and steam.
Line the bottom of a large saucepan or Dutch oven a small rack or just use foil paper. The mpuh should barely come in contact with the water so they don't get soggy.
Cook for about an hour and remove let it cool then serve warm.
My mentors @mukada @davidad @infovore thanks for the support and always being there for me.