5th Recipe in SteemFoods— Pineapple Chicken Afritada
Hello Steemit Foodies! It's been a while.
Today, I'll be sharing you this orange stew dish has a great flavor and texture. It will surely brighten up your table.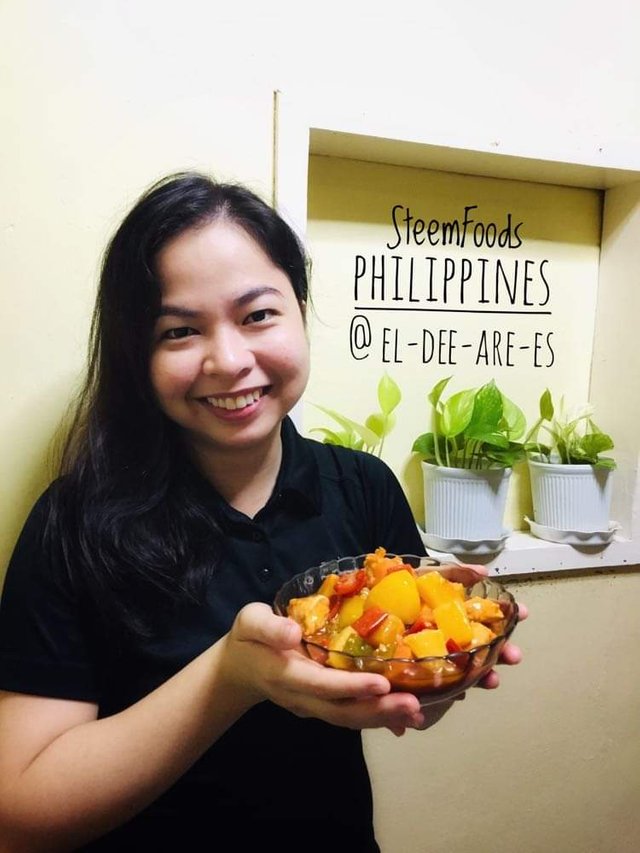 In my husband's place, chicken is happened to be their favorite type of meat. They often cook chicken adobo, chicken tinola, chicken fillet. I love chicken too but sometimes eating same chicken recipes over and over again is tiresome, right? For a change, I decided to take charge in the kitchen. So I looked for recipes online that we've never try.
CHICKEN PINEAPPLE AFRITADA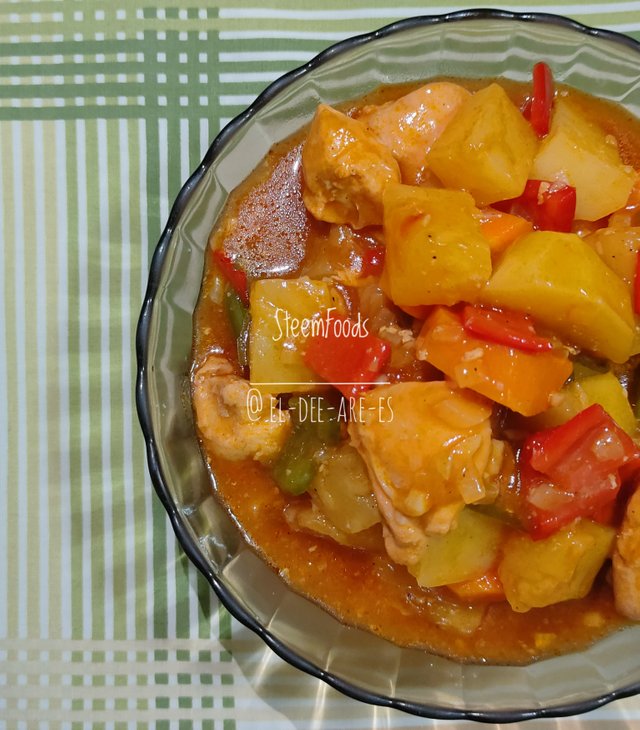 INGREDIENTS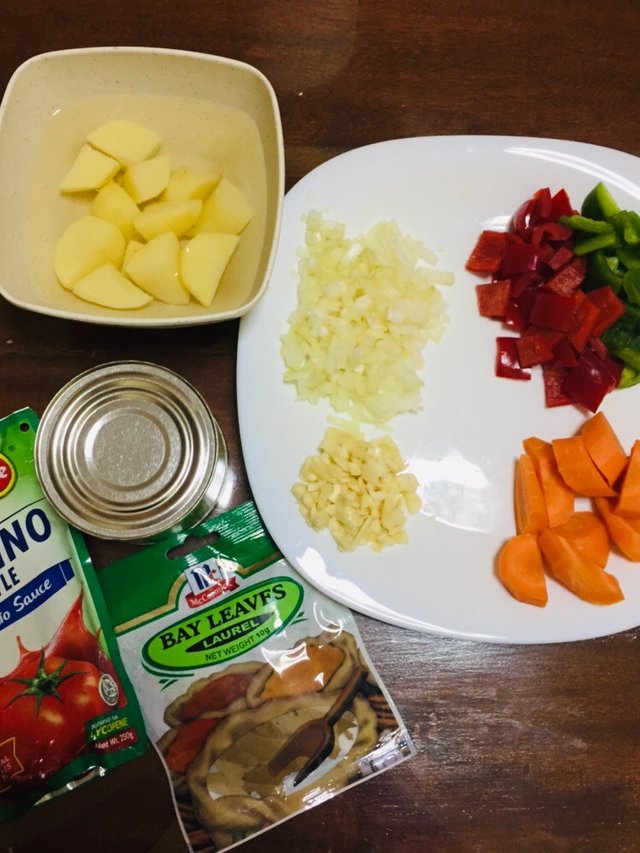 -2 Chicken Breast (or any parts you prefer) , cut into serving pieces
-250 g tomato sauce
-227 g pineapple chunks in can
-2 pieces of medium potatoes, diced into bite size
-1 piece medium carrots, diced into bite size
-1 piece red bell pepper, cut into squares
-1 piece green bell pepper, cut into squares
-1 piece white onion, chopped
-6 cloves of garlic, chopped
-4 pieces dried bay leaves
-1 1/2 cup of water
-cooking oil
-Fish sauce or salt to taste (here I used the latter because one of our nephews have allergy to fish sauce)
-ground black pepper
Cooking tips: Cut the ingredients in uniform sizes to cook evenly.
PROCEDURE
In a wide pan, heat oil and saute garlic until slighty brown.
Next, the white onion until soften.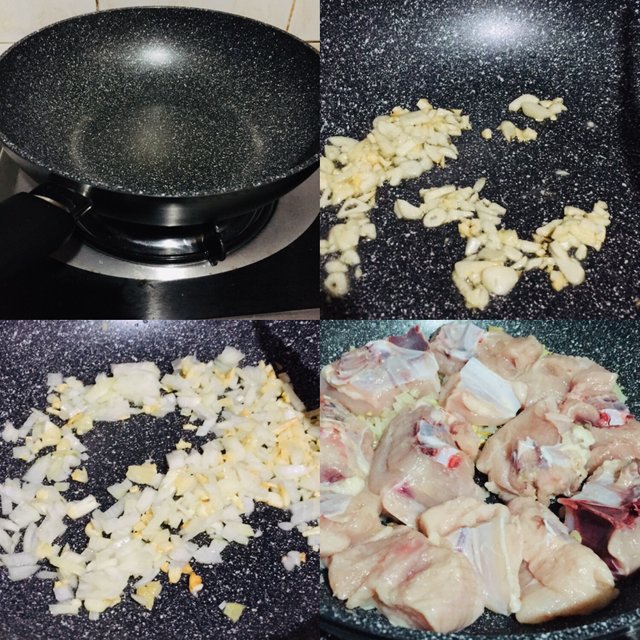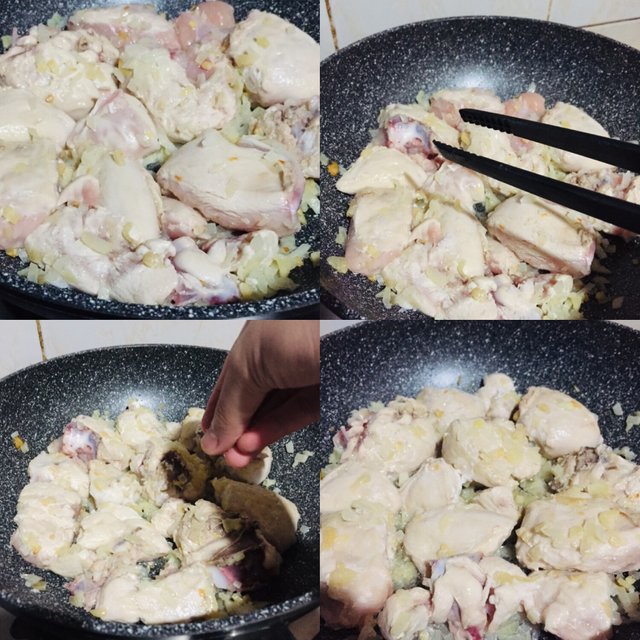 Add the chicken.Season with salt and pan fry each side for a minute or until it changes in color.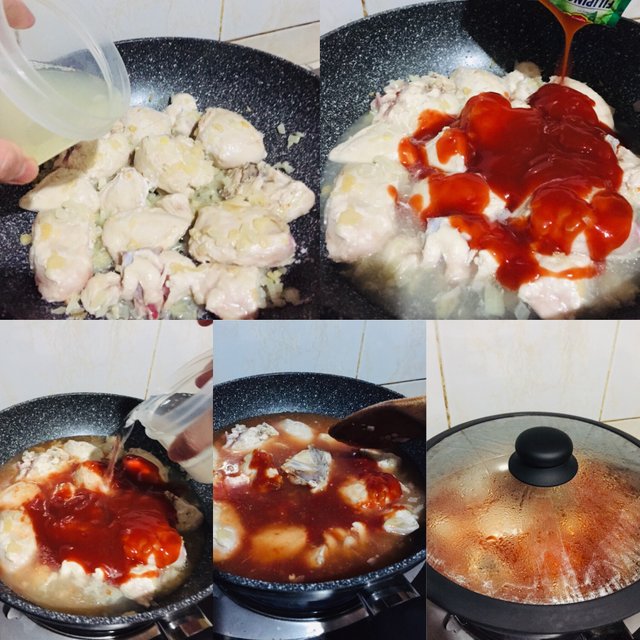 Pour the pineapple juice, tomato sauce, and water. Mix it lightly then bring to a boil. Cover with lid.

Add ground black pepper and bay leaves. This helps to make the aroma more appetizing.

Again, cover and let it boil for 15 minutes over medium to low heat.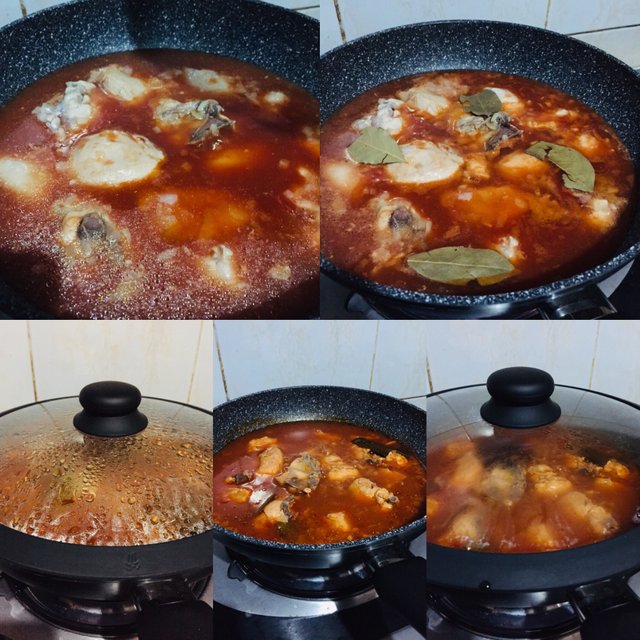 Using a kitchen thong, flip all the chicken so that the flavor is well balance in each pieces. Cover and let it simmer for another 15 minutes.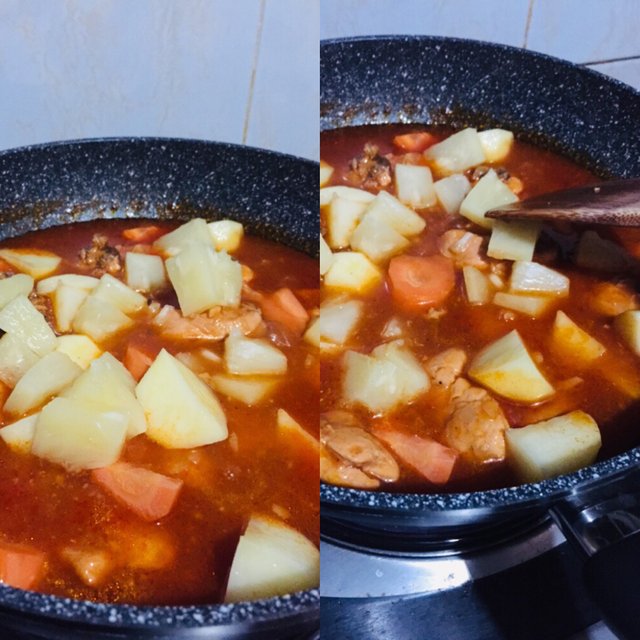 At this point, the chicken is well cooked. You can now integrate the pineapple chunks, carrots, and potatoes. Pressed down the added ingredients and cover. Simmer for 12 minutes.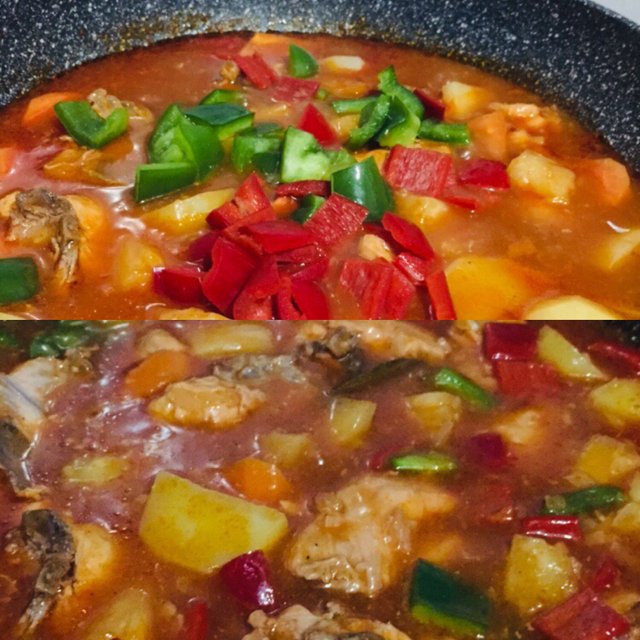 Add the last ingredients— red and green bell pepper and cook for only 3 minutes, that is if you want it crunchy like I do. In addition, you can use one color, but for me I love the contrast of these two.
Turn off the heat and transfer into a nice serving bowl. Enjoy with steamed rice.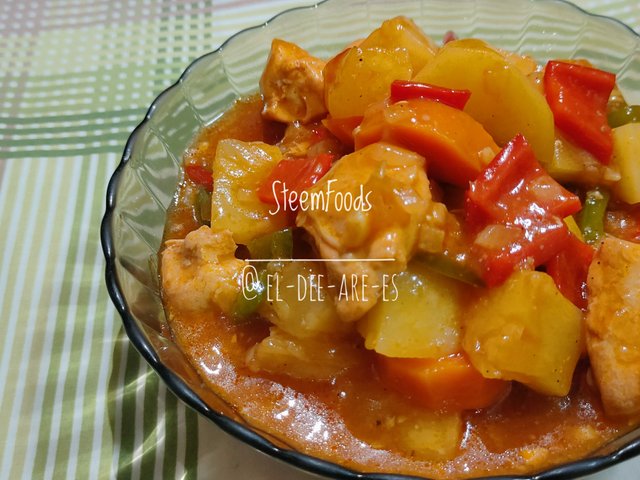 This dish is rich in carbohydrates and protein. And because it has carrots and pineapples, it is packed with fiber, Vitamin C and A. Try to serve it at your home too and tell me your story in the comment section.
Thank you for reading Steemit Foodies!
---