A samosa is a fried pastry with filling such as spiced potatoes, onion, beef, meat, chicken or lentils.
It's and Indian recipe.
Qeema samosas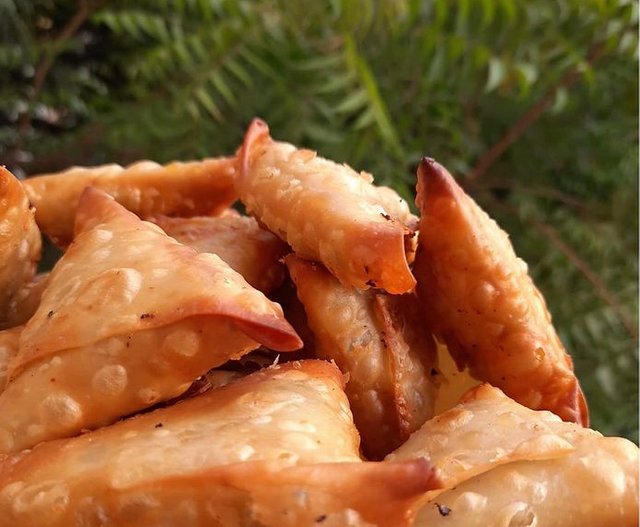 RECIPE:
Ingredients;
Minced meat(qeema) -500gm
Salt as required
Garam masala-1tbsp
Black pepper powder-1/2tsp
Oil-1tbsp
Diced garlic 5
Onion 2
Red chilli powder-1tsp
White pepper powder-1tsp
Fresh coriander-bunch
Ginger garlic paste-1/2tsp
For samosa leaves:
1tbsp-maida+ 2tbsp water: acts as gum
Procedure:
For the qeema: First wash the qeema twice using a muslin cloth and then strain all the water and keep it aside to dry. Then transfer it to a cooker and pour quarter cup of water and sprinkle some salt, black pepper, garam masala and ginger garlic paste
Wait for 2-3 whistles and switch off the stove.
If there's still water left in the cooker then let it dry by cooking on high flame without the lid until the water is reduced.
For the filling:
Next in a pan add 1tbsp oil and 1 finely chopped onion and 5 diced garlic along with white and black pepper, red chilli powder, coriander powder and fresh coriander, finally prepared qeema. Stir for a while and then switch off the stove and let it cool.
Folding:
.First fold the leaf to form a triangle of 1 layer(take the left corner diagonally towards the right to form a triangle)
.Fold this part towards the bottom to form a 2 layered triangle. Put the filing inside and then start folding by forming triangles until the end of the leaf. Next brush some gum and stick to the other side and make this shape👇🏻

Be careful not to have any holes at corner or else the samosas will start absorbing lots of oil while frying.
Frying:
You can either freeze these and store for up to 2-3 weeks.
Or fry them on medium flame and serve warm.