Rich Red Delicious Pasta with Lycopene (carotenoid) Rich Red Sauce! Worth Relishing ! My Recipe !

Hello to all my Dear Foodies, of this Wonderful community. Today, with this post I am sharing with you, Delicious-Lycopene Rich Red Pasta Recipe, my style.!!!
So, let's proceed how to make it.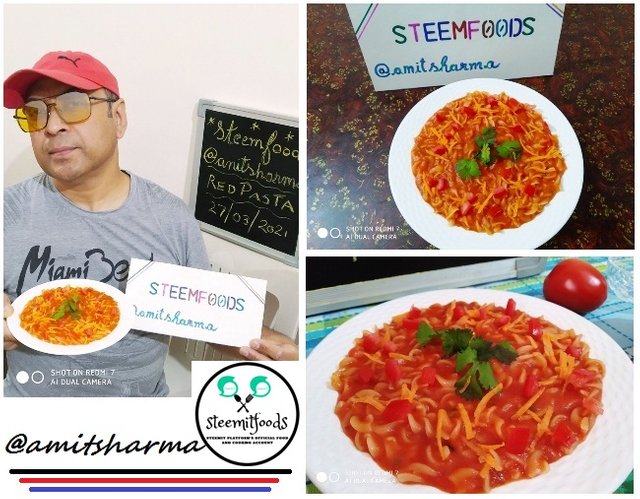 Ingredients:
1)Juicy Red Fleshy Tomatoes 4-6 Nos.
2)Pasta (any of your choice) 1cup
3)Water - 2 cups
4)Orange Carrot 1 (grated)
5)Condiments & spices - to your individual taste, need & requirement
6)Coriander sprig (for garnishing)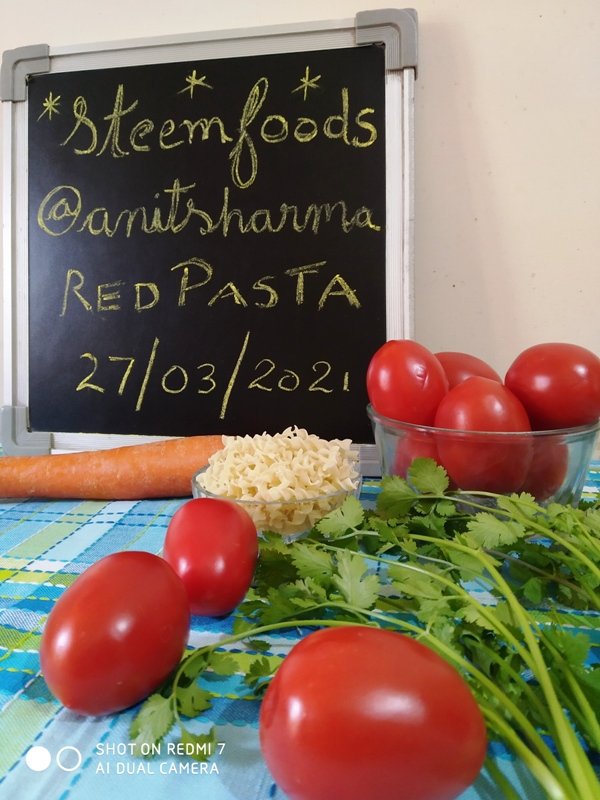 Gather all the required ingredients, as stated above in the list.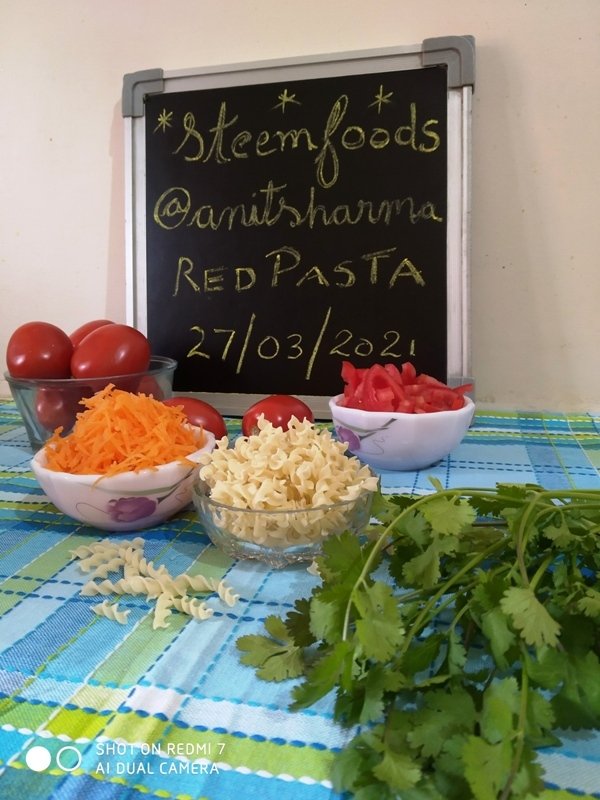 Grate one orange carrot, as per your requirement, I have one medium size bowl of grated carrot. Which we will partly put in the pasta while making it and keep some for garnishing.
Also dice 4-6 medium size Red tomatoes, before you start the process.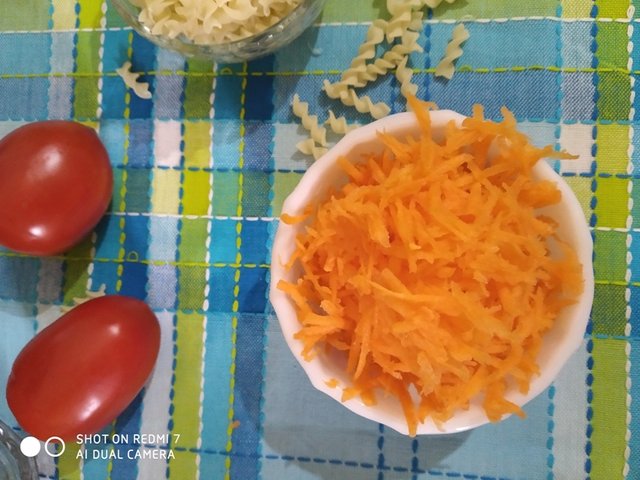 For Pasta, I have taken Spiral Pasta 1 Cup or one medium size bowl. You can choose to use the one you like if you have any specific preference for a particular variety.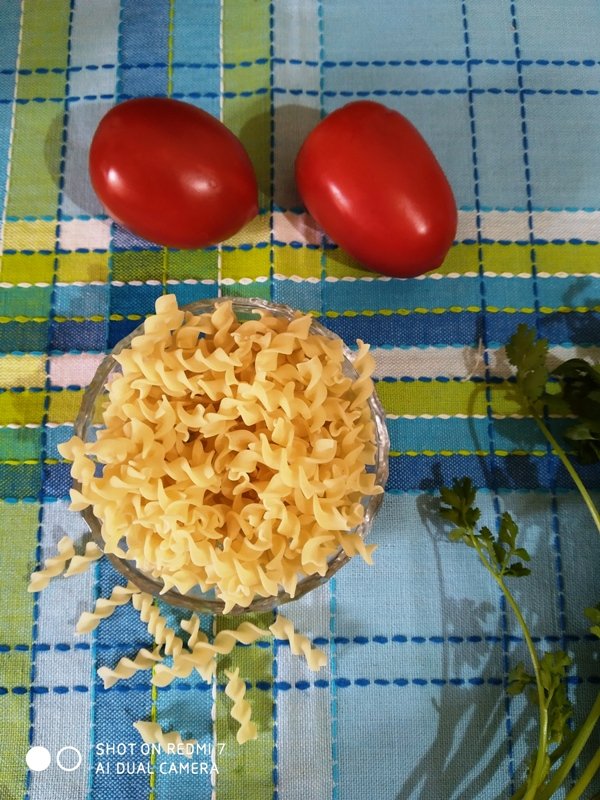 The most important component/ingredient of this Recipe is Fleshy-Juicy Red Tomatoes. I went to the market and very carefully selected and handpicked these Red Tomatoes. This is the important step to make your Pasta Rich-Red & Delicious.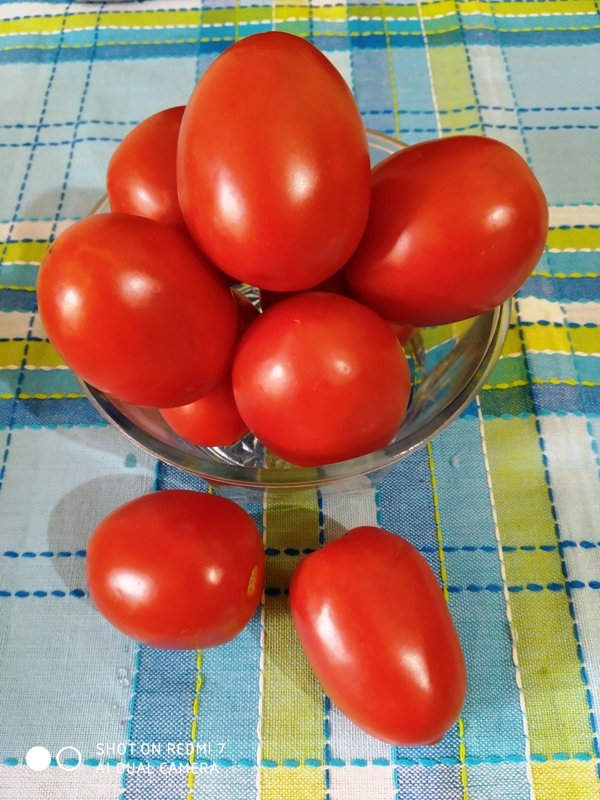 Wash the tomatoes and cut them and de-seed them by washing them under water and keep them aside for few minutes to drain any extra water.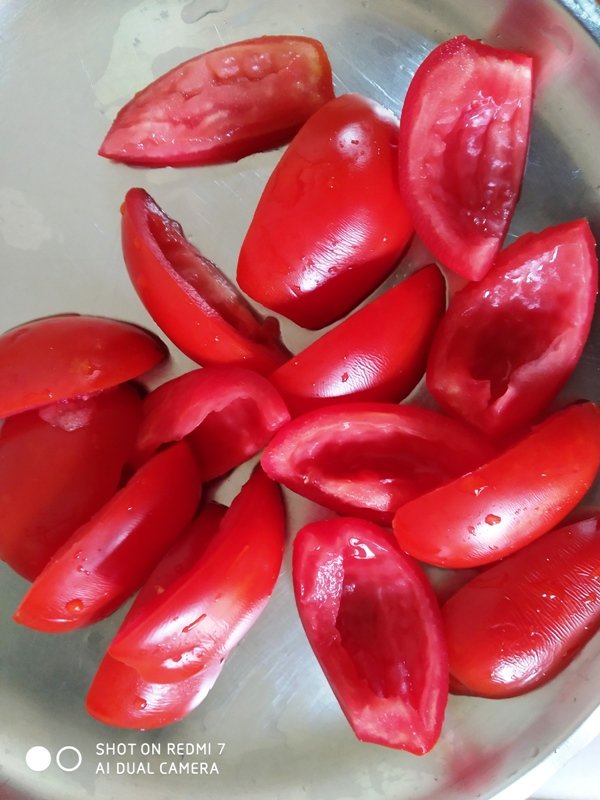 The Next Step is to cut these tomatoes into small dices.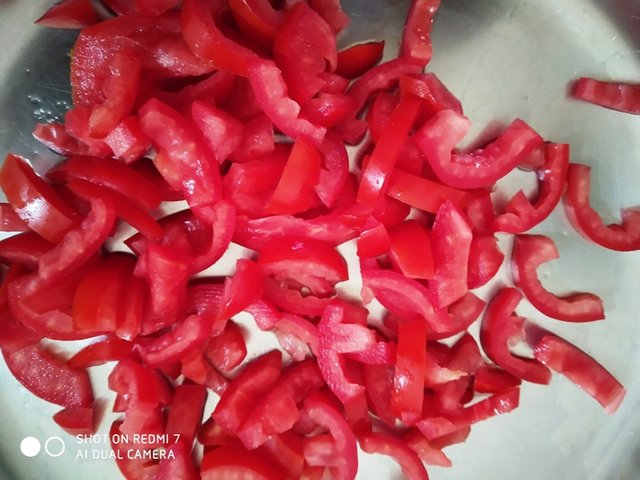 Make sure they diced tomatoes are medium size bowl full or may be little extra.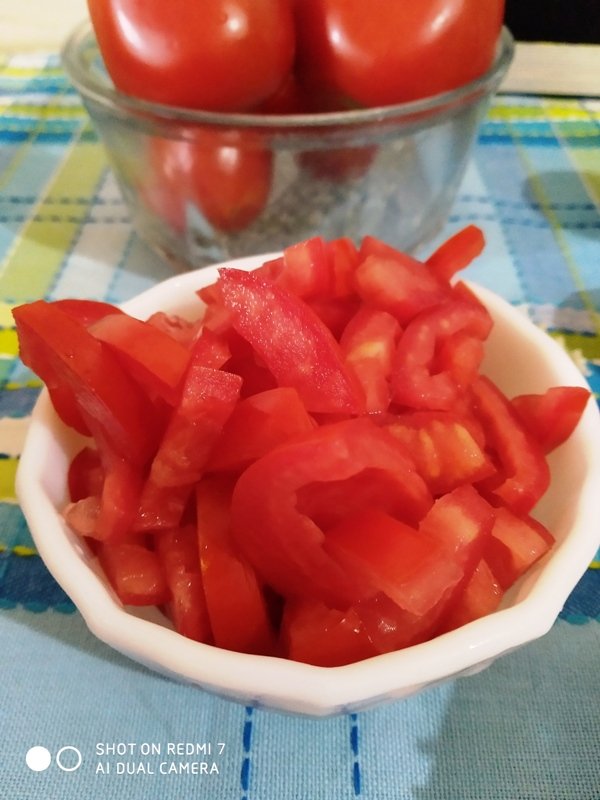 Put them in the mixer and make a very fine paste. No lumps !!!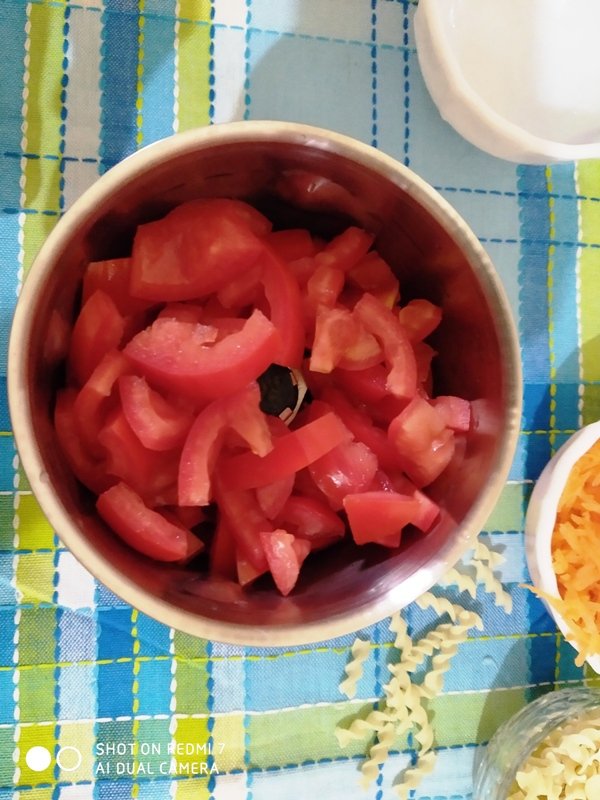 The paste should look like a fine blended paste.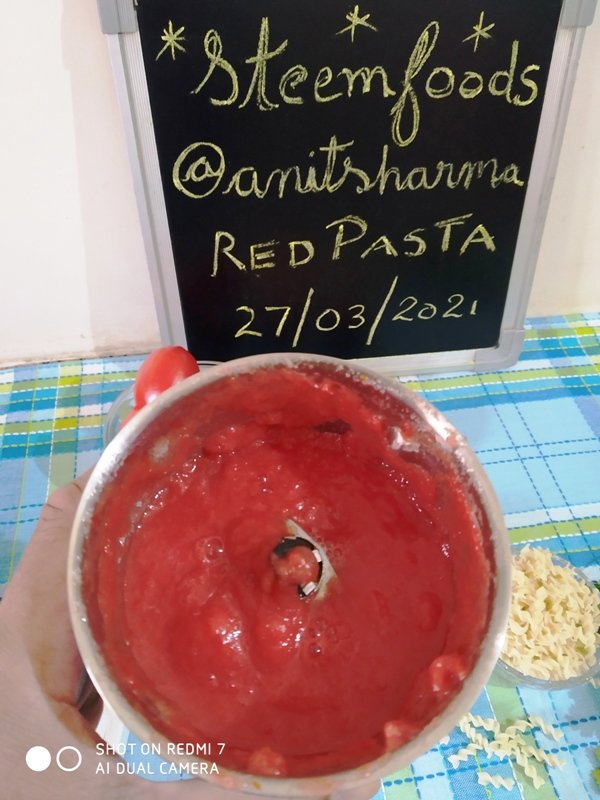 The raw tomato fine blended paste must be a bowl full to use it to make delicious paste. This entire process has to be done in a very careful manner. Any lumps or grains may affect the texture of the paste sauce, later on!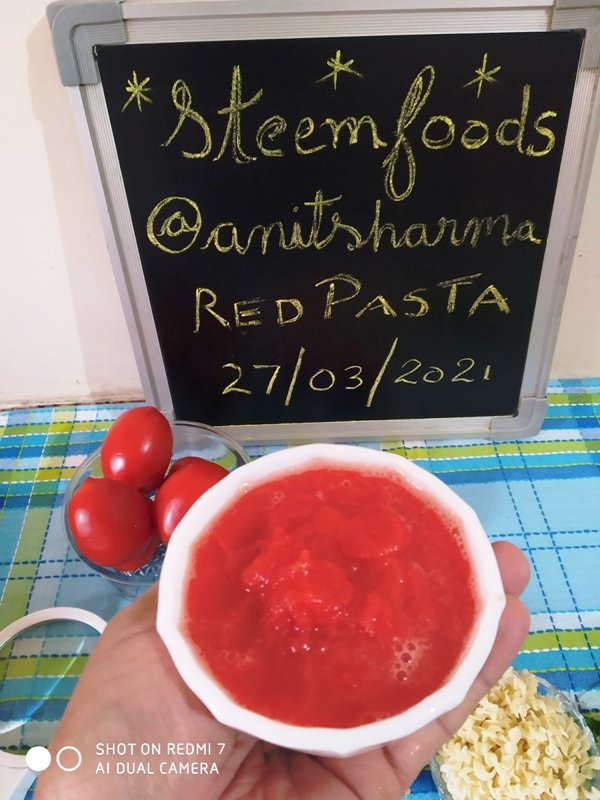 That's one medium size bowl full of the fine blended tomato paste.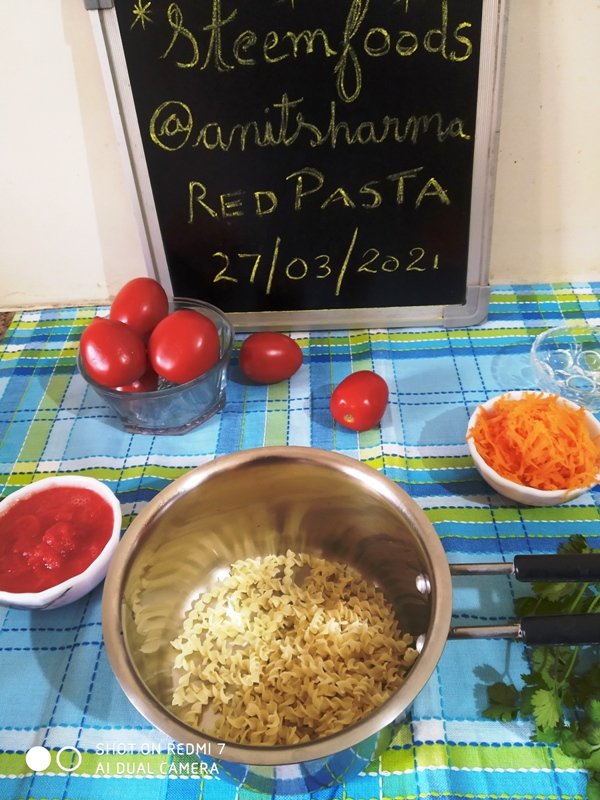 Take a deep sauce pan and pour the spiral pasta in it. Ideally for one medium sized pasta bowl/cup use two cups/bowls of water. That's the right proportion. Less or more water may affect the consistency of the sauce. You may change the ratio of you want little dry pasta or more rich saucy pasta.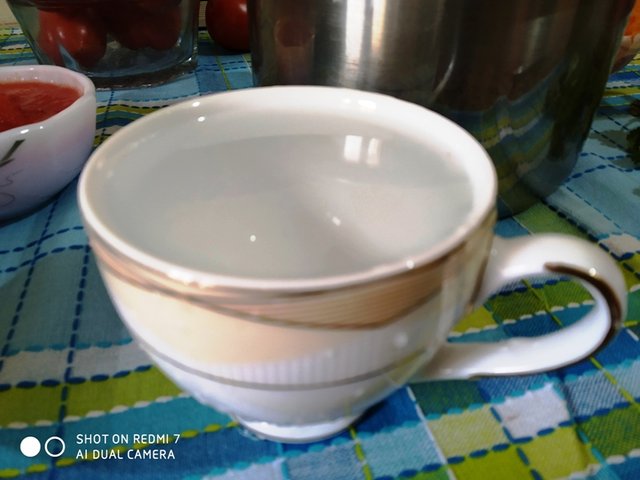 Keep the sauce pan on the flame/burner and keep it open, make sure...no lid over it.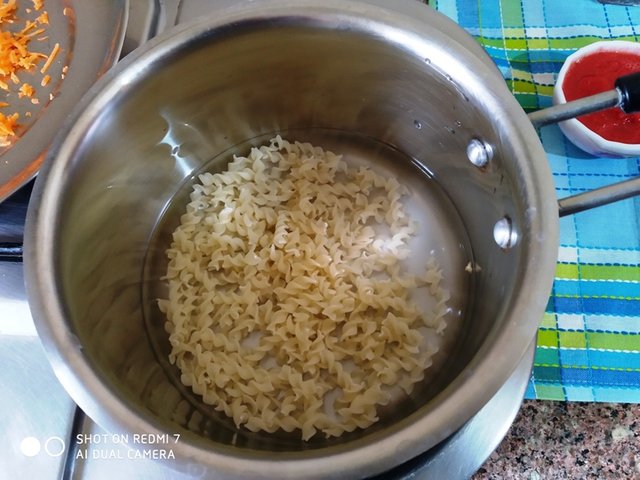 Transfer the raw red tomato blended paste to the contents in the sauce pan.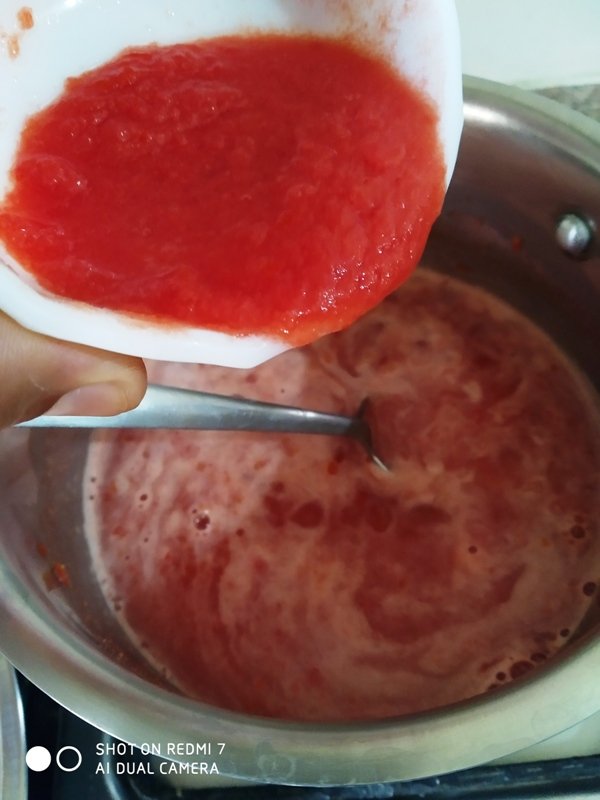 Keep stirring...gradually and keep stirring so that it doesn't stick to the pan. Stir slowly and gradually/ and keep checking the desired consistency.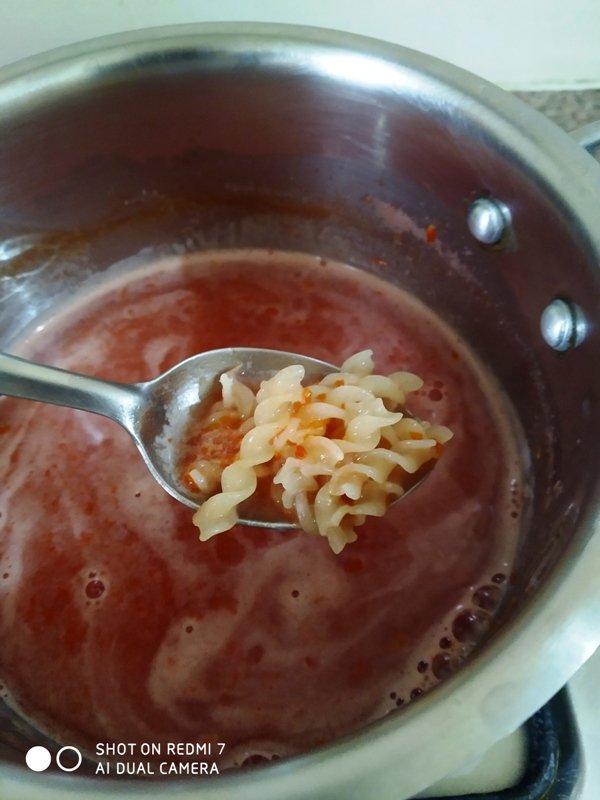 Now, its almost ready...couple of seconds more on the burner.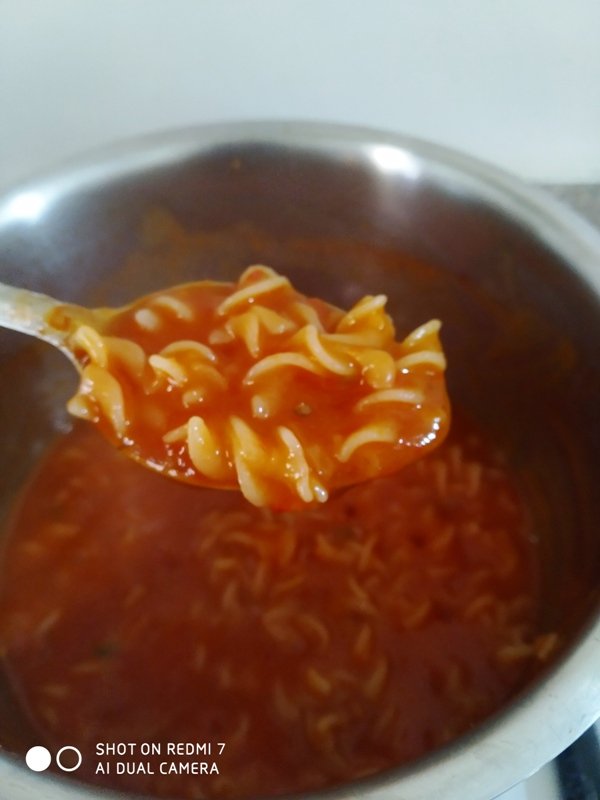 When the Red sauce stops dripping, that means the pasta is ready to be served. This, according to me the perfect consistency.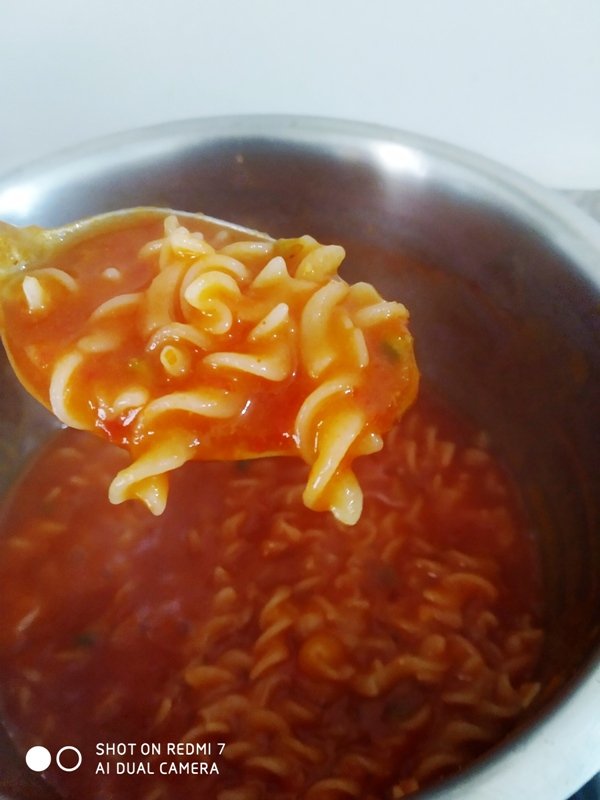 The Red Rich n Delicious Pasta is ready, now its time to do the plating. Garnish with a coriander sprig.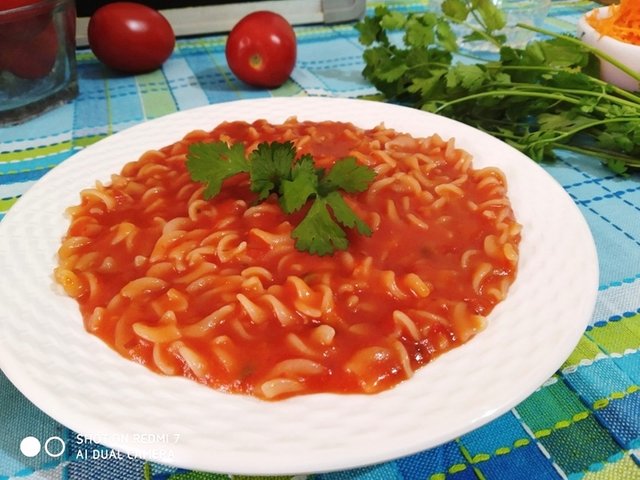 Also you can sprinkle some grated orange carrots, for additional garnishing. Make it more healthy and nutritious.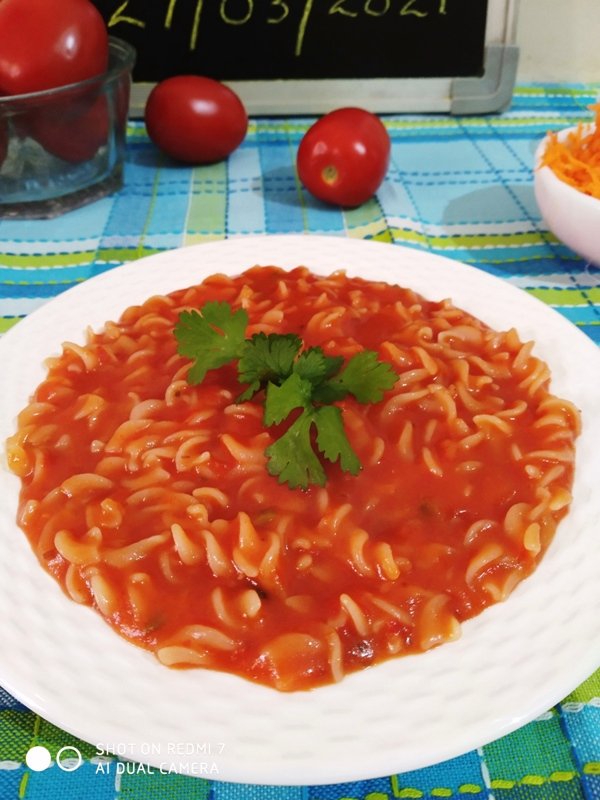 My one Perfect Serving of Delicious Red Rich Pasta.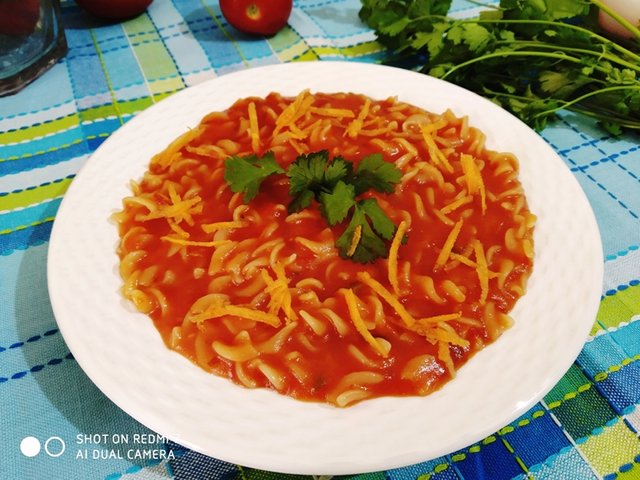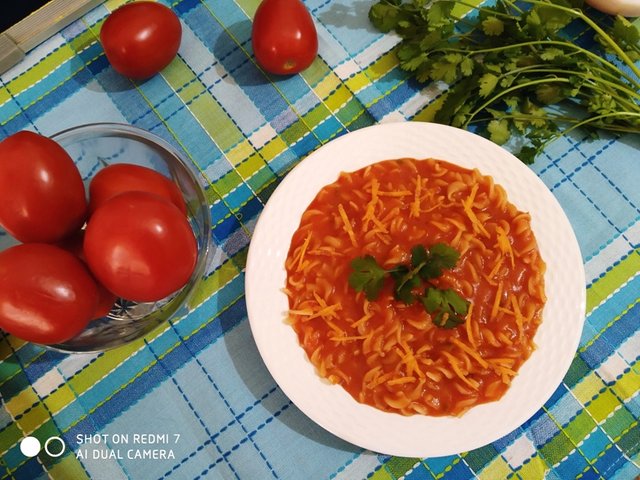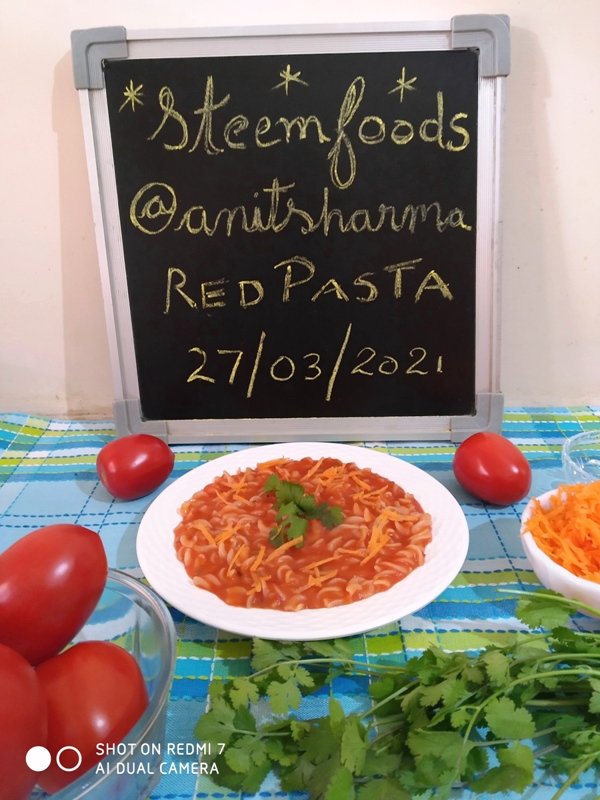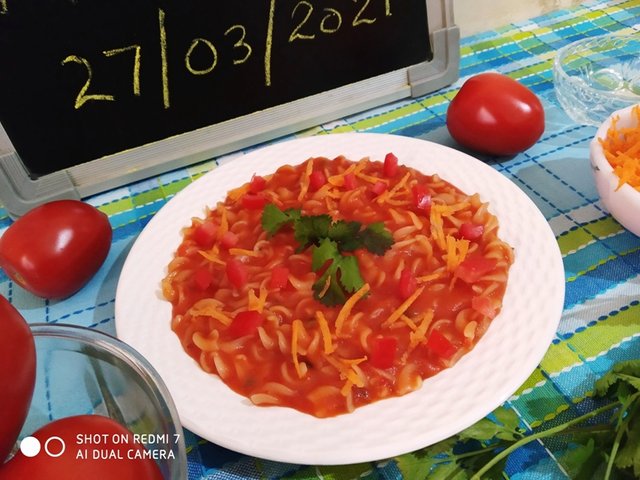 You can also sprinkle some small diced red tomatoes over the pasta, to your liking.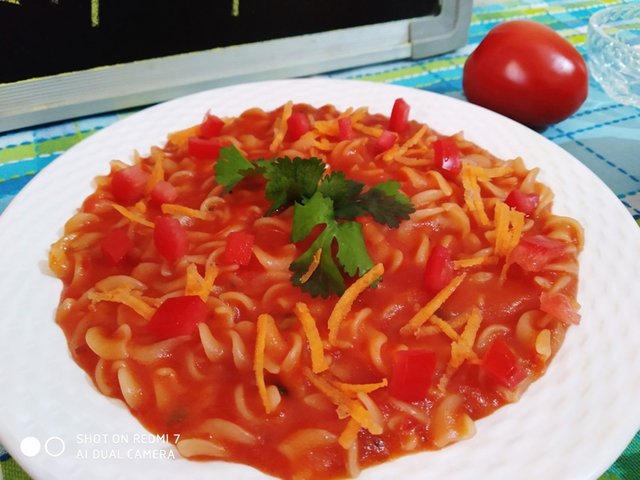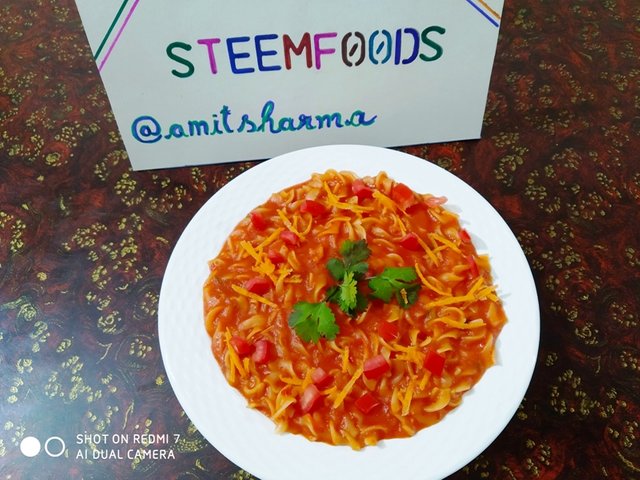 So, i am about to relish the Delicious Red Rich Pasta after this capture as I really really craving for the same, since i started making it ! Yes ! Ofcourse !!! :)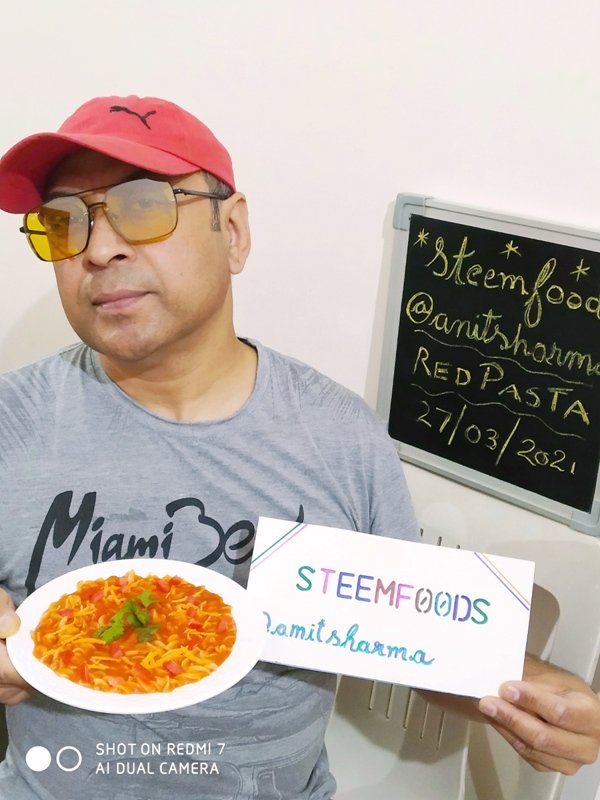 and that's me...I have started relishing it ! Absolutely awesome ! So Yummy and Super Delicious.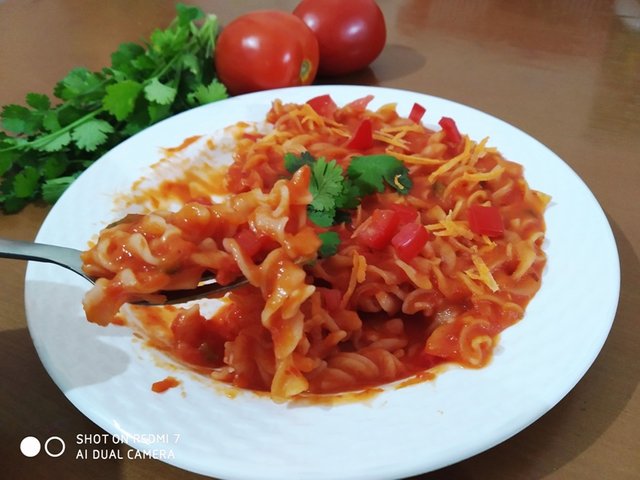 Wowww! Its rich texture, delicious taste and Rich Red sauce is truly amazing and mouth-watering. I enjoyed it thoroughly, now its your turn to re-create !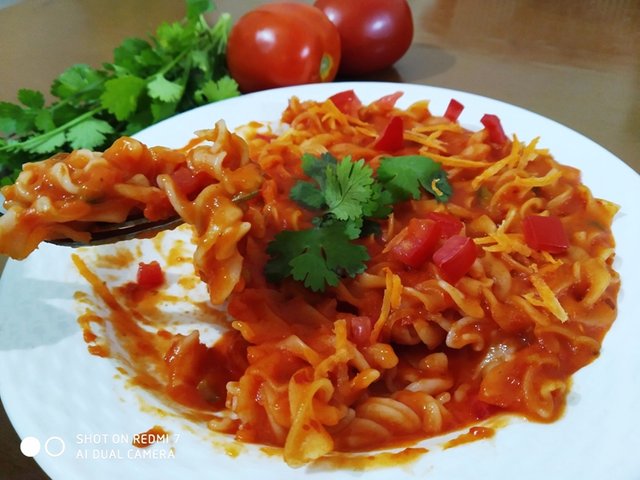 Thanks for watching. Hope you liked the captures and the Recipe.



Thank you! @Steemfoods @steemitfoods


CC:
Thank you @alikoc07 for giving us the wonderful Steemfoods Community
Thank You @steemcurator01, @steemcurator02 for your kind support.

Best Regards
@amitsharma