Got Wood? | Cars That Refuse To Change With The Times.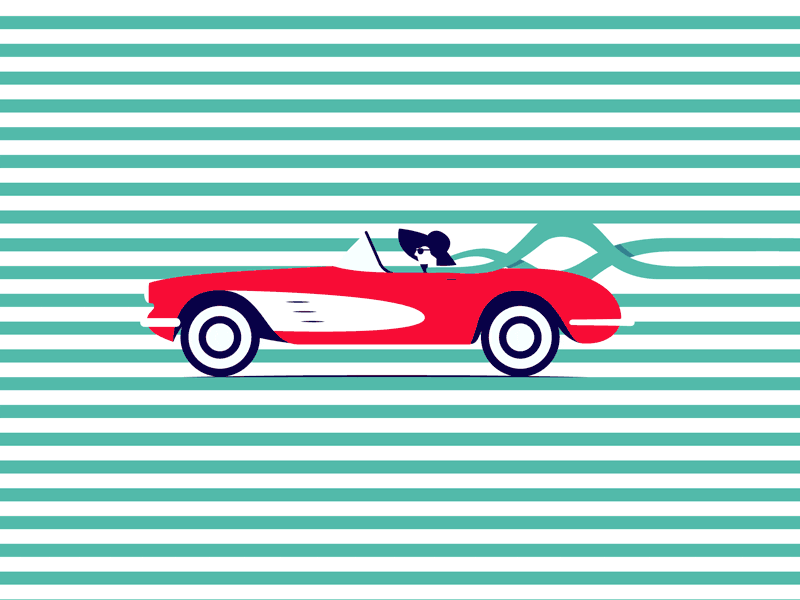 Credits to: GIPHY
Well, I suppose it's less about a car not wanting to grow up, but rather it's reluctance to change with the times. If you're looking at these pictures, and you're wondering whether I'm talking about a vintage motorcar, then know that this is in fact, a vehicle that you can buy brand new, today. This isn't something that you'll find ending up on classic car auctions, but it's a sight to behold on dealership lot near you. However, should you meet a car that looks the same on the vintage classifieds, then it shouldn't be surprising.
For 110 years, the Morgan Motor Company has been building automobiles in more or less the same fashion, and this boutique English carmaker is more concerned about tradition, than making money. A bold business strategy, but given that it's been around for this long, there must be people buying into them, right? It's retro inspirations go back a long and storied history, with equally passionate fans, the latter of which should be excited given the company's new developments.
Mind you, for a business that has an old-fashioned ethos, changes aren't exactly radical for those of us in the outside world. From a traditionally British carmaker, they've just announced a set of limited edition models for the Dutch, so called the LE60 anniversary cars. Given the miniscule size of Morgans, those Dutchmen and Dutchwomen find it hard to get in and out of them. Yet, the impassioned Dutchies have been loving Morgan for decades now.
On another note, I don't suppose anyone else is wondering how odd it is that the world's tallest people all reside in a country that is almost entirely flat? Celebrating the 60th-anniversary between Morgan, and their Netherlands-based dealership, Louwman Exclusive, just five cars are being made available with some unique livery, that is otherwise accomplished through Morgan's bespoke personalisation. Without further ado, here's a look into what they're up to.
---
---
Up On All Threes | Morgan 3-Wheeler.
Credits to: Morgan Motor Company - 3-Wheeler (LE60)
If you're looking for a properly hipster car to stand out in, here's one just for you. Think about it, how often do you get to find a three-wheeled car? Arguably the biggest highlight of this appropriately-named Morgan, is its design - with a singular wheel at the back, and two in the front. This is the opposite of the Reliant Robin, which is famously seen being bullied by Mr. Bean's Mini, where it has one wheel in the front.
I can imagine one added advantage is the added stability at speed, and while cornering. The wheels and fenders sit far along the side, and it can do that, given the peculiarities of the regulations that govern specialty cars like these. The 3-Wheeler has a wire-spoke wheel design, and on this LE60 model, the only one being offered in fact, you can make out the bright yellow callipers on those tiny brake discs.
Credits to: Deviantart
Fitting in with Morgan's principle of old-fashioned craftsmanship, each car is hand-built, not just this one. The 3-Wheeler sits on a tubular steel, space-frame chassis, with ash-wood frames, and a lightweight aluminium body. And yes, it uses actual, fallen ash-wood from the British countryside as framing for their cars. This follows a design has persisted since the 1920s, with few changes since.
It has that iconic "aircraft, but without wings " look which underpins the 3-Wheeler's philosophy for decades. In fact, one of the 3-Wheeler's first customers back in its heyday was a British WW1 fighter ace, and he claimed that being in it, is the closest thing to flying, but without leaving the ground. Just like the fuselage of a WW1 fighter plane, it has that same utilitarian appeal, with exposed rivets, and curvaceous lines tapering off into sharp edges, headed by the engine in front.
Credits to: Morgan Motor Company - 3-Wheeler (LE60)
Speaking of, the 3-Wheeler's trademark design is most obviously seen by the engine placement, which sits outside of the car, barring only the lack of propellers. This is actually an S&S 2000cc, V-twin motorcycle engine, meaning that it has two cylinders, and from a company that's had relations with Harley Davidson. Exposing itself in the front means that it needn't waste space or mass on radiators and pumps, effectively leaving it air-cooled.
The compact motor makes 82hp, and 140Nm of torque, driven through a Mazda-supplied 5-speed manual transmission. While not impressive numbers by any stretch of the imagination, the 3-Wheeler has a dry weight of just 525kg, which is astoundingly light for a car on sale today. This allows the modest performance figures to be more than adequate, pushing it from 0-60mph in just 6.0 seconds, and onto a top speed of 115mph.
Credits to: Morgan Motor Company - 3-Wheeler (LE60)
Back to the design, and as to why driving at 115mph might be a terrifying prospect - is that the 3-Wheeler has no roof. This makes it a very impractical choice for rainy or snowy weather, and driving it will require goggles of sorts, just like flying a bi-plane. Just to make sure your head doesn't disappear in case the car turns upside down, there are some roll-bars looking over your shoulders.
Climbing over the exhaust pipes, conveniently placed to potentially burn your feet, you'll get into the interior. Notice here, that there aren't any doors in place, and all you're getting, is some finely quilted leather, which also acts as an arm-wrest. Surprisingly for a tiny car, there's seating for two people in here. Other than even more nicely stitched leather, and the aeronautically-themed gauges, it's a very simple place to be.
Credits to: Morgan Motor Company - 3-Wheeler (LE60)
No gimmicks, or finicky screens to be found, the steering wheel is devoid of buttons, and it's just something to steer the car, with a 3-spoke design, reminding you how many wheels you're driving on. Sitting here, piloting your patriotically-flavoured British racing green 3-Wheeler; I can imagine it's quite the experience. Raw and unfiltered, with a machine that weighs next to nothing in the car world; this is driving at its core, with untapped emotions at the ready.
That said, I doubt this is a car that you're planning to drive daily, least of all because there's nothing to shield the weather. Surprising given how much of the 3-Wheeler's componentry is left exposed and outside of the car, there's not a lot of space for anything other than yourself. Under the bonnet, you'll find the battery and oil tank, along with some small storage cases for your luggage, if you're willing to pay extra for that.
Credits to: Morgan Motor Company - 3-Wheeler | Fighter Ace, Albert Ball VC, in his 3-Wheeler, circa 1920s.
Given the singular back wheel that sits in the middle of the rear, with the fuel tank in place, you're left with an oddly-shaped room for your luggage. My recommendation here; is that you leave your bags behind, and instead stuff your clothes here instead. Otherwise, a 3-Wheeler is nothing short of a unique driving pleasure to have. However, if the three-wheeled lifestyle is too much for your, and it certainly is for me, there's a more conventional setup offered by Morgan that might suit you better.
---
---
Changing With The Times | Morgan Plus Six.
Credits to: Morgan Motor Company - Plus Six (LE60)
Equally traditional, the Morgan Plus Six is a larger, more car-y offering compared to the 3-Wheeler. It has modern touches, and an extra wheel. The structure underpinning it is far more up-to-date, with a brand new CX-generation bonded aluminium chassis. "CX " is the Roman numeral for 110, dating how long Morgan's been running as a business, and the chassis still incorporates the important Earthy elements, with pure ash-wood framing.
The overall design however, is just as eye-catching as the 3-Wheeler. Imagine a classic car shape, and the Plus Six is what comes up in your mind, with a distinctive silhouette that wouldn't go amiss in Cruella de Vil's garage. The flat and imposing front end, sharp body lines, the old-school exposed fender flares along the car, and then finishing off with a tear-drop in the back. It's got that same early-1900s automotive design, with swoopy lines meeting right against sharp corners.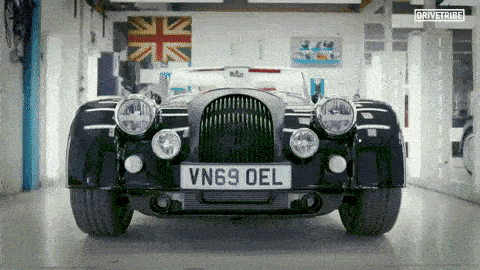 Credits to: GIPHY
Credits to: Morgan Motor Company - Plus Six | Notice the wood?
There are two wheel options available for you, either a more contemporary spoked design, or some rather neat looking "Steelies ", which rounds off the utilitarian minimalism quite well here. Another key difference from the 3-Wheeler, is where the Plus Six's engine sits. Tucked neatly underneath a long, vented, and lightweight bonnet, the engine sucks air from the large horseshoe front-grille. Flanked with quad-headlights, the LE60 cars have a yellow "6 " painted on the grille, joining with other yellow accents here and there, remind you how many cylinders this car has.
Underneath that bonnet hides a very foreign, Germanic engine. For 20 years, Morgan has partnered with Bavaria's finest, BMW for some of their powertrains, and sometimes going to its racy M Division for more powerful models. This is a necessity for Morgan, given that a small company like them could not possibly have the resources to engineer their own powerplant. However, putting an imported engine might attract some disdain for the more ardent, Brexit-y enthusiasts of Morgan's cars.
Credits to: Morgan Motor Company - Plus Six (LE60)
Nevertheless for most people, the BMW-codenamed B58 engine here is a fantastic workhorse of an engine that rewards with ample performance. This inline-six engine makes 335hp and 369lb-ft (500Nm) of torque, and it drives power through a ZF automatic transmission. To the disappointment of traditional petrolheads, no manual option is available so far as I know. However, enjoyment is still the key, regardless of what transmission it has, with an acceleration to 60mph taking just 4.2 seconds, and topping the Plus Six out at 166mph.
Though it weighs twice that of a 3-Wheeler, the Plus Six is still a featherweight compared to most cars that you can get for brand new today, sitting at just 1,075kg. Overall, it has the power of most sports cars in its class today, like the new Toyota Supra, and it's similar B58 engine, but is much lighter on its feet. Moreover, unlike a Supra, you can drive this with wind in your hair, if you want to. Unlike the 3-Wheeler, the Plus Six doesn't always have to be roofless, and you can use the standard fabric, manually-foldable roof, or there's also a fitting hard-top option that you latch onto it.
Credits to: Morgan Motor Company - Plus Six (LE60)
There's also doors on the Plus Six, an oddly welcoming amenity, which in this case, has a clip-on top half, in case you want to put the roof up. The interior is well-appointed, albeit simplistic, just like any other Morgan, with plentiful of hand-stitched leather, and wood panelling. It still has those aeronautical themes, though the most modern thing here is the very BMW-like gear-knob, and complimented with paddle shifters on the steering wheel, if you're in the mood to change gears yourself.
This Teutonic modernity stands in sharp contrast with the wooden trim. One thing that the Plus Six authentically shares with all Morgans, is the lack of storage space. Though the engine has a sizeable bonnet to clothe it, there's no boot space, as that round compartment in the rear is apparently for holding the spare tyre. However, there is at least a luggage rack, and Morgan will happily sell you some cases to fit that perfectly. Four of these special LE60 Plus Sixes will be made available, with two greys, and two more pastels, though any visual differences here can technically be bespoke-made on regular production models.
---
---
Once In A Lifetime.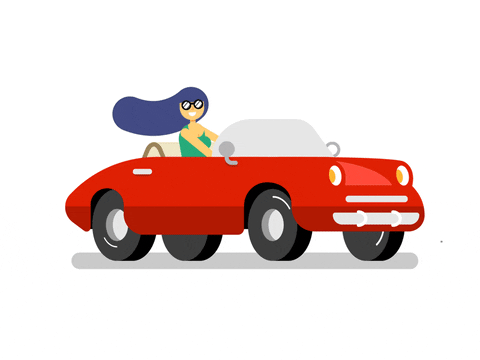 Credits to: GIPHY
To all those that claim modern cars are boring, or that they all look the same, Morgan is the antidote that you need. They're not alone however, but the ethos is similar - to bring forward a slab of the past, into the future. It's old-fashioned fun and enjoyment to enlighten your driving pleasure, far from the Faraday Cages of modern electronics and computers. Think of those companies that make old-school turntables, and vinyl records.
Are Morgan's cars safe, cheap, or practical? No, they're none of those things. However, I reckon that you're not going to find this sort of experience anywhere else, especially not in a brand-new car, with warranty and customer support, while being devoid of rust that classic cars tend to have. These five LE60 anniversary cars are a celebration of times past, and a signal that Morgan is here to stay, for that small group of enthusiasts that want something unique. Here's to 110 years of Morgan, and may they never change!
---
---
Thanks for reading! For more updates on my blogs, or the more minute things in life, feel free to follow me on Twitter, LinkedIn, and Medium, and maybe give a shout there as well!
While you're at it, follow along @zacknorman97 for more, coming soon :-)