Hello,
My Dear Creative Steemians, Today I'm going to share with you all some beautiful photography of wild love of Chestnut Tailed Starling or Grey Headed Myna Birds. Hope that photography will motivate you all to live safely with our beloved people. Because sometimes the wild can present us with a very good message or lesson for our life.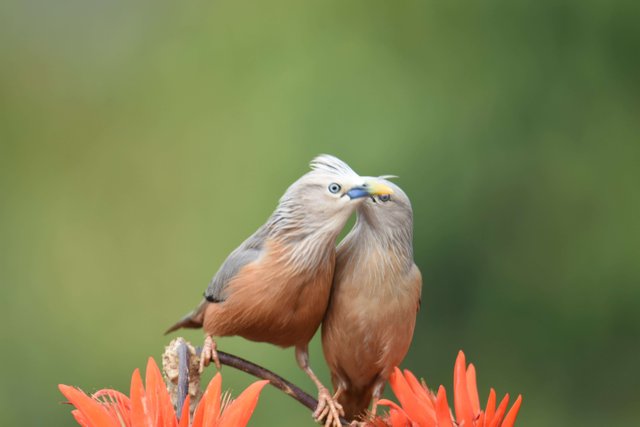 Some Word About Chestnut Tailed Starling Bird:
The Grey Headed Myna or Chestnut Tailed Starling Bird is a very beautiful bird mostly found in wooded habitats in India and Southeast Asia. This Bird is a member of the Starling Family.
Scientific name: Sturnia Malabarica
Phylum : Chordata
Higher classification: Sturnia
Order: Passerine
Rank: Species
Family: Sturnidae
The total length of an adult Grey Headed Myna approximately 20 cm. The grey upperparts and Blackirish Remiges really enhance its beauty.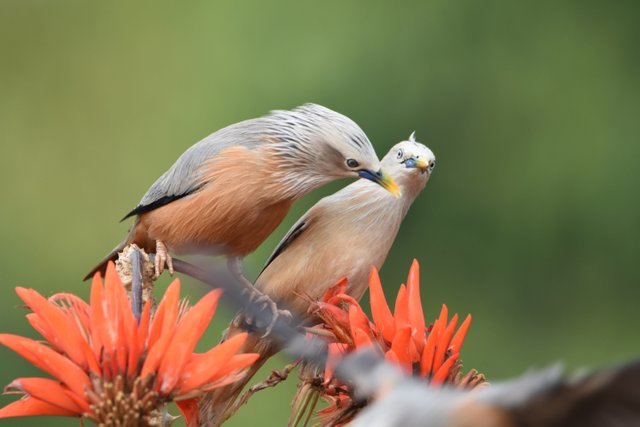 but the color of the remaining plumage depends on the subspecies. In the nominate subspecies and blythii, the underparts (incl. undertail) are rufous, but in nemoricola the underparts are whitish tinged rufous, especially on the flanks and crissum (the undertail coverts surrounding the cloaca). The nominate and nemoricola have a light grey head with whitish streaking (especially on crown and collar region). Both subspecies have white irides and a yellow bill with a pale blue base. The sexes are similar, but juveniles have whitish underparts and just chestnut tips to the tail feathers.
information Source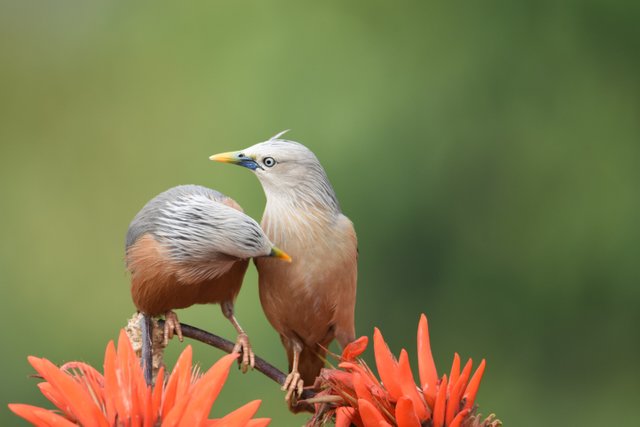 The Grey Headed Myna is mostly famous for its lovely behavior, most of the time these birds are shown with the couple. They love to stay together. Grey Headed Myna Spend most of the time of a day with his pairs. They are a great example of the best wild couple in our nature.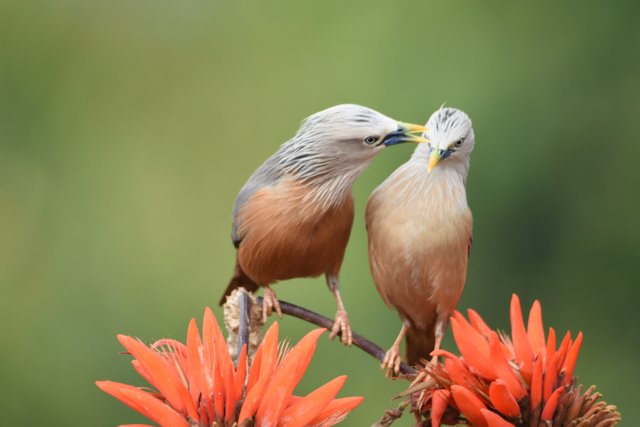 I'm very lucky that I was able to capture a beautiful Grey Headed Myna couple picture. I Capture all those pictures in Sylhet, Bangladesh. Every position of this couple was really so romantic. It was really an indescribable romantic scenario I was experienced.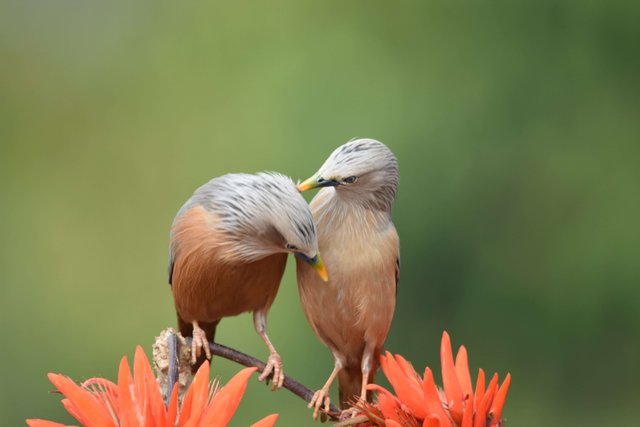 I was continuously clicking never think to stop for a single moment because this couple was changing their position continuously and every position was so romantic and mind-blowing.
They were able to make romantic too. I was enjoying their loving moment through my camera lens.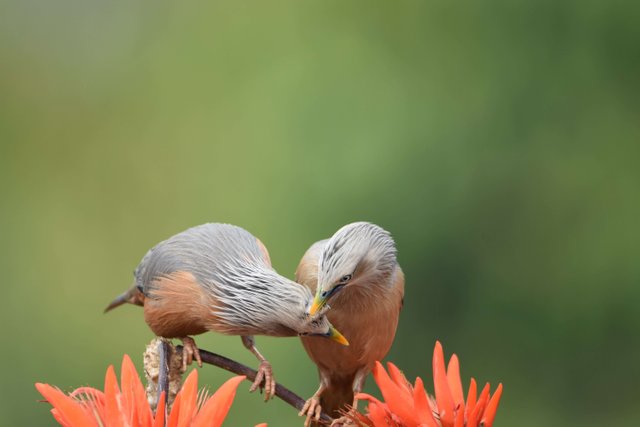 Once I was feeling like that they were talking with each other and they were showing their love by their lips and sometimes they were touching each other by their legs.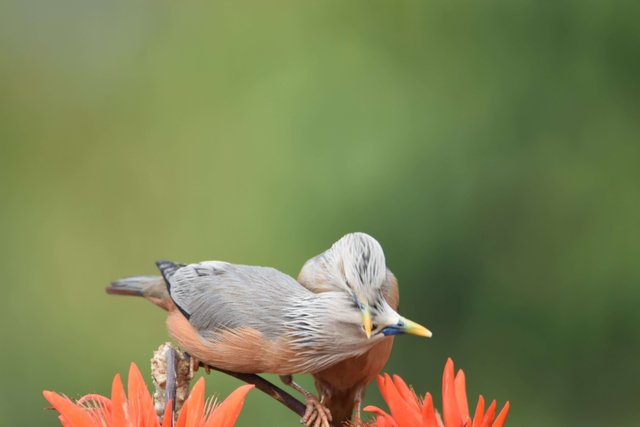 At the top of a cotton tree, they were feeling very comfortable. Because they know that nobody will disturb them in such kind of high. I just became very surprised who they kept their balance, and from the beginning of my capture, I was unable to see any kind of fear and body language for making the balance in a very small branch of a cotton tree.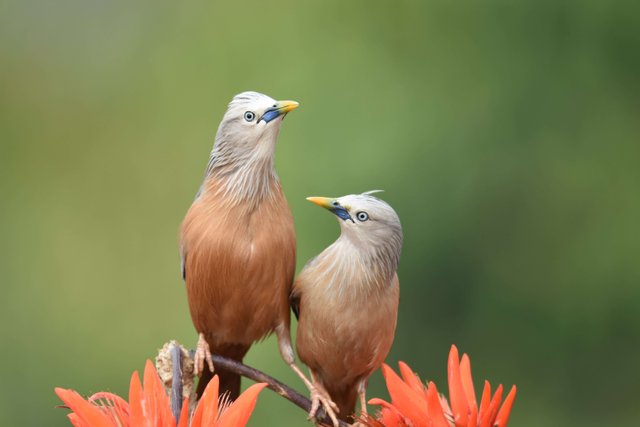 Suddenly a sound made them very uneasy, the male myna became very worried with the sound, It was showing here and there and tried to find out the source of the sound for their safety.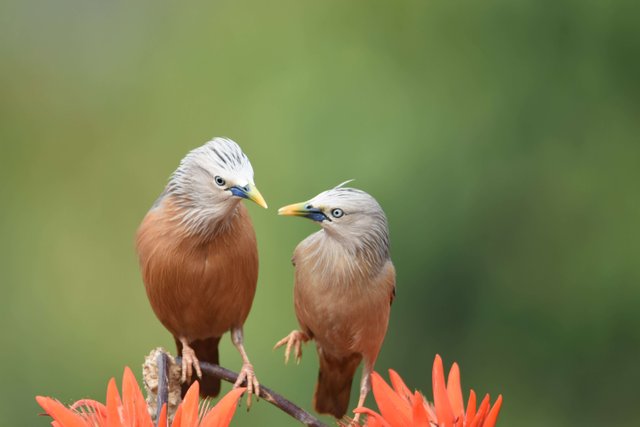 But look at the female one, she just looking at the male one and thinking like that why the male one has become afraid and telling the male there was nothing worry about. Suddenly the male removed its legs from over the legs of female and this time the female became very angry with the male.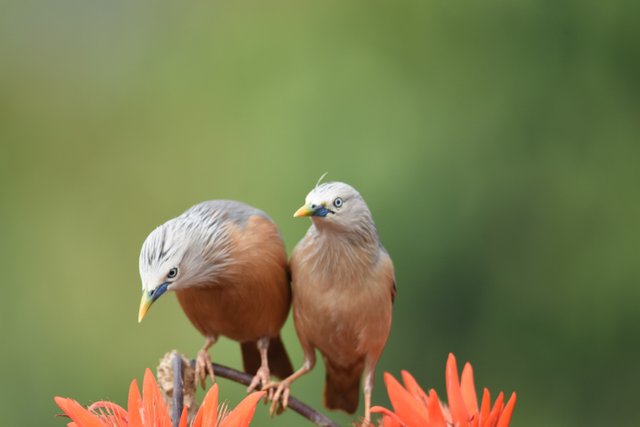 Then I was able to see the part of Huff of a love. There body language and express was so clear I was just noticing it from my camera lens and was laughing with the scenario. They are not looking at each other just tried to avoid one another. But the female one was not expecting it.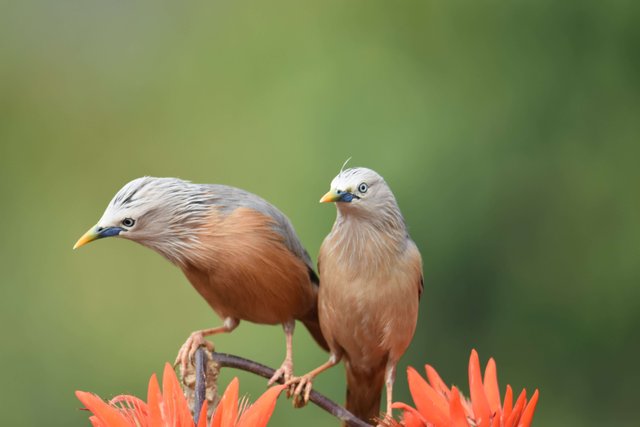 It was trying to manage the male one, once the male one trying to fly out but the female stopped it by putting its legs over the male's legs.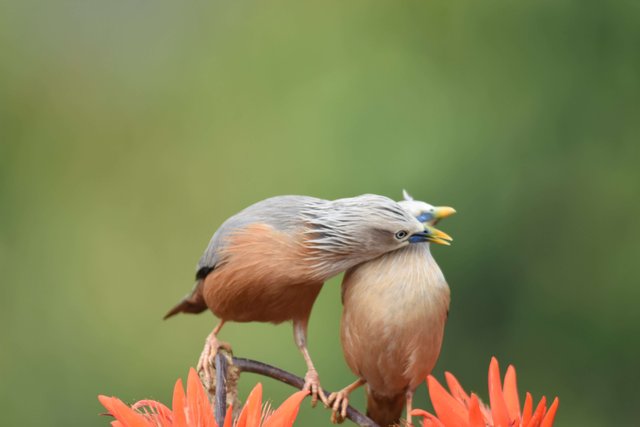 Then suddenly the male one proved to me that I was wrong, their love is not silly like a human being, their love is much stronger than the love of human beings, Huff never can separate them, it's just a part or moment of their love.
The Story Will be continue.....
Every Photo Shoot by Nikkon D-3500
Edit In: Adobe Lightroom.
I'm a student and Photography Is my hobby, I just spend a huge amount on making a tour for capturing photos and everything is for creating my #STEEM and #HIVE Blogs and there is no other intension. I'm not getting my expected support from my blogs. So I'm asking for support from you all that I can continue my photography.
You Can support my work by delegating #STEEM and #HIVE or by donating #STEEM & #HIVE through my @uttambarman (Both Steem and Hive account).
Thanks for being with me and for supporting me. Stay Home and Stay Safe.