My first fruit photography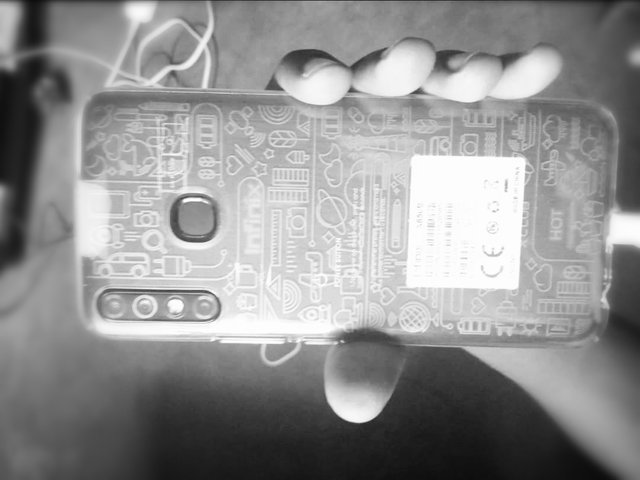 It has just recently dawned on me that I have been letting the average quality of my smartphone camera to take nice photos go to waste. Maybe it's because I'm not photogenic as a person whenever I take selfies or random photos of myself — this mindset of ignoring my phone camera has been budding in me for a long time after my selfie pictures don't always turn out well the way I like.
I can't help it anyways; with the new features and upgrades in camera settings in some newly produced smartphone, I'm starting to have a change of heart because I recently took some photos of a fruit I ate and they seem to turn out well. Also the images on one of my previous posts on a gaming console that brought back memories also turned out well.
Maybe it's time to flex my smartphone photography inclination on things that deserve to be captured in pictures and share my thoughts about them. While scrolling through my phone I quickly remembered I was also given some beginner tips by a good friend on how to shoot good photos with my smartphone like a month ago but I didn't take that tutorial seriously. However, there are two photos I will share below which are scolding me every time I glance at them into taking those tutorials seriously since I can monetize any photograph on the blockchain.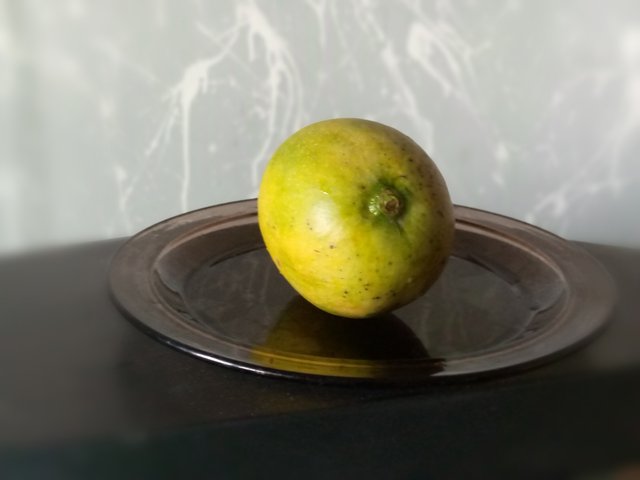 Few days ago, my dad went to the market to grab some essentials lacking in the house. On his way back he decided to buy half a dozen mango. Mangoes in my region entered into its season like a month ago and has been dominating the fruit market for quite some time. Some mangoes turn out green while some turn out naturally ripe. The mangoes my dad bought just cost about a dollar. It was delicious. I enjoyed it.
Why mangoes? Since the outbreak of the pandemic in my country that has confined us to our homes via government public health policies and order; we have been advised to build strong our immune system by exercising, maintaining personal hygiene, expose our body to more sunlight, properly ventilate our environment and homes, take lots of supplements like vitamin A, C, D, K etc, eat nutritious fruits and balance diet meals. Which is good.
My parents have also made it mandatory in a week to at least seize the opportunity to add like two sets of different fruits to the essentials to keep us going for the week. Fruits can be sometimes apple, mango, pineapple, orange, water melon. To be honest this is the first mango fruit that will enter my mouth for the year. Prior to this day, once or twice in a week we've been eating either apples, pineapples, oranges, watermelon and cucumber.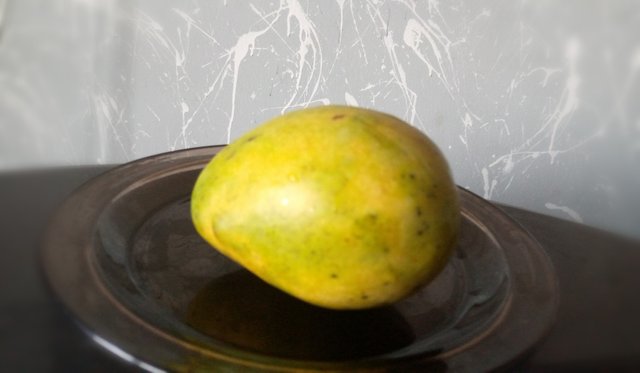 I was even asleep when the whole half a dozen mango was shared. I woke up after everyone had eaten theirs. So I was left with only one mango to take a picture of and write about. In total, I only snapped about four photos but I lost two images. I don't know how it happened. The other two images that got lost were photos that showed how I gradually consumed the mango in its final state. Too bad I misplaced them.
That will be all for today. I hope we are all keeping safe and staying indoors? If yes! Thanks for reading.
---
attention: all images are mine