My Quarantine Story - I Wish I Were Home!

Source
Hey @theycallmedan
Why don't you do it daily to keep everyone busy until this lockdown period is over!
People love to participate in such contests especially when they have nothing to do.
What is your coronavirus story; how has it affected you? (your life, financially, health or otherwise)
I am studying for civil services examination which is to be conducted on 31st of May. However, there are chances that it will be postponed. This exam requires consistent rigorous study for at least 8 hours a day for a period of 8-10 months. That consistency has been broken due to coronavirus, so, yes, I can say that it has eliminated my chances of qualifying the exam this year.
I live with flatmates far away from my home and my parents send me $200 per month for rent and other expenses. I have to pay a rent of $100 and I am left with $100. Because of the fears that the grocery items will run out of stock, we purchased a lot of them at higher prices as people like to take advantage of these situations. Now we are running out of money and it's just a matter of days when our pockets will be empty.
My health is fine and I am really thankful to God for that. This is not the first time, I am practicing quarantine as I am from Kashmir and I have a good experience of handling myself during these times. I have remained confined to my home for more than three months, that too without the internet, so no issues there.
Have you or someone you know been effected with the coronavirus, how are they now, what was it like for them?
No.
However, one of my flatmates did give me a scare when he said that he thinks he has been infected. Thankfully, he was just feeling a bit depressed which made him think so. I made a post about that, you can check it out here.
I had a dream yesterday where I saw myself in front of a doctor who told me that you have tested positive for COVID-19. This broke my sleep and I was sweating and scared. I prayed to God and thought that how it will be like when a person gets infected. God be with them.
Have you used this time to strengthen bonds with loved ones, do you feel you'll come out of this a better person?
Unfortunately, I am not at home. But I do call them regularly and we talk a lot. However, I would prefer to be at home right now with my parents and siblings but the sad part is that I can't.
Maybe, I will come out a better person. I have learned that life is unpredictable, you really don't know what is going to happen. But while you are living, make the best out of it by helping others in need. At the same time, live your life to the fullest, do what you always wanted to do as there might not be a tomorrow.
Do you have any photos/videos to share of where you're hunkering down? Show us how you spend your 24 hours as a prisoner xD
No, I am not a photo/video person. I do like taking pictures of nature but I don't take my own pictures quite often.
However, I will tell you how I spend my 24 hours.
Well, my day starts at around 11 am in the morning. I take a bath and prepare my breakfast. Then I read the newspaper for almost two hours. I usually take lunch at around 2 pm if everything goes well. Then I try to study but during the past couple of weeks, I have been able to study for less than 3 hours per day. Sometimes I take a nap as well and once I fall asleep, I don't wake up for hours. In the evening, I spend my time on the internet till it is 10 pm. I eat dinner and go to bed at around 12 am. So, basically I "EAT SLEEP REPEAT"
If you haven't been practicing social distancing, why, & what's the world like out there by you?
I am practicing social distancing. Although, the cases in India are not alarming the entire country is under lockdown which is a good step.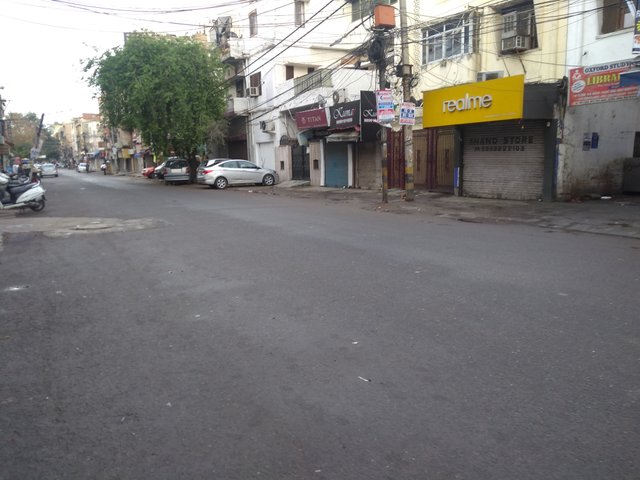 This is how it looks like when I step foot outside. The roads are empty, the shops are closed, very few people walking.
This pandemic has taken more than 34k lives across the globe and it is only getting worse. Please stay at home and stay safe.
In the meantime, steem online.
Download Brave and start earning BAT.