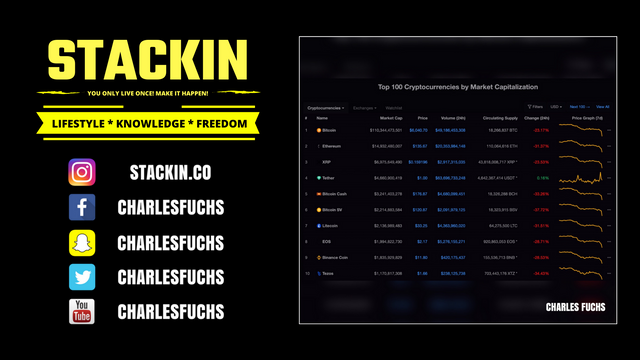 Things don't look so bright for the economy right now... are we about to enter one of the biggest global financial crises ever?
Sorry to say but my answer is yes... but it may take a year or two. 💁‍♂️
Just this weekend alone, the world has seen the governments announce Rate Cuts, Helicopter Money, Tax Cuts, QE, Fiscal Promises, Stock Buying, Cash Bans, Record Repos, $1T Bazooka, Neg Yields, Unlimited Liquidity, All Assets like gold and silver... etc... etc...
Did I leave anything out? 😅
I'm not saying that the whole world system is going to collapse right now but in 2021 and beyond are going to very tuff times for people in the world.
If you think the Coronavirus caused a frenzy, wait til' when the whole financial system starts shutting down.
As for the Bitcoin and the cryptocurrency markets... these are high risk speculative investments and if the economy starts crashing, I don't think many people will enter the market. 📈 📉
The Cryptocurrency markets are taking a huge shit as I write this and more pain may come down the road. 🤕
When will the bleeding stop? No one knows for sure. 🤷‍♂️
If people get scared enough in the next few weeks from the Coronavirus, I can see Bitcoin get cut in half to $2500! Yeah, I said it.
However, Like I said many times before... I'm still a believer in Bitcoin regardless of the price. If we ever do see Bitcoin at $1800-$3000 again... be sure to stack as much as possible. 💰
Just my two cents. Stay safe guys... its going to be a very bumpy ride in the next few years.
Keep on STACKIN! 😎
~ Charles Fuchs
For those who's interested in following my "Content" and "Daily" Posts... you can just follow me @stackin to get my updates.
You Can Follow Me Here:
➡️ UpTrennd: https://uptrennd.stackin.co
➡️ Facebook: https://facebook.stackin.co
➡️ Twitter: https://twitter.stackin.co
➡️ Instagram: https://instagram.stackin.co
➡️ Steem: https://steem.stackin.co
---
PI NETWORK: Pi is a new digital currency you can mine on your mobile phone for free without draining the battery or using data. Use The Referral Code: ( stackin ) to be on my personal team.
---
Crypto.com: Get The World's First ELITE Cryptocurrency MCO Debit Card and we both get $50! NOTE: You must stake 50 MCO to get the $50 + 2% cashback on all purchases. Must use Ref code: ( mqanqykcym )
---