❇️ RAY DALIO: MONEY, CREDIT, AND DEBT!! THIS IS A MUST READ! 🙋‍♂️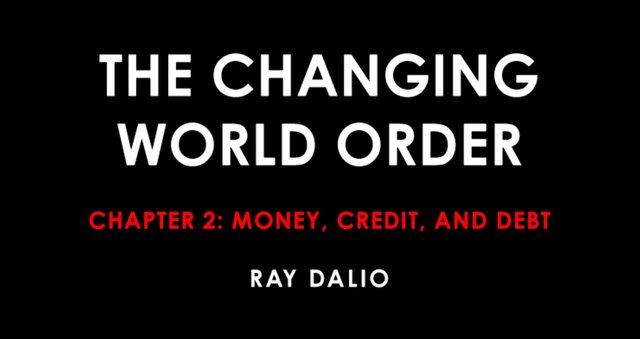 Ray Dalio just came out with an awesome new blog post about the current "State of the Economy and it's a must read for everyone!
I've been following Ray for a very long time and if you don't know who he is, you better get to know him... he knows his shit. 😂
What we are all seeing right now in the Economy demonstrates the start of a worldwide collapse in the coming years. 📆
I know, I know... it seems like doom and gloom but for those who prepare right now, will be better off than 99% of the world population when we see the collapse happen with a new world order.
When will this happen? I believe it will happen in a few years and a new era of a New Monetary Policy will happen and a huge reset will happen.
Instead of me giving you my opinion about this, I'm going to link Ray Dalio blog post below. It's a long read but for those who do will learn how to prepare themselves for the worse.
https://www.linkedin.com/pulse/money-credit-debt-ray-dalio/
What are your thoughts?
Do you think the collapse of the system will happen or this is just another recession and everything will be ok... life continues like usual? Only time will tell...
Keep on STACKIN! 😎
~ Charles Fuchs
For those who's interested in following my "Content" and "Daily" Posts... you can just follow me @stackin to get my updates.
You Can Follow Me Here:
➡️ UpTrennd: https://uptrennd.stackin.co
➡️ Facebook: https://facebook.stackin.co
➡️ Twitter: https://twitter.stackin.co
➡️ Instagram: https://instagram.stackin.co
➡️ Hive: https://hive.stackin.co
---
PI NETWORK: Pi is a new digital currency you can mine on your mobile phone for free without draining the battery or using data. Use The Referral Code: ( stackin ) to be on my personal team.
---
WEBULL: A stock trading mobile app that offers a commission-free trading platform. Get 2 Free Stocks (Value $12 - $1400 Each) for just opening a Free Account!
---
Crypto.com: Get The World's First ELITE Cryptocurrency MCO Debit Card and we both get $50! NOTE: You must stake 50 MCO to get the $50 + 2% cashback on all purchases. Must use Ref code: ( mqanqykcym )
---