❇️ BITCOIN IS UP 160% SINCE MARCH! FOMO IS BACK! ARE YOU BUYING? 🙋‍♂️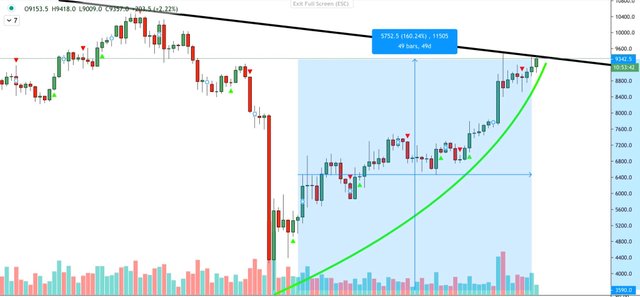 Yes, Real FOMO is back in the markets and with the Bitcoin Halvening coming around the corner in the next few days, people are pumped up once again!
I've been getting lots of people asking me "Should I buy now?" and if Bitcoin will reach 100k a coin in a few months. 😅
I'm not the person to go to for advice because you need to make your own decisions. Where were most of you when Bitcoin was down in the ditch last month? Hmmm... 🤷‍♂️
Bitcoin just went up 160% in the last two months from the lows of $3,600 to $9,980 as I write this and people are getting very emotional for "missing the boat again". 🙇
In my opinion, Bitcoin can go anywhere it wants to go in the short term. Yeah it can go to 10k,11k or even 12k but a correction of 30%-40% can happen at anytime. 📈 📉
With the economy going to shit and all the money printing going berserk across the world.... Shit is going to get real bad in the middle and long term.
Do you think people will invest in bitcoin when they are unemployed, can't pay rent, can't afford a car, cant buy food, can't get clothes? etc... etc... 😱
The easiest way to invest is when the markets are going down or have a major correction, not when it's going up parabolic. This is why 90% will always lose at the end of the day.
I'm a long term guy when it comes to Bitcoin and cryptos (2-5 years) and if you keep stackin on all the big dips, it will pay off many years from now.
Be cautious my fellow stackers and enjoy the ride.
Keep on STACKIN! 😎
~ Charles Fuchs
For those who's interested in following my "Content" and "Daily" Posts... you can just follow me @stackin to get my updates.
You Can Follow Me Here:
➡️ UpTrennd: https://uptrennd.stackin.co
➡️ Facebook: https://facebook.stackin.co
➡️ Twitter: https://twitter.stackin.co
➡️ Instagram: https://instagram.stackin.co
➡️ Hive: https://hive.stackin.co
---
PI NETWORK: Pi is a new digital currency you can mine on your mobile phone for free without draining the battery or using data. Use The Referral Code: ( stackin ) to be on my personal team.
---
CRYPTO.COM: Get The World's First ELITE Cryptocurrency MCO Debit Card and we both get $50! NOTE: You must stake 50 MCO to get the $50 + 2% cashback on all purchases. Must use Ref code: ( mqanqykcym )
---
CLAIM YOUR FREE HEX TOKENS - The first high interest blockchain Certificate of Deposit (time deposit) that is designed to go higher, faster and retain its value.
---