❇️ A BIG $1,000 BITCOIN MOVE IS ABOUT TO HAPPEN THIS WEEK! WHICH WAY? 🤷‍♂️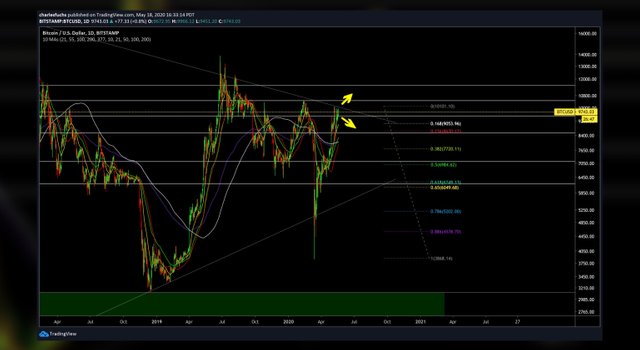 The Bitcoin "Bulls" and the "Bears" have been in an epic battle since the beginning of the year ranging anywhere from $3700 - $10,500. In other words, down... up... down... up. 📉📈
As of writing this post, The bitcoin price is around $9,700 and it's been poking its head at a very long 2+ year bearish trend line. We are in a critical point right now in where the Bulls or the Bears can take this market to where it wants.
Currently the Bullish prediction is that if it can break and hold over $9800, BTC can easily rise to $10,500... then to $11,500 thereafter.
On the "Bearish" side of things , if Bitcoin can break $9,100 then the next targets would be in the low $8,000's the to mid $7,000's. 🤑
Regardless of which way Bitcon goes, a lot of traders are preparing themselves for the the breakout. If you are a long term "HODLER", you won't have nothing to worry about... just keep stackin' sats. 😂
I believe that we are at a reflection point and this move will determine which which way Bitcoin will go for the next few months.
So the question is, are you Bullish and/or Bearish in the short term? The current sentiment in the crypto space right now is about 50/50 but in my eyes, it seems that everyone is bullish!
Being bullish is awesome but during these times, many might get REKT by following the heard. 🐑🐑🐑🐑🐑
Keep on STACKIN! 😎
~ Charles Fuchs
For those who's interested in following my "Content" and "Daily" Posts... you can just follow me @stackin to get my updates.
You Can Follow Me Here:
➡️ UpTrennd: https://uptrennd.stackin.co
➡️ Facebook: https://facebook.stackin.co
➡️ Twitter: https://twitter.stackin.co
➡️ Instagram: https://instagram.stackin.co
➡️ Hive: https://hive.stackin.co
---