🐱‍🏍⚡🌍Injustice 2 Mobile: Robin Of The batman Ninja 4 stars💣🔫🗡🐵🦇⭐⭐⭐⭐ /Robin ninja a 4 estrellas 💣🔫🗡🐵🦇⭐⭐⭐⭐
🔴English🟡⚫Español🔵
Hello Steemians❗🐋 welcome to a new post, in which we are going to return to injustice 2 mobile to promote a character from the batman ninja rooster, a very good team of characters with excellent in-game skills, this time we are going to promote to 4 stars to Robin Ninja, with that said, join me, and let the post begin ❗🐻🚀🎮
❗Hola Steemians❗🐋 bienvenidos a un nuevo post, en el cual vamos a regresar a injustice 2 mobile para promover a un personaje del rooster de batman ninja un muy buen equipo de personajes con excelentes habilidades dentro del juego, en esta ocasión vamos a promover a 4 estrellas a Robin Ninja, dicho esto acompáñenme ❗y que comience el post ❗🐻🚀🎮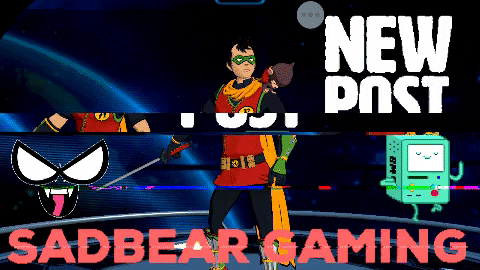 Robin ninja is a character of the batman ninja rooster who has great skills and very good combat techniques when it comes to facing other opponents of different types, this robin is quite different from his other versions, since this robin we can see that he has A more classic outfit, in addition to the fact that Robin has a chimpanzee on his shoulder, and in his hand he carries a ninja katana, in addition to having that classic animated look that characterizes the characters of the batman ninja rooster.

Robin ninja es un personaje del rooster de batman ninja que tiene grandes habilidades y muy buena técnicas de combate a la hora de enfrentarse a otros oponentes de diferentes tipos, este robin es bastante diferente a sus otras versiones, ya que este robin podemos ver que tiene un atuendo más clásico, además de que robin tiene en su hombro un chimpancé, y en su mano lleva una katana ninja, además de tener ese clásico aspecto animado que caracteriza a los personajes del rooster de batman ninja.
Once everything was ready I began to promote the character to 4 stars finally, this character is of the gold division and of the agility type category, in addition to that he is a character that has great abilities, having 3 passives and 3 abilities attack, if the first passive ability called monkey swords, allows us to have a probability of 15% and now 20% with the improvement at level 4 to have a probability of lethal attacks for 8 and with an improvement now 18 seconds, this passive ability is activated when robin or batman ninja rooster characters are hit with a failed basic attack by an opponent, the next passive ability is called combo boy, in which we will have the possibility to maximize the combo counter in combat, and also for the members of the rooster batman ninja, at the beginning of each battle, and with the improvement to level 4 of the skill we will finally have 5 additional hits and 5 minimum hits in the combo meter character, the third passive ability is the so-called ninja lethality with this ability we will have 15% and now with the improvement 20% damage in lethal attacks for a period of now with improvements 10 seconds exactly, and with each successful attack we will be able to make a considerable damage to our opponents.
Una vez que ya estaba todo listo comencé a promover el personaje a 4 estrellas finalmente, este personaje es de división de oro y de la categoría del tipo de agilidad, además de eso es un personaje que tiene grandes habilidades, teniendo 3 pasivas y 3 habilidades de ataque, si primera habilidad pasiva llamada espadazos de mono, nos permite tener una probabilidad del 15% y ahora 20% con la mejora a nivel 4 de tener probabilidad de ataques letales para 8 y con mejora ahora 18 segundos, esta habilidad pasiva se activa cuando robin o los personajes del rooster de batman ninja son golpeados con un ataque básico fallido por parte de algún oponente, la siguiente habilidad pasiva es la llamada chico combo, en la que tendremos la posibilidad de maximizar el contador de combo en el combate, y también para los miembros del rooster batman ninja,al comienzo de cada batalla, y con la mejora a nivel 4 de la habilidad finalmente tendremos 5 golpes adicionales y 5 golpes mínimos en el medidor de combos del personaje, la tercera habilidad pasiva es la llamada letalidad ninja con esta habilidad tendremos un 15% y ahora con la mejora 20% de daño en ataques letales por un lapso de ahora con mejoras 10 segundos exactamente, y con cada ataque acertado podremos hacer un daño considerable a nuestros oponentes.
The character's talents have also been largely unlocked now having a total of 4 talents for the character now being 3 common-type talents and 1 rare-type talent, thus adding a total threat of 69,060 to the character, something quite good since the This character's threat at the 3-star level was 52,000 threat, so this new promotion and improvements have given an excellent boost to the character, this is something quite good for me since the crystals of this character are somewhat difficult to get since we can only obtain them through chests or event challenges, in which we will have to face tough battles even with legendary division characters to obtain some character crystals, with this new promotion I had to use a total of 200 crystals to the character, now for his promotion to 5 stars a total of 440 crystals are needed for the character, an even higher figure but with an effort Erzo and dedication I know that I will be able to collect again successfully to continue improving this character, in addition, he is a character that serves excellently for arena events or league invasions.
Los talentos del personaje también han sido desbloqueados en gran medida teniendo ahora un total de 4 talentos para el personaje siendo ahora 3 talentos de tipo común y 1 talento de tipo raro, sumando así una amenaza total de 69.060 al personaje algo bastante bueno ya que la amenaza de este personaje en el nivel de 3 estrellas era de 52.000 de amenaza, por lo que esta nueva promoción y mejoras le han dado un excelente impulso al personaje, esto es algo bastante bueno para mi ya que los cristales de este personaje son algo difíciles de conseguir ya que únicamente podemos obtenerlos por medio de cofres o desafíos de eventos, en el que tendremos que enfrentar duras batallas incluso con personajes de división legendarios para obtener algunos cristales del personaje, con esta nueva promoción tuve que utilizar un total de 200 cristales para el personaje, ahora para su promoción a 5 estrellas se necesita un total de 440 cristales para el personaje, una cifra incluso superior pero que con esfuerzo y dedicación se que lograré recolectar nuevamente con éxito para seguir mejorando a este personaje, además que es un personaje que sirve de forma excelente para eventos de arena o invasiones de liga.
The gears of this character need a few improvements but they work excellently anyway, having his mask and armor at level 40 and 50, and the rest at level 10, so in the future it is possible that he will try to level up the remaining gears of this character, in addition to that continue to increase their skills by investing gold within the video game, we can see that with this new improvement the character has managed to catch up with his power of threat to the same power of characters like Harley quinn and surpassing to characters such as hellboy and robin master of the sword, so this new promotion has served a lot to improve the skills of this character, in the character summary we have a total of 180% damage in critical attacks which are excellent for him character to continue adding damage to his passive abilities, and in addition to the character has a 34% blockade so the character can resist stronger attacks while blocking them which is also excellent to be able to fight against other bosses or very strong opponents.
Los gears de este personaje necesitan unas cuantas mejoras pero de igual forma funcionan de forma excelente, teniendo su máscara y armadura en nivel 40 y 50, y el resto en el nivel 10, por lo que en un futuro es posible que intente subir de nivel los gears restantes de este personaje, además de eso seguir aumentando sus habilidades invirtiendo oro dentro del videojuego, podemos ver que con esta nueva mejora el personaje ha logrado ponerse a la altura con su poder de amenaza al mismo poder de personajes como Harley quinn y superando a personajes como hellboy y robin maestro de la espada, por lo que esta nueva promoción ha servido bastante para mejorar las habilidades de este personaje, en el resumen del personaje tenemos un total de 180% de daño en ataques críticos lo cual vienen excelente para el personaje para seguir sumando daño a su habilidades pasiva, y además de que el personaje tiene un 34% de bloqueo por lo que el personaje podrá resistir ataques más fuertes mientras los bloquea lo cual viene excelente también para poder combatir contra otros jefes o oponentes muy fuertes.
And so far today's post Steemians, I hope you liked it, but above all you enjoyed it, what did you think of this character of the batman ninja rooster? What was the aspect that most caught your attention about this character? Let me know in the comments, if you like my content, do not forget to follow me so as not to miss anything in your Steemit feed or on the contrary visit my website in wordpress, without more to say I wish you a good morning, afternoon or evening, From the Cave Says Goodbye SadBear, Until another time❗🐻🚀
All the images and gifs you saw in this post were taken and edited by me from INGAME.🐺
Captures taken With Samsung S5 Edge.🐯
Add me to discord if you want to give me suggestions for posts or know some information # SadBear # 6392👽
VISIT MY SITE ON WORDPRESS👻 SadBear Web
Y hasta aquí el post de hoy Steemians, espero que les haya gustado, pero sobretodo lo hayan disfrutado, ¿Qué te pareció este personaje del rooster de batman ninja?, ¿Cuál fue el aspecto que más te llamó la atención de este personaje?, házmelo saber en los comentarios, si te gusta mi contenido no olvides seguirme para no perderte de nada en tu feed de Steemit o por el contrario visita mi página web en wordpress, sin más que decir te deseo unos buenos días, tardes o noches, Desde la Cueva se Despide SadBear ❗Hasta otra ocasión❗🐻🚀
Todas las imágenes y gifs que viste en este post fueron sacadas y editadas por mí de INGAME.🐺
Capturas tomadas Con Samsung S5 Edge.🐯
Agregame en discord si quieres darme sugerencias para posts o saber alguna información #SadBear#6392👽
VISITA MI SITIO EN WORDPRESS👻 SadBear Web