🕐⏮Games that give off memories # 54: Turok: Dinosaur Hunter 💣⚔🔥🦕🦖🦈🐱‍🐉🦎🐊 / 🕐⏮Videojuegos que desprenden nostalgia #54
🟢English🟡🔴Español🔵
Hello Steemians❗🐋 welcome to a new post, in which we are going to remember another classic video game for the Nintendo 64 console, a very good and entertaining video game that is based and developed in a Jurassic world, in this post we will talk about Turok Dinosaur Hunter, having said this, join me, and let the post begin ❗🐻🚀🎮
❗Hola Steemians❗🐋 bienvenidos a un nuevo post, en el cual vamos a recordar otro videojuego clásico de la consola de Nintendo 64, un videojuego muy bueno y entretenido y que se basa y se desarrolla en un mundo jurásico, en este post hablaremos de Turok Dinosaur Hunter, dicho esto acompáñenme ❗y que comience el post ❗🐻🚀🎮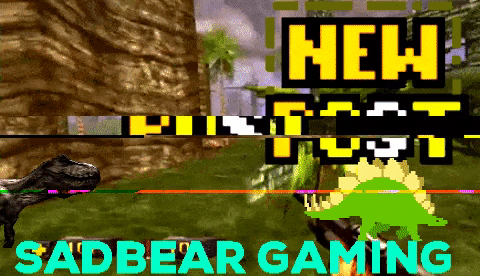 This video game has transcended through the years in the world of video games, since it is based on a first-person shooter game, or a shooter or fps if it is said in a brief way, this video game was developed by a study called by The name of iguana entertainment, for later it was published to the general public and video game stores by the acclaim entertainment company, this video game was an official launch for the Nintendo 64 and by the time the video game came out they were already being released official video games for personal computers and this video game was also released for PC in the new format that was used in those days in addition to Nintendo 64, which was the cartridge format.

Este videojuego ha trascendido a través de los años en el mundo de los videojuegos, ya que se basa en un juego de disparos en primera persona, o un shooter o fps si se le dice de maner abreviada este videojuego fue desarrollado por un estudio llamado por el nombre de iguana entertainment, para posteriormente fue publicado al público general y tiendas de videojuegos por la compañía de acclaim entertainment, este videojuego fue un lanzamiento oficial para la Nintendo 64 y para ya la época en la que salió el videojuego ya se sacaban de forma oficial videojuegos para computadoras personales y este videojuego salió también para pc en el nuevo formato que se manejaba en aquellos tiempos además de Nintendo 64 que era el formato de cartucho.
This video game was launched on March 4, 1997, many people think that an official comic was released as a result of this video game, but it really is the opposite since the comic came out before the video game and later the video game was created based on the comic that had the title of the same name of the video game, in this video game we control a character that comes from American Indian roots, in addition to the fact that this video game was the first exclusive title that the acclaim studio officially released for a Nintendo 64 console of the time, this video game arose as a result of the acquisition of the comic book franchise by acclaim in 1994, after resolving all the negotiations with the purchase of the comic book company and the copyright on the story, so official began to develop a video game about the story that was told in the classic comic, this video game impressed many players since despite the fact that at the time the Nintendo 64 was already lagging a bit behind in terms of performance with some video games, turok was very good graphically despite the fact that in its development some things and aspects of the game had to be reduced since this video game pushed the capabilities of the console to the limit. Nintendo 64, this because the video game could be supported by the 8-byte Nintendo 64 cartridges.
Este videojuego fue lanzado el 4 de marzo del año 1997, mucha gente piensa que este a raíz de este videojuego salió un cómic oficial, pero realmente es todo lo contrario ya que el cómic salió antes del videojuego y posteriormente el videojuego se creo basado en el cómic que llevaba por título el mismo nombre del videojuego, en este videojuego controlamos a un personaje que procede de raíces indio americanas, además de que este videojuego fue el primer título exclusivo que el estudio de acclaim sacó de forma oficial para una consola de Nintendo 64 de la época, este videojuego surgió a raíz de la adquisición de la franquicia del cómic por acclaim en el año de 1994, luego de resolver todas las negociaciones con la compra de la empresa del cómic y los derechos de autor sobre la historia, de forma oficial se comenzó a desarrollar un videojuego sobre la historia que se narraba en el clásico cómic, este videojuego impresionó a muchos jugadores ya que a pesar de que para la época la Nintendo 64 ya estaba quedando un poco atrás en cuanto a rendimiento con algunos videojuegos, turok era muy bueno gráficamente a pesar de que en su desarrollo se tuvo que reducir algunas cosas y aspectos del juego ya que este videojuego llevaba al límite las capacidades de la consola de Nintendo 64, esto con motivo de que el videojuego pudiera se soportado por los cartuchos de 8 byte de Nintendo 64.
Turok received many compliments from the players, thus successfully acquiring a reception in terms of quite positive criticism and with very good reviews, which quickly over time led the video game to become one of the best video games on the console. of Nintendo 64, in addition to causing a sensation in fans of video games based on Jurassic worlds since the video game with amazing levels and lethal weapons, as well as epic sequences, did good honor to its theme, the video game in a short time reached the number of 1.5 million copies sold in addition to this again greatly boosted the sales of Nintendo 64 in terms of its video games, in addition to that turok became the favorite game for players who like action and adventure, in addition to power fights against beasts that lived and coexisted in the Jurassic world of yesteryear, this video game also left us great relevant aspects such as the types of in emigos and levels that were in it, being an exciting story full of much action, within the video game we could collect a kind of pieces or objects with which we could rebuild a special artifact that had great relevance within the video game, which made the function of being a relic in this world.
Turok recibió muchos elogios por parte de los jugadores adquiriendo así de forma exitosa una recepción en cuanto a crítica bastante positiva y con reseñas muy buena., que rápidamente con el pasar de tiempo llevaron al videojuego a convertirse en unos de los mejores videojuegos de la consola de Nintendo 64, además de causar furor en los fans de los videojuegos basados en mundos jurásicos ya que le hacía buen honor a su temática el videojuego con niveles asombrosos y armas letales, además de secuencias épicas, el videojuego en poco tiempo alcanzó la cifra de 1.5 millones de copias vendidas además de que esto de nuevo impulsó de gran manera nuevamente las ventas de Nintendo 64 en cuantos a sus videojuegos, además de que turok se convirtió en el juego predilecto para los jugadores que les gusta la acción y aventura, además de poder luchas contra bestias que vivían y coexistían en el mundo jurásico de antaño, este videojuego además nos dejaba grandes aspectos relevantes como los tipos de enemigos y niveles que se encontraban en el mismo, siendo una historia emocionante y llena de mucha acción, dentro del videojuego podíamos recolectar una especie de piezas o objetos con los que podíamos reconstruir un artefacto especial que tenía gran relevancia dentro del videojuego, que hacía la función de ser una reliquia en este mundo.
This relic was called "Chronoscepter" and these pieces can be obtained in each different level to little by little collect all the necessary artifacts to finally complete said objective, and where we will have to fight with multiple threats and dangers that we will see in this world, within from turok we will have a large number of different weapons in which we can have an arsenal that can contain a knife, firearms of different types, pistols, shotguns, machine guns, and even the relic of the "chronoscepter" is considered as a weapon within the The video game itself, each enemy and each boss has a different attack pattern, since the boss fights within the game will also depend on the type of weapons we use and that we manage to obtain in the game with the progress we obtain with each level, all The exploration and technical aspects of the video game were very good and complemented the game's gameplay in a good way, in addition to the fact that the video game Game was officially recognized by the IGN gaming forum as one of the video games that marked the Nintendo 64 era before the release of the famous Playstation 1, as well as being a classic of old school video games.
Esta reliquia llevaba por nombre "Chronoscepter" y dichas piezas podremos conseguirlas en cada nivel diferente para poco a poco recolectar todos los artefactos necesarios para finalmente completar dicho objetivo, y en donde tendremos que luchar con múltiples amenazas y peligros que veremos en este mundo, dentro de turok contaremos con gran cantidad de armas diferentes en la que podremos contar con un arsenal que puede contener cuchillo, armas de fuego de diferentes tipos, pistolas, escopetas, ametralladoras, e incluso se considera la reliquia del "chronoscepter" como un arma dentro del videojuego en sí, cada enemigo y cada jefe tiene un patrón de ataque diferente, ya que las peleas de jefe dentro del juego dependerán también del tipo de armas que usemos y que logremos obtener en el juego con el progreso que obtengamos con cada nivel, toda la exploración y aspectos técnicos del videojuego eran muy buenos y complementaban de buena forma el gameplay del videojuego, además de que el videojuego fue reconocido oficialmente por el foro gaming de IGN como uno de los videojuegos que marcaron la época de Nintendo 64 antes de la salida de la famosa Playstation 1, además de ser un clásico de los videojuegos de vieja escuela.
And so far today's post Steemians, I hope you liked it, but above all you enjoyed it, what did you think of this video game? Have you ever played it, what was your favorite aspect? Let me know in the comments, If you like my content, do not forget to follow me so as not to miss anything in your Steemit feed or, on the contrary, visit my website in wordpress, just to say I wish you a good morning, afternoon or evening, SadBear says goodbye from the cave, Until another time❗🐻🚀
The images you saw in this post have their respective sources in each of them.🦝
Add me to discord if you want to give me suggestions for posts or know some information # SadBear # 6392👽
VISIT MY SITE ON WORDPRESS👻 SadBear Web
Y hasta aquí el post de hoy Steemians, espero que les haya gustado, pero sobretodo lo hayan disfrutado, ¿Qué te pareció este videojuego?, ¿Alguna vez lo llegaste a jugar, cuál fue tu aspecto favorito?, házmelo saber en los comentarios, si te gusta mi contenido no olvides seguirme para no perderte de nada en tu feed de Steemit o por el contrario visita mi página web en wordpress, sin más que decir te deseo unos buenos días, tardes o noches, Desde la Cueva se Despide SadBear ❗Hasta otra ocasión❗🐻🚀
Las imágenes que viste en este post tienen sus respectivas fuentes en cada una de ellas.🦝
Agregame en discord si quieres darme sugerencias para posts o saber alguna información #SadBear#6392👽
VISITA MI SITIO EN WORDPRESS👻 SadBear Web
---