Diogenes of Sinope and the Steem Blockchain.
"Kind of a musical post"
"I fawn on those who give me anything, I yelp at those who refuse, and I set my teeth in rascals"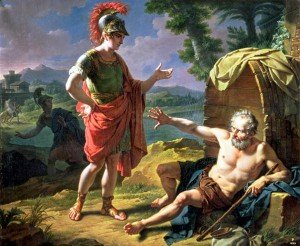 In the most famous exchange of the meeting, Alexander asked Diogenes whether there was anything he could do for him. That he could please whatever he could wish. And Diogenes, who was enjoying the warmth of the autumn sun, answered; "Stand aside to stop blocking the sun."
Although what I suspect Diogenes literally said rather was: "Get the fuck out from there, you are covering the sun mofo"
Then, admired and struck by the sincere hauteur and opulence of the poor man who had nothing but disdain for him and his royal treasures. While Alexander moved out in silence for a while. Suddenly Alexander in a very profound and proud tone said:
"But truly, if I were not Alexander, I would be Diogenes"
Yep! easy, pleasant, enjoyable... is no more than simply matter of sustain a great conversation with someone from quite different perspectives. :)
Everyone realises that for the most part, success in anything does not depend on wishing. It depends on ideas, development and action. It takes patience, control, direction, knowledge, movement, training, practice, failure, learning, discomfort and numerous other skills. It takes work. And, luck. «Taraz»
But... but... and yet... there is no way to take out randomness from life.
Isn't it?
«-'Abstract Aural Bit'-»