[Blog #61] Homemade Master Blaster Cappuccino Recipe
Hey, hungry badgers! How are you? Coming up with something deliciously sexy!
---
Cold, cold, cold, cooooold! Hands are freezing and going numb. Crazy is that in 2018/19 I've cycled across Europe during the winter while camping on the snow... aaaand it wasn't as gelid as inside the house right now. Even crazier that I did that without some warm coffee to give the soul some energy. Brrrr...
So, to compensate for that and to avoid going to the supermarket due to Coronavirus, I've decided to load up on coffee...a full kilo of it. Now... it's well enough Brazilians have a talent for inventing over existing recipes ― for the desperation of traditional mores. Hello, Italians! Deal with it xD
Just to keep the spirits and creativity flowing I've decided to share a homemade version of some sort of instant Cappuccino ― the Brazilian way. I know... not the fancy one... but it's delicious anyway. The result is a creamy soul renewer. Let's go!
| Camera | Lens | Aperture | ISO | Shutter S. | Focal L. |
| --- | --- | --- | --- | --- | --- |
| Nikon D7100 | Nikkor 50mm 1.8 | F11 | 100 | Aperture Priority | 50mm |
---
I repeat, this is not the fancy super master sexy Cappuccino you'll get from a machine, but it's delicious, cheaper than buying at the supermarket and fun to make. The result is creamier than the instant ones because of the cream powder and, and.. and .. try it !!! You'll need the ingredients, then mix everything and baaaaaang!
---
Ingredients
1 can of powdered milk (400g)
1 cup of instant coffee (100g)
1 box of whipped cream powder (50g)
1 cup of powdered chocolate or cocoa
1 tablespoon cinnamon powder
1 teaspoon of baking soda
How to Prepare
Mix everything together and store on a sealed jar.
---
Two spoons on hot water should be enough to make the homemade master blaster Cappuccino; add hot milk if you wish; go nuts with extra cream; throw some more cinnamon on top; have fun!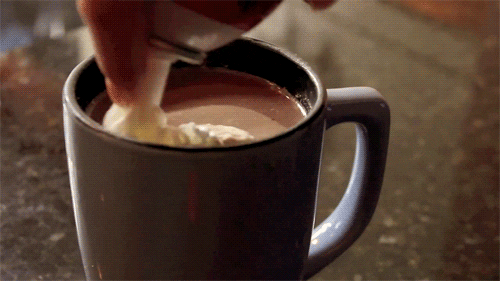 Source: Giphy
---
If you try it, let me know; if you think it's a terrible idea, let me known!
If you liked this post, please, consider leaving your upvote for a hot coffee.
more hot coffee, pa dum tss
~Love ya all
---
Disclaimer: *The author of this post is a convict broke backpacker, who has travelled more than 10.000 km hitchhiking and more than 5.000 km cycling. Following him may cause severe problems of wanderlust and inquietud. You've been warned.****