Our Favourite Breakfast Place: Bite Me Bistro
Bite Me Bistro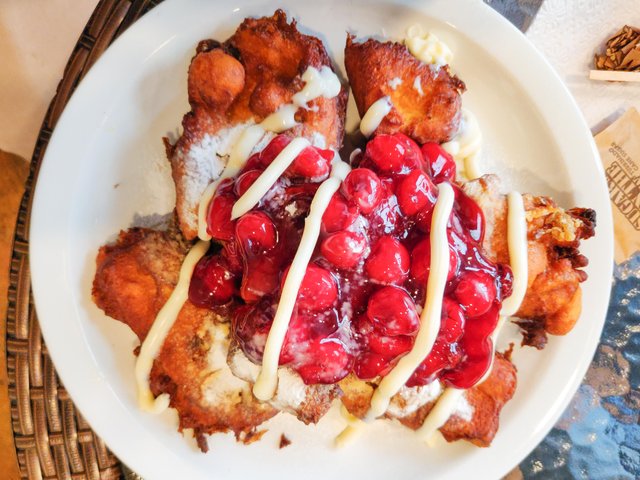 Breakfast is very important to us and the best breakfasts are those that you don't have to make yourself! One of our favourite places to visit for just that is Bite Me Bistro for its good food and great prices. We'll be covering three of our frequented dishes from their menu over a period of multiple visits.
The Bistro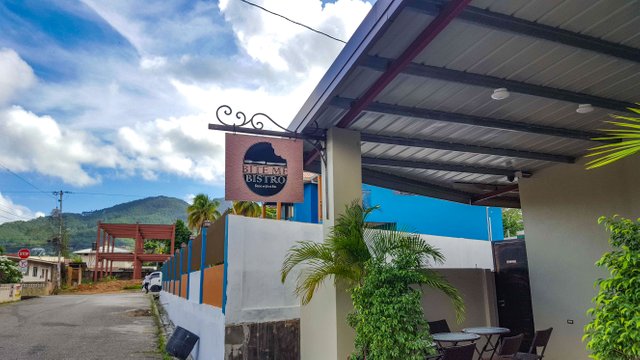 If it was not for their large social media presence I don't believe we would have come across this place due its humble location in an unassuming suburb off of any of the main roads. The appearance and layout of the establishment is constantly changing and between our last two visits the general space had changed but it still kept its cozy and calming ambiance.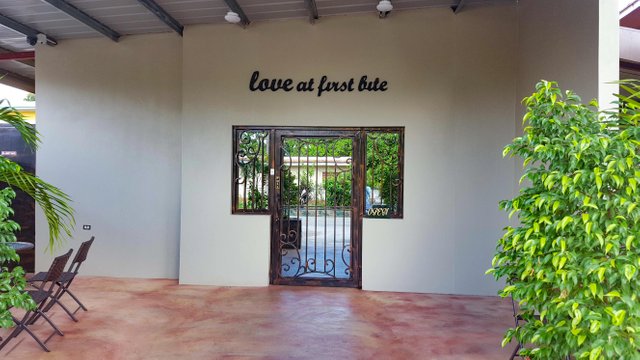 Once inside, the chillout/ lofi music induces that "forget your troubles and relax" feeling. They have both waiting service as well as takeout and we opt for eating in every time. For a bistro, the interior decor seems somewhat bland but we're not concerned about the looks, we're concerned about the food! The tables and chairs are fairly comfortable but could be better. The pictures seem a bit bright but I assure you, it is much darker than it looks and provides a very nice mood.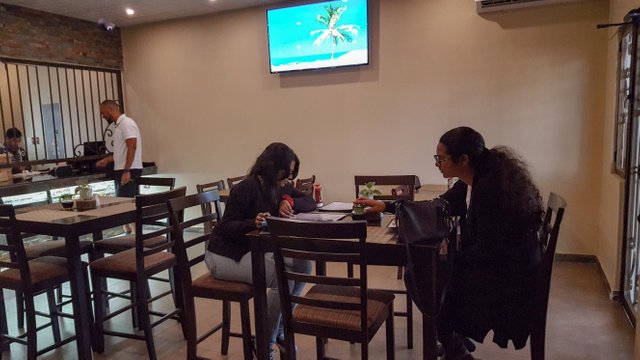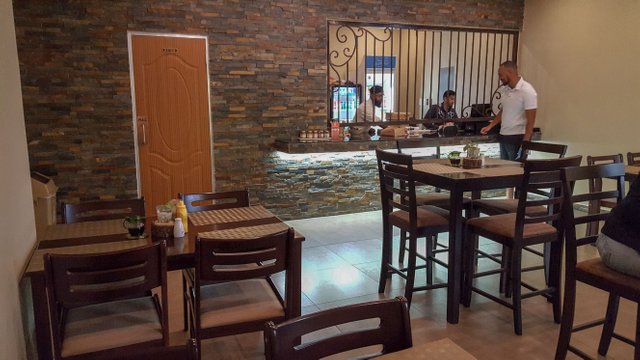 The Food
The menu is fairly large and spans from breakfast to lunch items and also includes a vast drink menu that covers cold and hot drinks. This would include the usual breakfast such as eggs, waffles, pancakes and so on as you'd expect then you'll see sandwiches, omlettes, paninis then burgers, a multitude of cheesy fries dishes and then pasta and so on. As I said its a large menu! There is the combo platter that we order which is an omelette, toast, turkey bacon and waffles or pancakes. This is a good way of sampling a few things without a large cost. There is a huge selection of fillings you can request in your omelette including breakfast meats, mushrooms, vegetables and of course cheese. The waffle and pancake batter, sadly is not made in house! For the price range we don't mind though.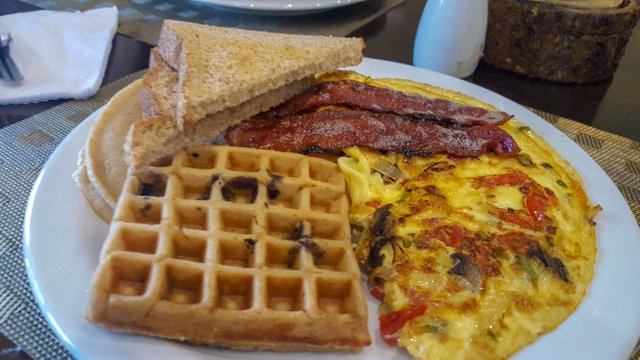 Another well liked dish of ours is the french toast. This one is usually shared as the portion size is huge one of us cannot eat it in its entirety. It is very tasty none the less and very beautiful, it reminds of winter in Canada for some reason. It is an unorthodox type of french toast, the kind that is deep fried. It is complemented with a dollop of cherry sauce, icing sugar and cream cheese icing. To me it seems like more of dessert if you ask me, but when you come out to eat breakfast/ brunch its an excuse to go all out I say!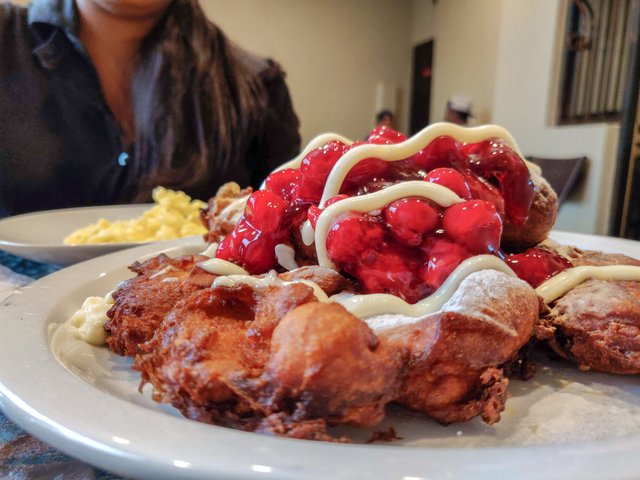 The last dish is named, I kid you not, on the menu as "DREDLOX" in all caps. I believe its a reference to the Rastafarian hairstyle "dreadlocks". This one is my utmost favourite as it marries two of my highly loved foods: smoked salmon and jalapenos which is the main flavour profile of this menu item. It is basically smoked salmon, cream cheese, jalapenos, onion and tomatoes in between two waffles. It may sound weird to some of you but the flavours play very nicely together and results in a magnificent dish! It comes with a side of eggs which to me completes the perfect breakfast along with a nice cup of tea. #Satisfaction!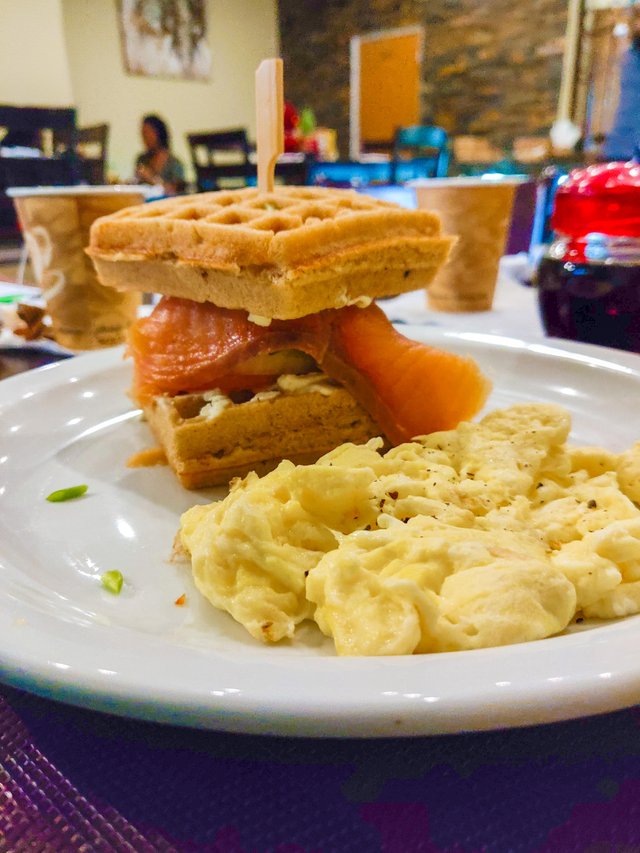 Our Favourite Breakfast Joint
Its easy to see why this is our favourite breakfast/ brunch place! The menu has everything you could want from simple eggs and bacon to burgers and fries. The ambiance is awesome and the food is really well done with very reasonable prices to boot. Thanks for reading, cheers!