Bitcoin ETF coming out soon? Major financial institutions are rushing to apply first!
Coinbase listing and the US Bitcoin ETF should be the two most important events on the cryptocurrency market in the first half of this year. Today, just four days before Coinbase's listing. There is no definite news about the Bitcoin US ETF. The attacks of major financial institutions on Bitcoin ETFs have become increasingly fierce.
Take for example last night, suddenly a three-day news application for a Bitcoin ETF appeared. The initial comment period for VanEck ETF applications has ended. It will be decided next month whether it will be approved or not. Asset manager Kryption Investtment Advisory company filed more than that in the US After being submitted by the ETF, the Wisdom Tree Bitcoin ETF has also started being reviewed, according to the three stages of applying for a Bitcoin ETF, which can almost be described as "converging".
There are also former World Gold Council executives and portfolio manager of the SPDR gold ETF, Jason Toussaint's financial services firm, Kryptoin Investment Advisors, filed a Bitcoin ETF application again with the US Securities and Exchange Commission (SEC) on Friday. This is the second time an asset management company has tried to apply for a Bitcoin exchange-traded fund (ETF).
Currently, total Bitcoin ETFs including VanEck, NYDIG, Valkyrie, Simplify, hedge fund Anthony Scaramucci, SkyBridge Capital, and Fidelity subsidiary FD Funds Management are awaiting approval.
Another heavyweight company, Grayscale, is also looking for a Bitcoin ETF. Previously, it has been confirmed in documents submitted to the US SEC that they intend to convert their Bitcoin credentials into an exchange-traded fund (ETF), and the timing of the conversion depends on the regulatory environment.
The reason why Grayscale turned GBTC into an ETF is also very simple. The current Grayscale is no longer good. GBTC has long been at a negative premium, which has affected existing customer retention issues. Many institutions that previously bought GBTC at Grayscale have previously bought GBTC. Users, it looks like they have all bought spot or Bitcoin ETFs from other countries. If Grayscale is not looking for transformation, it will only be gradually removed. Additionally, many financial companies in the United States are currently applying for Bitcoin ETFs. Once the Bitcoin ETF goes large scale If approved, this will be the end of the Grayscale. GBTC is much less convenient than Bitcoin ETFs in terms of convenience and participation threshold.
And based on the current situation, the market is predicting that Bitcoin ETF approval may be just a matter of time. On the one hand, the Canadian company that first opened the Bitcoin ETF has made a lot of money, and it is only a matter of time after the Bitcoin ETF in Brazil opens, even if the US SEC insists on surveillance, it must also consider whether this market is really divided by the state. other or participate in a share.
The second aspect is that this financial institution has accelerated the pace of its adoption in recent times, and there is a feeling that other companies have taken the market slowly, it is very likely that these companies have heard of the Bitcoin ETF wind.
Another point was the message that had come out earlier that Mellon Bank, the world's oldest bank, said it would become the first BTC ETF service provider, which seemed to imply something.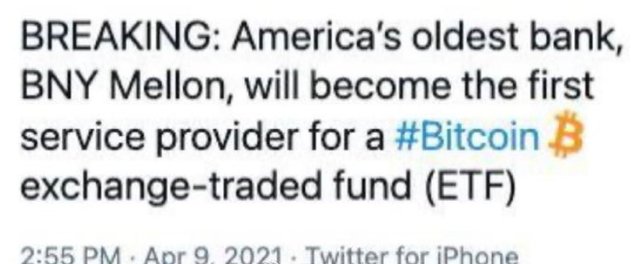 The signs above indicate that a Bitcoin ETF may really be coming, and it is very likely that the news will suddenly be announced at some point in time. Of course this is just our guess.
However, if Bitcoin ETFs continue to go online after Coinbase goes online, these two good news could force the cryptocurrency market at what stage it is now to force a bullish market in the second half, and cryptocurrency prosperity may be even higher. then the floor.