STEEM continues to mostly go sideways
STEEM has yet to pick a direction on the STEEM/BTC chart
As I type STEEM continues to mostly be range bound, which is basically what it has been doing for months and months now.
There have been a few brief breakouts, only to see the entire move retraced just as quickly as it broke out.
The end result is a STEEM price right back in the same long horizontal channel it has been in for months and months: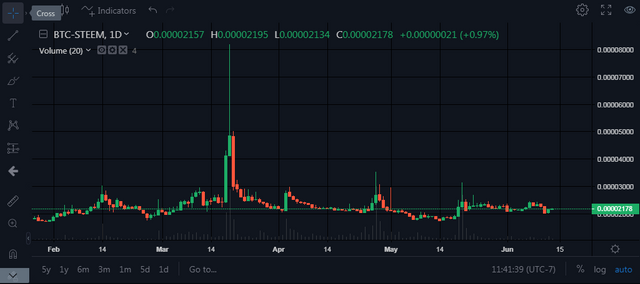 (Source: https://bittrex.com/Market/Index?MarketName=BTC-STEEM)
One thing to keep in mind is that the price in USD has been fluctuating quite a bit as bitcoin has moved up and down in this range.
For example, on that chart STEEM didn't move all that much in terms of BTC the last week or so but it dropped from $.23 to $.19 in USD terms.
In other news, Bittrex STEEM and SBD wallets are both back up and running again:
https://steemit.com/hive-148441/@jrcornel/steem-and-sbd-wallets-enabled-on-bittrex
They had been down for roughly a month.
Stay informed my friends.
-Doc