Contest Alert : My Experience on Steemit and Plans to Contribute to its Growth. [12 STEEM Price Pool]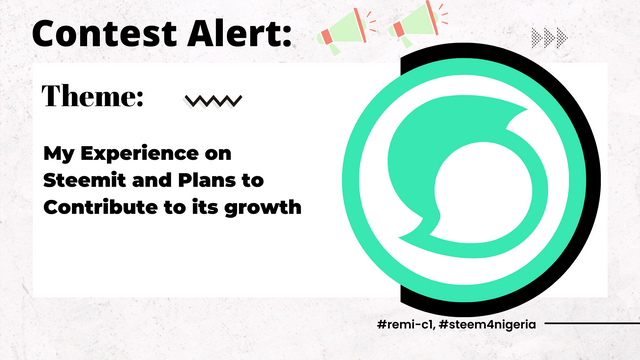 ---
Good day everyone. I trust we are all doing great today. Looking back at our journey so far in the crypto market, we have come a long way with the fast-evolving technology and had also had some great experiences in the crypto industry. We believe in this technology and for that reason, we remained committed to the growth and development of the market.
Most of us came across the crypto market through Steemit while some already had experience before joining Steemit. Yeah, it is not easy adapting to the crypto market but our commitment and hunger to take advantage of this opportunity paved the way for us.
In this contest, we will look back on our journey on Steemit to discuss our experiences and give ideas that will help improve the platform's growth. Also, we will like to know your future plans for Steemit and what you wish to achieve.
The contest will cover the following:
Your first experience with Cryptocurrency and how you got to know about Steemit.
Your journey so far on Steemit and what you planned to achieve.
What is the most exciting innovation the Steemit team has introduced? Discuss. (e.g Engagement challenge, Crypto academy, Curation themes, Club Status, Burnsteem, etc.)
How do you intend on promoting Steemit in your country and also how you can contribute to the growth of the platform?
---
Contest guidelines
---
Contest should be posted in the Steem4nigeria community before Sunday 21st August 2022.
The title of your post should be "My Experience on Steemit and Plans to Contribute to its growth".
Endeavour to subscribe to the community and follow our official account @steem4nigeria.
Your article must not be less than 300 words and must be exclusive to Steemit.
Must belong to at least #club5050 and must not be using vote buying services.
Use the unique hashtag remi-c1, #contest #steemexclusive, and your country tag in the first three tags. Other relevant tags can be included.
Your content is expected to be original and of good quality. No form of plagiarism will be tolerated.
Engage with other participants through valuable comments. Also, invite your friends to join in this contest.
Note: All the above rules must be met for your entry to be valid. Your entry will be disqualified if any of the rules is violated.
---
---
Top 3 entries receive 3 STEEM each.
The remaining 3 STEEM will be shared among other participants.
Outstanding entries stand a chance of getting booming support from the community. Also, all entries will be supported using the community account.
---

Support the growth of Steem4Nigeria by delegating some SP

50SP
100SP
150SP
250SP
500SP
1000SP
1500SP
2000SP
2500SP