Application For Community Curator For The Month Of November 2022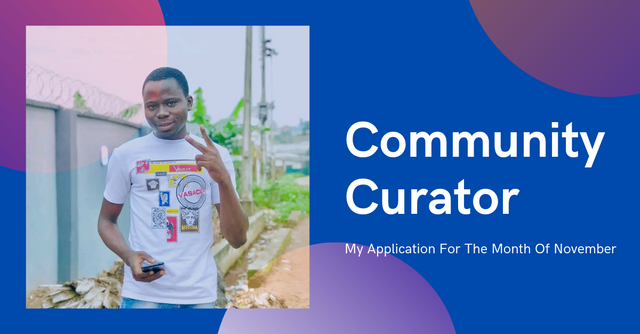 Hello everyone. How are you doing today? I'm hoping that destiny is treating you guys well. I'd want to take this chance to welcome you to my blog today and to let you know that I'm submitting an application to be the community curator for the month of November in 2022.
---
A Brief Summary Of My History On Steem
---
Through a friend, I joined the Steemit platform in February 2021. Over the course of the following few days, I was able to finish my first achievement verification task and work on the required tasks for a while. The platform's dos and don'ts were explained to me by a wonderful friend. As a result, I was able to turn to him anytime I had problems on the platform, which was a great benefit to me.
I make posts on my dairy i.e posts describing my day's activities, and the Steemit team supported me and helped me grow, I also do regular power up in return.
When the Crypto Academy first started, I.e., when it was launched, I participated and completed an assignment that the lecturers assigned. I joined the crypto academy in full force and took part in the majority of the seasons beginning in season 3. It was a lovely project that I enjoyed being a part of, and at the conclusion of Season 6 of the academy, I was finally able to learn a large amount of stuff about the crypto and the blockchain technology.
---
Details of any positions of responsibility I held on Steem
---
Even while I have not yet had a any position or responsibility on this platform, I have still helped it grow in a number of ways, including by motivating others with my constant powering up, writing high quality post that are always with real life example, taking part in contest and also helping the platform with my regular power up.
---
Details of specialist or professional skills or expertise I have in 'real life
---
I also have a degree in computer engineering, where I worked to get Honors, and I'm currently enrolled in my second year of university studies in electronics and communication engineering at Lagos State University (LASU)
I have a lot of experience with cryptocurrencies, and although I typically hold them for a long time, I do occasionally trade them on a daily basis when I see an opportunity to enter or exit the market. To top it off, I've chosen to broaden my knowledge of digital technologies. I'm currently enrolled in a coding course where I'm learning the fundamentals of JS and CSS
---
What Country I live in and what Languages I Can Read Fluently
---
I'm from Nigeria, I reside in Lagos State, and I speak both English and my native Yoruba language really well. Additionally, all of my material is made specifically in English.
---
My Key Stats-Own Sp, CSI, Reputation, Delegation
---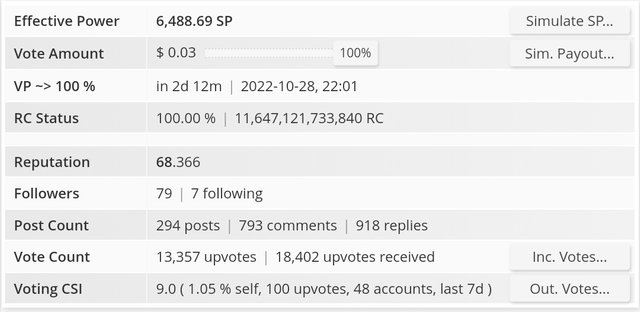 The table below shows my stats which includes my current SP, voting CSI and Reputation
| Current Own SP | 6,488.69 |
| --- | --- |
| CSI | 9.0 |
| REP | 68.366 |
---
Subject I Practically Enjoy Curating
---
Since these are mostly my areas of expertise in the working world, I especially loved curating blogs on themes relating to photography, lifestyle, sharing my real life experience and my finance experience as well, so my focus will be on lifestyle and fintech.
---
The Minimum Team Size I Will be Willing To Serve
---
Since there are seven days in a week, I would definitely prefer to work in a team of 1-7 individuals so that we could more quickly curate postings and make sure we cover and curate worthy topics on the platform. The team I would be working with will curate twice a day in order to make curating simpler and more mobile as well as to give the account time to recharge so as to not overload it with curation. We would curate both in the morning and at night.
---
Conclusion
---
I'm grateful to the Steemit team for giving me the chance to apply. If given this role, I would put in a lot of effort with my team members to ensure that our work is always done successfully.
Thank you for reading, stay bless.