Chin Chin Making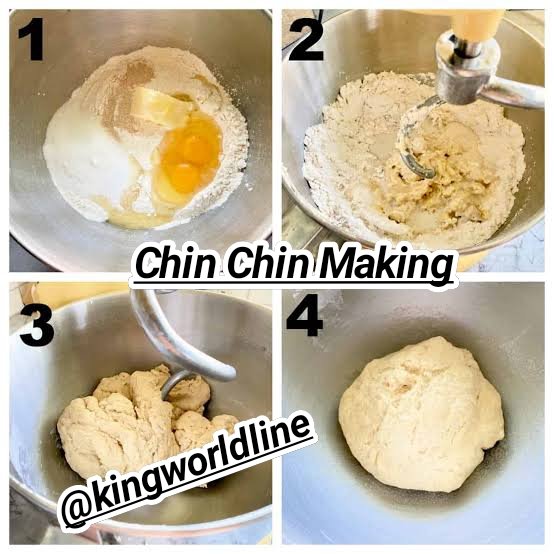 Is once my pleasure again to make this post on this Wonderfull community Steem4Nigeria of which i will be teaching how and the step down on how to make chin chin.
Before chin chin are made there are necessary items and ingredients needed for as follow;
INGREDIENTS FOR CHIN CHIN MAKING
• IKg of flour (10milk cups).
• 200g of margarine.
• 1/2 cups of sugar.
• 4 raw eggs.
• 150ml whole milk or 70g of powdered milk.
• 1/2 teaspoon of baking powder.
• liter of vegetable oil.
• 30ml of water with whole-milk or 180ml of •water with powdered milk.
• I teaspoon of ground nutmeg or 2 seeds 2
• pinches of salt.
PROCEDURE FOR CHIN CHIN MAKING
Sieve the flour using a colander, add the ground nutmeg to the flour, also add the salt and baking powder, then mix together. To the 30ml of water add the whole milk and the sugar together or ( 180ml of water to the 70g of powdered milk and the sugar together), mix until the sugar dissolves. To the flour mixture add the butter and mix together then pour the sugar mixture and mix together. Whisk the egg and also pour into the mixture. Mix till a smooth dough is achieved. Place the dough on a fat smooth surface and knead gently with a roller, when flat, cut to the desired shape and fry in vegetable oil until golden brown. Then it is ready to serve.
SMALL CHOPS MAKING (SPRING ROLL)
INGREDIENTS FOR SPRING ROLL MAKING
For the pastry: 2 cups of flour, I pinch of salt, I pinch of sugar, 2 pinches of powdered vanilla flavor and 25 ml of water.
For the sauce: 1 small size of cabbage,3 table spoons of sweet corn, I carrot fruit, 3 table spoon of peas, 1 chilly pepper, I small size of green pepper, I small size of onions,I small finger of ginger, 2 small fingers of garlic, I knorr cube, 2table spoons of vegetable oil and 2 pinches of salt.
PROCEDURE FOR PASTRY MAKING
Sieve the flour with a colander, add water, salt, sugar, flavor and mix properly. Rub the mixture in the frying pan and place on a low heat. Allow to stay on the cooker for 2 minutes (the pastry puffs and rises). Bring it down and continue making it bit by bit until it finishes.
PROCEDURE FOR SAUCE MAKING
Wash all the Vegetables with Salt or Veneagar. Chop the Cabbage, Carrot, Chilly pepper, Green pepper and onions, grate the ginger and garlic. Wash the sweet corn and peas with salt. Fry all in vegetable oil using a frying pan or small pot. Allow to fry for 5 minutes, then bring down.
PASTRY ROLLING
Scoop 1 table spoon of the sauce in each of the spring roll skin (pastry) and wrap to have a rectangular.
Snape. Wrap the two edges under the spring roll. Do the same Ior all. Then it is ready to serve.
NOTE: The frying pan for the pastry making should be 20cm non sticky pan.
Thanks for going through my article, let me use this medium to invite the likes of @uniquepresh @davchi @gabikay @bukkyi4u and many others to engage with this Wonderfull community Steem4Nigeria
Thanks for reading...
#steemexclusive #club5050 #Steem4nigeria #simonnwigwe-c2 #steemgrowth #nigeria