*Steemit Engagement Challenge S5/W6 - *A Friend in Need is a Friend Indeed".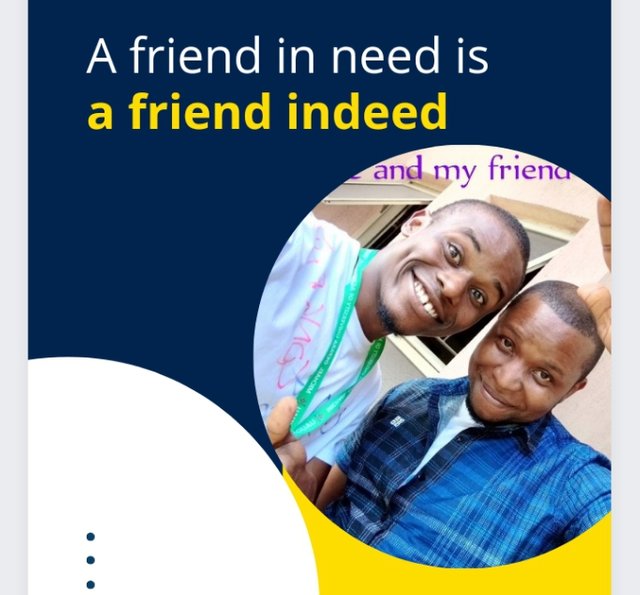 Hello friends, I'm happy to be a part of this week's community contest on a friend in need. Really this topic is quite fascinating and I believe you'll enjoy reading my engagement. Currently, I've been a bit down with malaria and typhoid, though I'm getting better since I started taking medication.
Share your understanding of the saying "A Friend in Need is a Friend Indeed".
Really I have heard this saying overtime but was able to comprehend its real meaning when I met with my friend Samuel Abiah back then, during our degree program in the university.
Friends are meant to assist and compliment each other at all times, and if the complimentary element is lacking in any friendship, the saying will no longer be valid that a friend in need is a friend indeed.
Most friendships were built on account of substances, fame and love. But I have scrutinized over the three spheres in which friendship is developed and understood that friendship built on love lasts longer than any other parameter in which one may consider building friendship.
A friend in need is that fellow that would inconvenience himself to give you that comfort you deserve probably at a particular time. A friend in need is also that person that would condescend to any form of ignominy to meet with your need based on his capacity without considering whether he loses or not.
This is my scope on a friend in need which I also fathomed in my friend whom I sincerely confide in till date.
Do you have anyone you can call a friend indeed? (Choose one regardless of the distance apart at the moment) How did you meet and how long have you known each other? (Share his/her name and picture).
Yeah, though I mentioned his name while answering the question above, but his full name is Abiah Samuel Ernest. He is a Nigerian from the Southern region precisely from Uyo, he is fair in complexion and averaged in height, he is very religious but not a fanatic, he is intelligent and has good command of English but he has long sightedness issue but I'm okay with him.
I never chosed him for friendship because of his desirable qualities rather because of his sincerity over certain issues of Life.
I got to know Sammy as I do call him during my second year in the university when he approached me while we were waiting for one of our lectures in those days. We complimented each other and I saw something quite different in him from the rest of my friends in school then so I decided to flow better with him than the rest of my friends though he seniors me.
After that day's lecture in 2018 which was our second year in the university, we shared contact and started calling and chatting with each other, and this is barely 4 years we've known each other but the relationship is growing each day despite the distance we both maintain at the moment.
Check out some throw back pictures of me and Sammy then in school.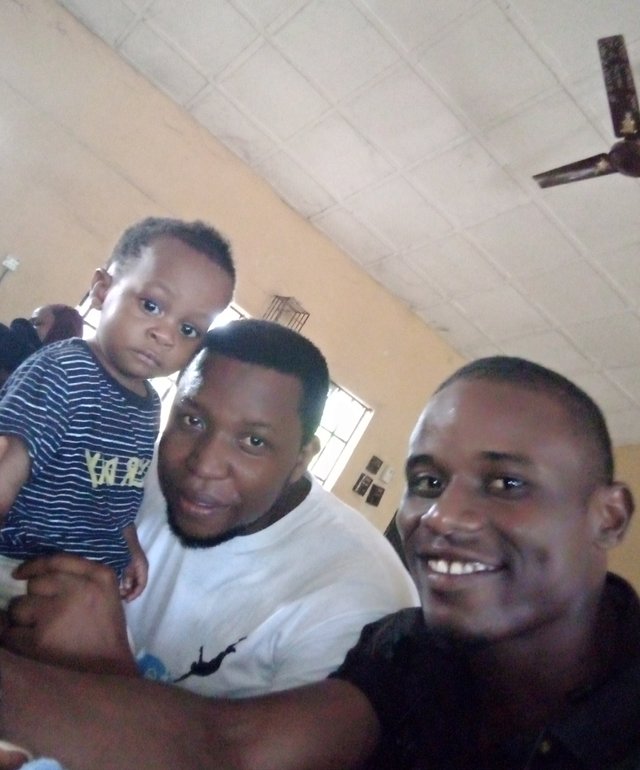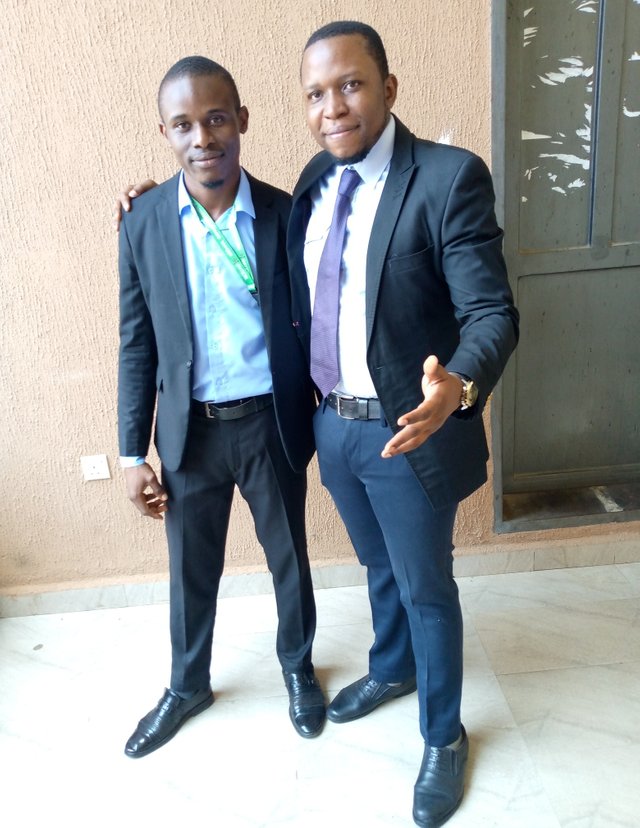 Pix at our project defense left, in lecture hall playing with a baby right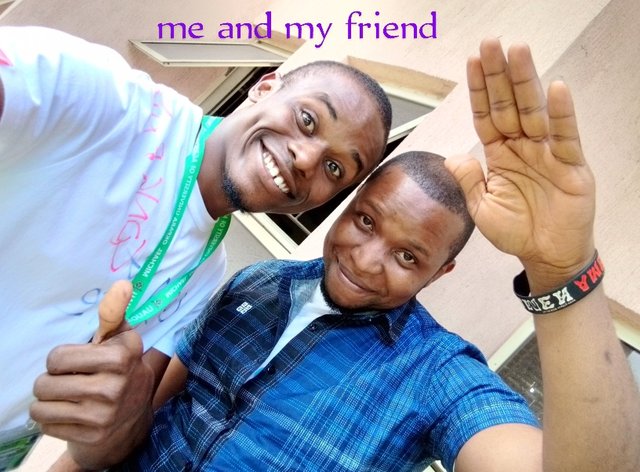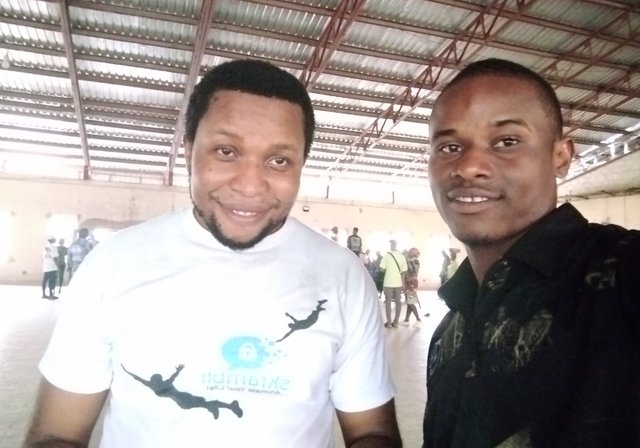 pix while we went for WAEC verification left, during our final exam/signing out right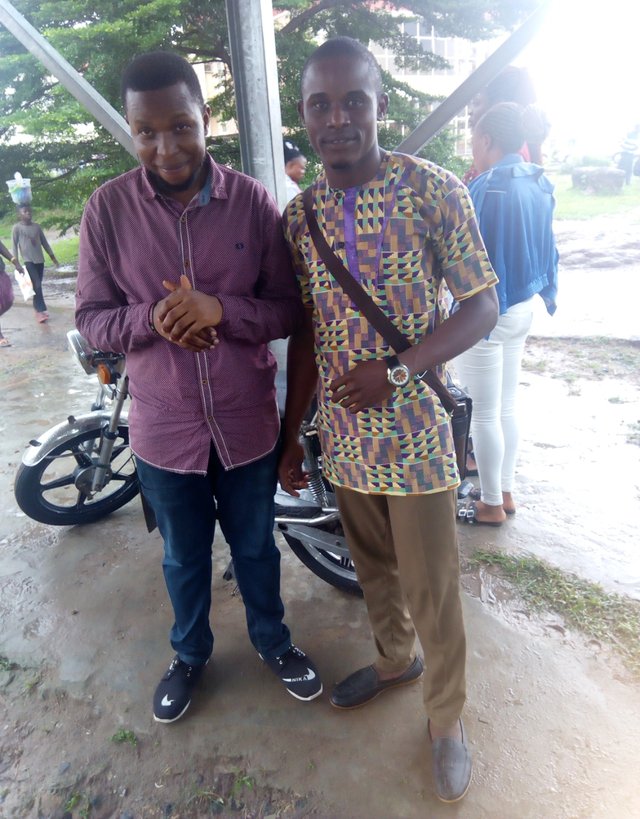 Me and Sammy the first week we met
What are the special qualities that attracted you to the person or the sacrifices they have made for you in the past? Do you think your friendship remained intact as it started?
As I earlier said, Sammy is very sincere and would never cajole you just for anything. Sammy would rather sweep diplomatic and problematic issues under the carpet than having logaheads with you. He loved praying, he's voracious over food most times smiles, but once he's fasting, count him off from any thing edible, so I really loved all these about him.
After our exchange of contact since our second year, we have tried to assist each other in different ways. Then we were living in the hostel, no one goes to lecture without his fellow except on rare cases. We loved going to the school canteen together and even in our exams, we do enter and also sit in the same range and this precisely caught the attention of most of our lecturers and exam supervisors. Finally our intimacy grew to the extent that we both graduated with a second class honor in our discipline "Economics".
Finally, our relationship remained intact, I must maintain, it kept growing each day despite the distance, though he's planning for his masters while I'm waiting for the national youth service and it's amazing that we even spoke with each other over the phone today before I started putting down this write-up.
Is the person on Steemit and how is he/she faring in the Ecosystem? If they are not, why have they not joined through you? (Are there special reasons for that).
I introduced Sammy to steemit after the heat of the COVID in 2021 because I earlier joined before him, so I took him through all the involved protocols and also helped him to put up most tasks in the system as he went with the name @samuelj. This steemit name came as a result of his love for God, he told me he would love to go with the name Samuel Jesus but we shortened it to @samuelj smiles.
Sammy later became an active member of the Steemit ecosystem during the boom of the steem academy after our resumption from the COVID. Finally he powered down when we were about writing our final year project, so to meet with the project demand, he initiated a power and since then, he has not come back to steemit to see if the tide could turned to his favor despite how I encouraged him. I really believe that he'll be back someday.
Write a short message to tell him/her how amazing he/she is.
Dear Sammy,
I must sincerely appreciate our friendship so far, you have been such a pretty friend I have ever missed because of the distance, though this isn't tangibly a barricade so long as I'm concerned.
I have loved those memorable school days when we go for night class and also read together, eat together and discuss many issues of concern with great level of sincerity all together.
You've been such a cool friend in my good and ugly times, I wish you the best Life could ever offer, my sincere compliment to everyone over there with you, cheers and bye.
Conclusion
We all make friends but I have seen that most friends are friendly enemies who are not sincerely seeking for the growth of each other but rather, what's in your pocket if any.
Good friends are indeed rare to find but best to keep because of certain uncertainties, so to say. Make good friends today, and you'll never regret doing so. Love you all bye.
Finally, I wish to invite my pretty friends to join in the contest: @ruthjoe, @edidiogeffiong @beautiful12.